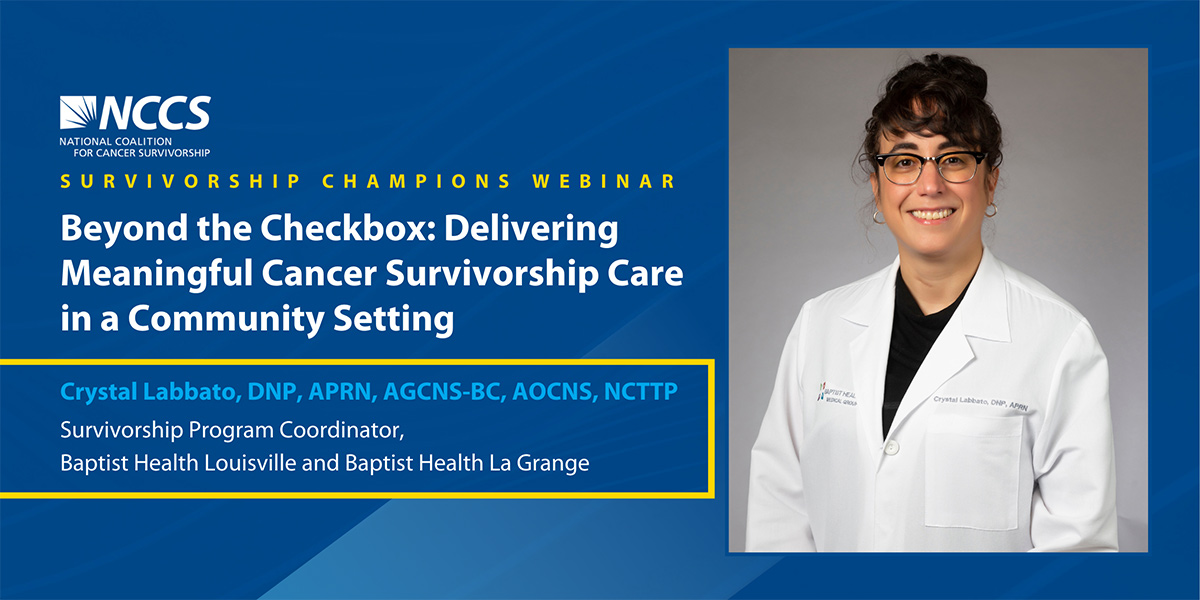 Webinar – Beyond the Checkbox: Delivering Meaningful Cancer Survivorship Care in a Community Setting
Dr. Crystal Labbato joined NCCS to deliver a presentation about providing an effective model of cancer survivorship care in a community setting. Dr. Labbato is the Survivorship Program Coordinator for Baptist Health Louisville and LaGrange hospitals in Kentucky.
Nearly 17 years since the Institute of Medicine released their landmark report, "From Cancer Patient to Cancer Survivor: Lost in Transition," oncology programs continue to encounter challenges in implementing survivorship care in a way which provides meaning and long-term value to cancer survivors and their families.
Updates to the American College of Surgeons' Commission on Cancer (CoC) survivorship standard in 2020 attempt to address this challenge by encouraging cancer programs to move beyond providing a survivorship care plan document to patients and into engaged action that represents the intended outcome of quality survivorship care delivery that includes prevention and surveillance of treated or potential cancers, surveillance and management of physical and psychosocial effects, and promotion of health.
In this webinar, Dr. Labbato reviews the evolving standards for survivorship care and highlights the importance of care planning services that go beyond simply giving a patient a paper document. They walk through the model of care that inform their work as a survivorship practitioner, and how they are able to tailor services to best meet the needs of cancer survivors in their community. Dr. Labbato presents two clinical cases that showcase survivorship needs, care timeline and supportive services the clinic utilizes to provide quality care. Dr. Labbato also discusses the clinic's in-depth functional assessment for older adult survivors that identifies the patient's needs, and how the clinic normalizes discussions on end-of-life care planning.
After the presentation, NCCS CEO Shelley Fuld Nasso moderates a Q&A portion featuring questions from webinar attendees.
Watch the full video below or watch on YouTube.
Webinar Slides, Links Discussed, and Other Resources
This webinar is a part of NCCS's Survivorship Champions program for clinicians and researchers who are interested in improving cancer survivorship care. Learn more at https://canceradvocacy.org/champions.
---
About Dr. Crystal Labbato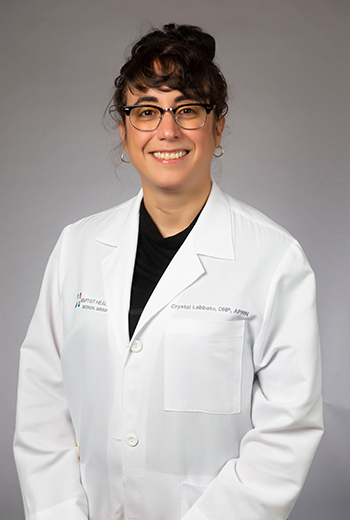 Crystal Labbato DNP, APRN, AGCNS-BC, AOCNS, NCTTP (they/them or she/her), is a board-certified adult-gerontology clinical nurse specialist, advanced oncology clinical nurse specialist, and certified tobacco treatment specialist. Dr. Labbato currently serves as the Survivorship Program Coordinator for Baptist Health Louisville and LaGrange hospitals in Kentucky. Dr. Labbato provides trauma informed, physical and psychosocial supportive care and referrals to people and families living through a cancer experience throughout the full cancer care continuum (prevention, screening, diagnosis, treatment, recovery and palliation). In 2019, Dr. Labbato completed a pilot project incorporating comprehensive geriatric assessments into the care of patients with a thoracic cancer diagnosis that is in the process of being expanded to all medical oncology patients. In addition, Dr. Labbato regularly coordinates and co-facilitates community education events on advance care planning, smoking and tobacco cessation, late and long term effects of cancer and cancer treatments, and other cancer survivorship issues.
Dr. Labbato received a Bachelor of Fine Art in Painting from the Art Academy of Cincinnati, and subsequently completed an accelerated Bachelor of Science in Nursing at Northern Kentucky University. Dr. Labbato's early clinical practice was spent in acute care, phase one oncology clinical trials, and hospice nursing in the home and inpatient settings before ultimately earning a Doctor of Nursing Practice at the University of Kentucky and assuming their present role. Dr. Labbato has completed additional training in trauma-informed sensitive practice, assessment and supportive care of the older adult with a cancer diagnosis (Memorial Sloan Kettering Cancer Center), primary palliative care for oncology APRNs (End of Life Nursing Education Consortium), and competent care of LGBTQIA+ persons (University of Louisville).
Dr Labbato's work also includes a photography practice and they have had works selected for inclusion in exhibitions at the Columbus Museum of Art in Ohio and the Museum Angewandte Kunst, in Frankfurt Germany.
https://canceradvocacy.org/wp-content/uploads/Beyond-the-Checkbox-Crystal-Labbato.jpg
600
1200
NCCS Staff
https://canceradvocacy.org/wp-content/uploads/2020/06/NCCA-Logo.png
NCCS Staff
2022-05-20 13:39:27
2022-08-02 04:51:49
Webinar – Beyond the Checkbox: Delivering Meaningful Cancer Survivorship Care in a Community Setting