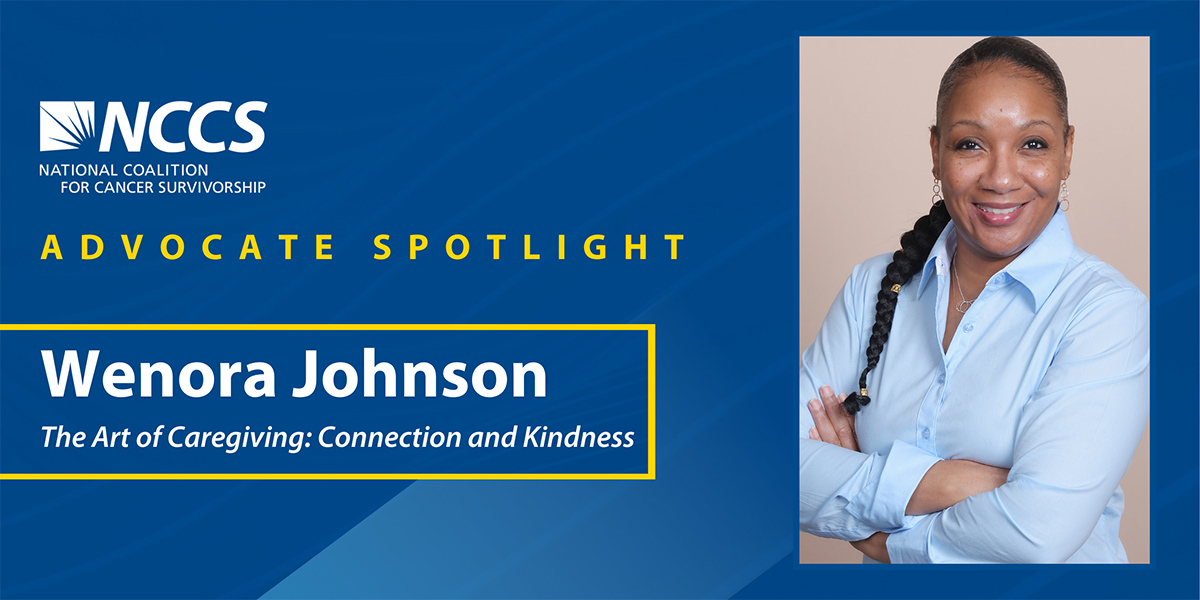 Wenora Johnson: The Art of Caregiving: Connection and Kindness
Advocate Spotlight June 2022 – Wenora Johnson
"One of the most important lessons I've learned as a caregiver is that the smallest act of kindness means so much to a person who's not able to do for themselves," says Wenora Johnson, who has cared for her brother throughout his diagnosis and treatment for stage 4 colorectal cancer. As if living in a different city than her brother isn't challenging enough, Wenora also had to find creative ways to manage his care during the pandemic. In order to stay connected when they're apart, Wenora speaks with her brother's health care providers over the phone and through emails, she sends him care packages at least twice a month, and she calls him several times per week to encourage him and lift his spirits.
Despite the challenges Wenora faces as her brother's caregiver, she is never burdened by it. Not only is caregiving rewarding, but it's also mentally and emotionally therapeutic for her. Wenora has firsthand knowledge of the needs of cancer survivors, as a three-time survivor herself. In 2011, while at her annual physical, Wenora's primary care physician recommended a fecal immunochemical test because she was too young for a colonoscopy at the time. "I'm so thankful he did," Wenora says, because she was eventually diagnosed with stage 3B colorectal cancer, which was treated with surgery and chemotherapy. She lived with no evidence of disease for nearly five years, when her oncologist requested a genetic test. The results came back positive for Lynch syndrome, meaning Wenora was at risk of developing additional cancers in the future. She is also a survivor of endometrial cancer and basal cell carcinoma.
Wenora became involved in the cancer advocacy community about four years after her original diagnosis because she wanted to raise awareness of colorectal cancer — "this quiet-moving disease is affecting individuals under the age of 50," she says. She was introduced to NCCS and our Cancer Policy & Advocacy Team (CPAT) through a webinar. Eager to learn more about the policy side of advocacy, Wenora registered for Hill Day at the CPAT Symposium. This experience opened her eyes to the importance of legislative advocacy to advance policies that impact cancer treatment, screening, and awareness.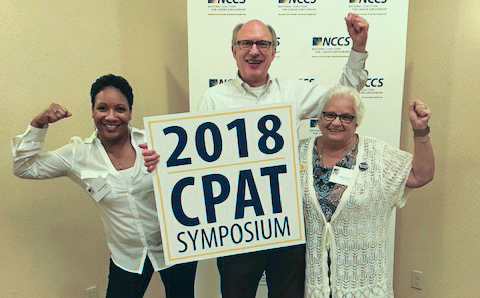 "It's so important for survivors to get involved in advocacy and policy work because the patient's voice matters," Wenora says. "The patient's lived experience from diagnosis, treatment, and survivorship is vital to share." Stakeholders in the cancer community need to know what works and what doesn't work in clinical trials, as well as understand that many survivors have a desire to continue to thrive because, as Wenora puts it, returning to what was once normal is no longer an option.
Wenora advises survivors to get involved with the cancer community if they're able. This may mean becoming a patient advocate, sharing their cancer story and journey, joining support groups, or simply monitoring their health with regular surveillance. She also encourages survivors to find their tribe, which is a group of people that help along the survivorship journey. Similar to Wenora's experience as a caregiver for her brother, the members of one's tribe may heal from being of service. "Knowing they've helped you through one of the toughest times in your life has an emotional and psychological benefit for everyone," she says. "Never take life for granted."
https://canceradvocacy.org/wp-content/uploads/Advocate-Spotlight-Wenora-Johnson-wp-1200.jpg
600
1200
NCCS Staff
https://canceradvocacy.org/wp-content/uploads/2020/06/NCCA-Logo.png
NCCS Staff
2022-06-01 13:00:28
2022-06-01 13:02:13
Wenora Johnson: The Art of Caregiving: Connection and Kindness