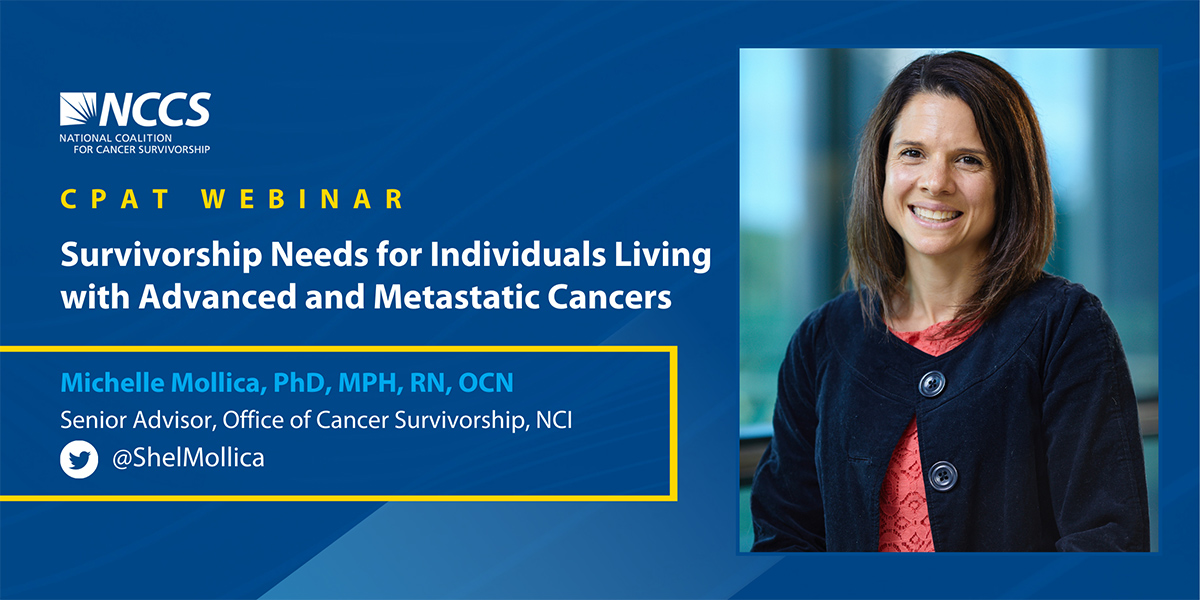 Webinar: Survivorship Needs for People Living with Advanced and Metastatic Cancers
Dr. Michelle Mollica, Senior Advisor at the National Cancer Institute's (NCI) Office of Cancer Survivorship, joined NCCS to discuss NCI's recent efforts focused on understanding and addressing the survivorship needs for the growing population of survivors who are living with advanced and metastatic cancers. Bethany Ross, CPAT Steering Committee Member and Advocate, also participated in the discussion.
The key opportunities for research to improve quality care include the following:
Defining the population
Symptom management
Psychosocial support
Health care delivery
Health behaviors
Bethany was diagnosed at age 30 in August 2018 with stage IV neuroendocrine cancer. She shared the challenges of being a young adult living with metastatic cancer. From day one she struggled to get the proper diagnosis after her symptoms were dismissed over an extended period of time. After diagnosis and treatment, Bethany still falls between the cracks in the health care system and doesn't qualify for supportive services, due to being on surveillance and not active treatment. Bethany related what it takes to be a patient advocate living with cancer and why being a part of NCCS's Cancer Policy and Advocacy team is so important to her. Dr. Mollica outlined the research that has already been conducted by NCI for this population. She identified the gaps and discussed the next steps being initiated by the NCI's Office of Cancer Survivorship to conduct more research that supports those living with advanced and metastatic cancers.
After the presentation, NCCS Advocacy and Programs Manager Veronika Panagiotou, PhD, moderated a discussion with Bethany and Dr. Mollica, featuring questions from webinar attendees.
Watch the full video below or watch on YouTube.
Webinar Slides, Links Discussed, and Other Resources
Find out what projects the NIH/NCI are funding: https://reporter.nih.gov/
Organizations that support young adult cancer survivors:
---
About Dr. Michelle Mollica
Michelle Mollica, PhD, MPH, RN, OCN, serves as senior advisor in the NCI Office of Cancer Survivorship. In this role, Dr. Mollica is responsible for developing, supporting, and promoting research efforts focused on cancer survivorship. Dr. Mollica also holds a secondary appointment as a program director in the Outcomes Research Branch (ORB) of the Healthcare Delivery Research Program, where she manages a research portfolio of grants focused on cancer survivorship and healthcare delivery across the lifecourse, from childhood through older adulthood. Dr. Mollica serves as scientific lead for several recent funding opportunity announcements focused on specific aspects of survivorship care.
With an enduring interest in improving care for those impacted by cancer, Dr. Mollica has specific expertise in the intersection of survivorship and healthcare delivery, including the transition into post-treatment survivorship, models of survivorship and palliative care, integration of oncology and non-oncology providers, and special survivorship populations (e.g., individuals living with advanced and metastatic cancers, cancer caregivers, and pediatric and adolescent and young adult cancer survivors). She has a background in mixed methods research and community-engaged research, and has experience conducting qualitative research and intervention development in underserved populations.
Dr. Mollica came to NCI as a Cancer Prevention Fellow in ORB, before serving as a program director in the branch. Prior to NCI, Dr. Mollica spent over 10 years working clinically as an oncology nurse at Mount Sinai Hospital in New York City and at Roswell Park Cancer Institute in Buffalo, NY.
---
Learn more about NCCS's Cancer Policy and Advocacy Team (CPAT) program for survivorship advocates »
https://canceradvocacy.org/wp-content/uploads/Webinar-Michelle-Mollica-Metastatic-Survivorship-Needs.jpg
600
1200
NCCS Staff
https://canceradvocacy.org/wp-content/uploads/2020/06/NCCA-Logo.png
NCCS Staff
2022-05-06 11:32:16
2022-08-02 04:52:26
Webinar: Survivorship Needs for People Living with Advanced and Metastatic Cancers