Cancer Policy & Advocacy Team (CPAT)
The NCCS Cancer Policy & Advocacy Team (CPAT) is a program for survivors and caregivers to learn about pressing policy issues that affect quality cancer care in order to be engaged as advocates in public policy around the needs of cancer survivors.
Led by the CPAT Steering Committee, CPAT provides cancer survivors and caregivers with tools and training that build upon their personal experiences to become effective advocates to improve cancer care.
The CPAT webinars, newsletters, online forum, and conferences for offer advocates different ways to learn and to discuss current issues, programs, and policies that affect the cancer community and to take action as appropriate.
2022 CPAT Symposium Events
This year, NCCS hosted two CPAT Symposium events. The 2022 Cancer Policy & Advocacy (CPAT) Symposium marked a return to in-person meetings for NCCS advocates. We welcomed 55 participants, including advocates, caregivers, and medical students. In addition, NCCS hosted a Virtual Symposium allowing more advocates to participate.
In-Person
See photos and summaries of the In-Person Symposium sessions and hear testimonials from attendees.
Virtual CPAT Symposium
Virtual Symposium and Virtual Hill Week
Develop advocacy skills, learn about cancer policy issues, and meet your lawmakers from the comfort of your own home.
2022 Summary
Read a PDF summary of both of our 2022 CPAT Symposia events.
CPAT Webinar – Care and Career Support: From Health Systems to Employers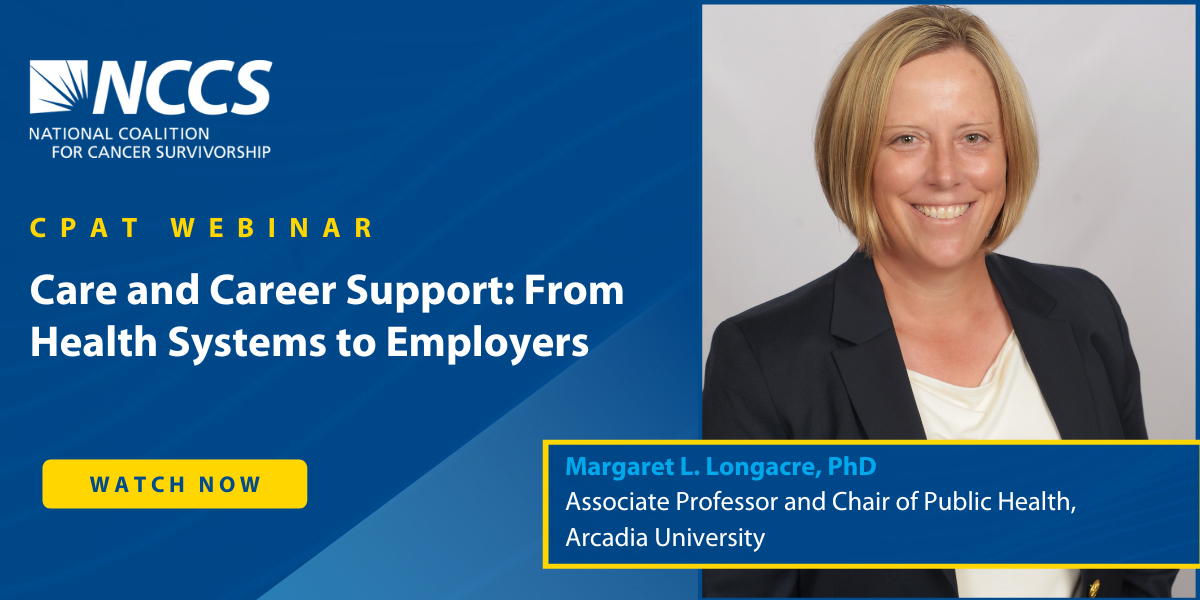 Learn about the unique demands of caregiving in cancer and strategies that employers and health systems might engage to support caregivers.
In this webinar, Dr. Margaret L. Longacre, Chair of Public Health at Arcadia University, presents data on the experiences and common issues faced by cancer caregivers in the US. Dr. Christina Sisti, a CPAT Member, describes her experience as a caregiver to her late husband and her own cancer diagnosis. Dr. Longacre's colleagues Michele Cygan and Mary Sweeney offer possible solutions for supporting caregivers and present them in the form of a pair of checklists, one each for employers and employees.
Learn About:
The demands of oncology caregiving and the ways that support might be possible from health systems, including integration of caregivers into care to recognize needs, and from employers.
Supporting caregivers specifically related to employment, including policies and strategies that can support caregivers (e.g., FMLA) in terms of career flexibility and financial needs.
How, in light of the recent COVID-19 pandemic and employee demands, employers are now focusing more on employee well-being programs and updating HR policies to meet employee needs.
CPAT Webinar: Survivorship Needs for People Living with Advanced and Metastatic Cancers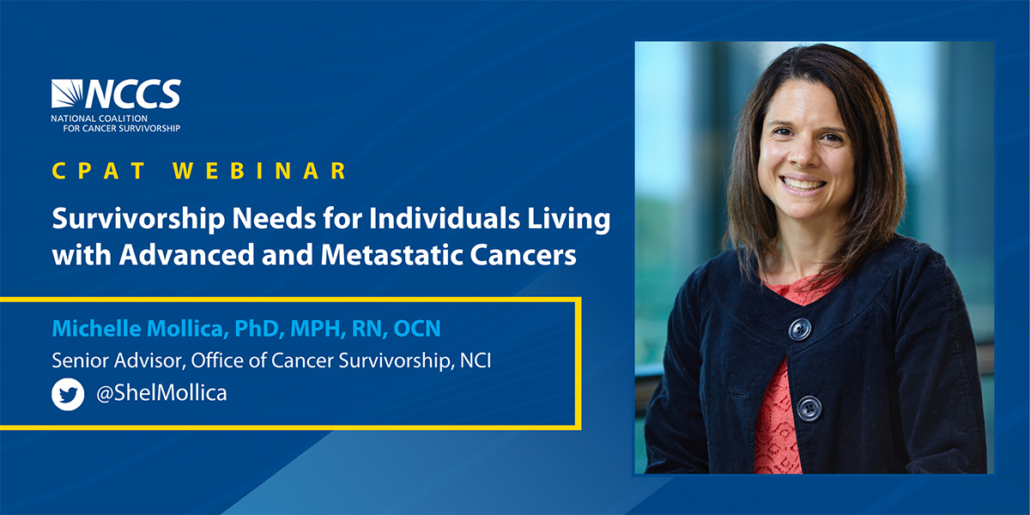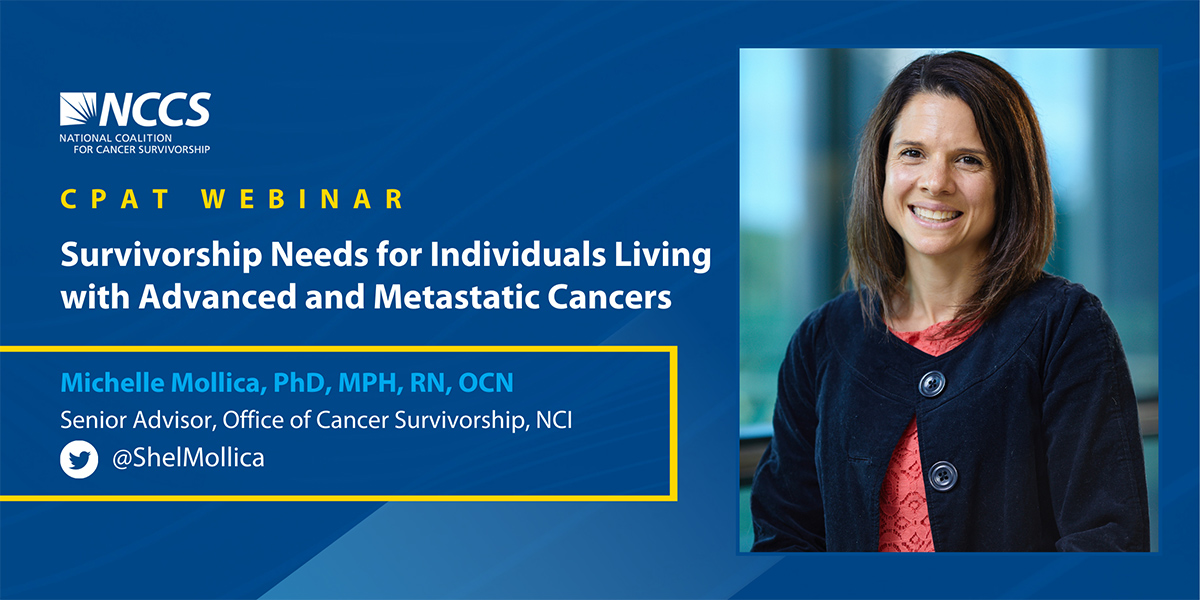 Dr. Michelle Mollica, Senior Advisor at the National Cancer Institute's (NCI) Office of Cancer Survivorship, joined NCCS to discuss NCI's recent efforts focused on understanding and addressing the survivorship needs for the growing population of survivors living with advanced and metastatic cancers. Bethany Ross, CPAT Steering Committee Member and Advocate, also participated in the discussion, sharing the challenges of being a young adult living with advanced and metastatic cancer. In this webinar, you'll learn the findings from NCI's research, and what the next steps are for supporting those living with advanced and metastatic cancers.
Watch the Webinar
Become a CPAT Member for Free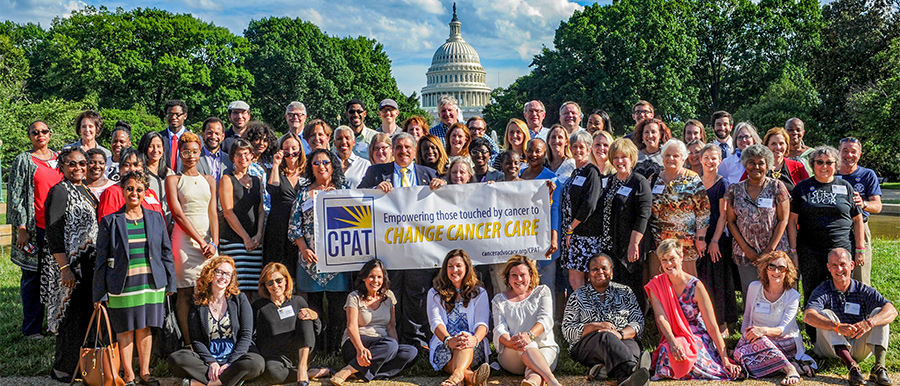 No one knows where or how to improve cancer care better than you—someone who has experienced it as a patient or caregiver. That's why more than 700 advocates have joined the NCCS Cancer Policy and Advocacy Team (CPAT), a program designed to provide those touched by cancer with the tools and training to apply their experiences to become empowered advocates.
For more information about CPAT, contact us at cpat@canceradvocacy.org.
2022 CPAT Program Supporters