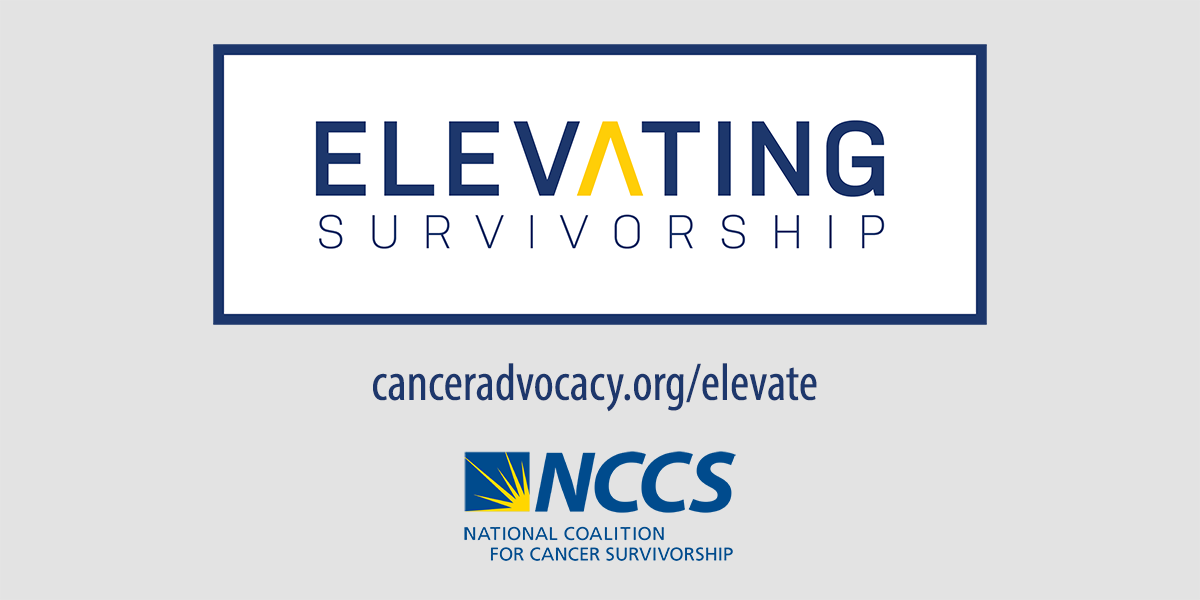 NCCS Survivorship Survey: Cancer Survivors Share Their Top Concerns

As part of its Elevating Survivorship initiative, the National Coalition for Cancer Survivorship (NCCS) fielded an online survey to understand cancer survivorship experiences and needs across a range of cancer patients.
NCCS and our partner patient advocacy organizations promoted the survey to our constituents, and 1,380 cancer survivors responded.
Some of the key findings include:
Treatment Experiences
Patients report many physical and emotional side effects (See Figure 1). Fatigue and anxiety top the list of both the most common and long-term effects. These are also among the most severe side effects reported by patients.
However, patients report that while healthcare providers are helpful at addressing their physical side effects such as nausea and vomiting, health care providers (HCPs) are far less helpful at addressing fatigue, anxiety, depression and cognitive effects.
I do wish that my health care team did more to address the emotional side effects, particularly in screening for it. I developed a lot of anxiety, but I just thought it was normal. Only in retrospect did I realize I had a problem.
Survey Respondent
Post-Treatment Information and Care
Few feel very prepared for the transition to post-treatment, nor informed about how to manage their health post-treatment.
While most patients have spoken to a healthcare provider about post-treatment care, over half say they asked their doctor/HCP, and far fewer say their provider initiated these conversations.
Satisfaction with post-treatment care is varied, with few describing it as excellent. As a result, more rely on online sources for information rather than their HCPs.
I wish that my health care team would address survivorship issues and long-term effects of my cancer diagnosis. At this point I am just told to call if there are any changes in the way that I feel, this leaves me feeling uneasy and uncertain about the future of my health.
Survey Respondent
Survivorship Needs
When asked to identify their level of concern about a range of issues, financial issues tops the list (getting/keeping health insurance, having financial support), followed by managing ongoing side effects, uncertainty about the future, and having the energy to make it through the day.

There is clearly a disconnect between patient concerns and support from HCPs. Less than a third rate their HCP as "very helpful" on their top issues.
Many are interested in survivorship resources, especially programs for managing long-term symptoms, but few say these are available from the HCPs today (See Figure 2).
I would like to meet more cancer survivors. I feel now that I am a different person and that no one understands what I've been through. Most people think that because you survived, that you are great and not in need anymore. It would be helpful to have some friends who have gone through the same journey.
Survey Respondent
---
ACCC and NCCS Joint Survey Report
The Association for Community Cancer Centers (ACCC) conducted a companion survey of its provider members, and the results of the two surveys were published in ACCC's Oncology Issues journal:
Read the Final Survey Report
NCCS thanks the following organizations for promoting the survey to its stakeholders: CancerCare, Fight Colorectal Cancer, Melanoma Research Alliance, Ovarian Cancer Research Alliance, the LIVESTRONG Foundation, Melanoma Research Foundation, Supporting Our Sisters Inc., Cancer Support Community, and LUNGevity.
Read the full final report of the Survivorship Survey below or download it here (PDF Document).
Grant funding for Elevating Survivorship provided by: Bristol-Myers Squibb, AbbVie, Pharmacyclics, Takeda, Celgene, Novartis, and Eisai.
---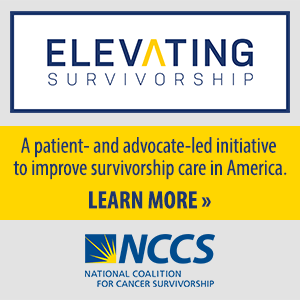 https://canceradvocacy.org/wp-content/uploads/2019/01/Elevating-Survivorship-Logo-web-FB-TW.png
600
1200
actualize
https://canceradvocacy.org/wp-content/uploads/2020/06/NCCA-Logo.png
actualize
2019-09-15 12:57:13
2020-11-11 12:48:24
NCCS Survivorship Survey: Cancer Survivors Share Their Top Concerns