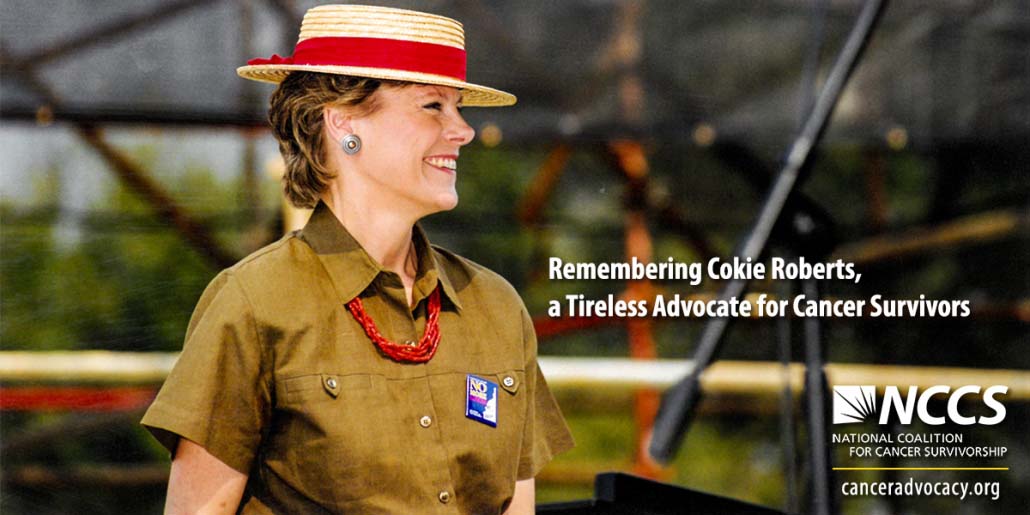 Remembering Cokie Roberts, a Tireless Advocate for Cancer Survivors
Cokie Roberts (1943–2019)
The National Coalition for Cancer Survivorship mourns the loss of Cokie Roberts, who died yesterday from complications of breast cancer.
Ms. Roberts was a generous supporter of NCCS both before and after her own seventeen-year cancer experience. In 1998, she co-hosted NCCS's THE MARCH…Coming Together to Conquer Cancer, in honor of her ABC News colleague Sam Donaldson, a then three-year survivor of melanoma, and her sister, Princeton Mayor Barbara Boggs Sigmund, who died from melanoma in 1990.
The March was the first large national rally to advocate for cancer survivors and brought more than 100,000 supporters to the nation's capital and a million more to events in all 50 states.
Just four years later, Cokie Roberts herself was diagnosed with breast cancer. She continued to be a tireless advocate for cancer survivors and a thoughtful advisor to Ellen Stovall, NCCS's long-time Chief Executive Officer.
In a letter to Ellen Stovall congratulating NCCS on its 15th anniversary, Ms. Roberts wrote, "The good news is that in those 15 years, there are many more survivors. The bad news is that in those 15 years, there are many more survivors. Yes, survival is better than the alternative, but prevention or obliteration of cancer is the goal."
In 2006, NCCS presented Ms. Roberts with the Rays of Hope Award at NCCS' 20th anniversary celebration. At that time she said, "Advocacy is everything. Without advocacy, there is no money. Without money, there is no research. Without research, there are no treatments and cures."
NCCS is grateful that Cokie Roberts lent her eloquent and powerful voice to cancer survivorship. We offer our condolences to her family and to her colleagues at ABC News and National Public Radio.
# # #
VIDEO: Cokie Roberts' Life of Cancer Advocacy – NCCS Rays of Hope 2006
More About Cokie Roberts
NPR: "Cokie Roberts, Pioneering Journalist Who Helped Shape NPR, Dies At 75" »
ABC News: "Legendary journalist and political commentator Cokie Roberts dies at 75" »
NPR: "'The Personification Of Human Decency': Nina Totenberg Remembers Cokie Roberts" »
---
https://canceradvocacy.org/wp-content/uploads/tireless-advocate-for-cancer-survivors.jpg
515
1030
actualize
https://canceradvocacy.org/wp-content/uploads/2020/06/NCCA-Logo.png
actualize
2019-09-18 12:56:58
2020-11-20 12:15:00
Remembering Cokie Roberts, a Tireless Advocate for Cancer Survivors