Health Care Roundup: What President Trump's Health Care Plan Might Include; Recurrence Anxiety; Are There Too Many NCI Cancer Centers?; More
We aim to make the Health Care Roundup a concise, one-stop summary of what you need to know as we continue working together to make cancer care better for everyone.
Your feedback is always welcome
 to make our content more useful to you. Please send comments to 
feedback@canceradvocacy.org
.
Subscribe to our email list and receive these updates in your email box each week »
---
HEALTH CARE HIGHLIGHTS
What Pres. Trump's Health Care Plan Might Include
In August, we noted that President Trump and other members of his administration mentioned that they intend to unveil a substantial health care plan later this month. As we await the details of that plan, we wanted to share this Kaiser Health News article that examines what such a plan may, or may not, include.
Congress returns to Washington next week, after the August recess. We will monitor and report on Congressional action on policy issues, including surprise medical billing, drug pricing, and more.
---
CHART OF THE WEEK
The Commonwealth Fund
A recent analysis by the Commonwealth Fund looked at the impact of the Affordable Care Act (ACA) using data from the American Community Survey. Researchers looked particularly at rates of insured vs. uninsured, and ethnic and racial disparities. Their conclusion is that the ACA helped significantly reduce rates of uninsured and reduced racial disparities:
"Uninsured rates in states that expanded Medicaid eligibility under the ACA fell 49 percent, compared with 27 percent in nonexpansion states. The ACA's disparity-reducing effects have been strongest in states participating in the Medicaid expansion."
With nearly 1.8 million new cancer diagnoses a year, and millions of cancer survivors across the country, the impact of the ACA on cancer care cannot be understated.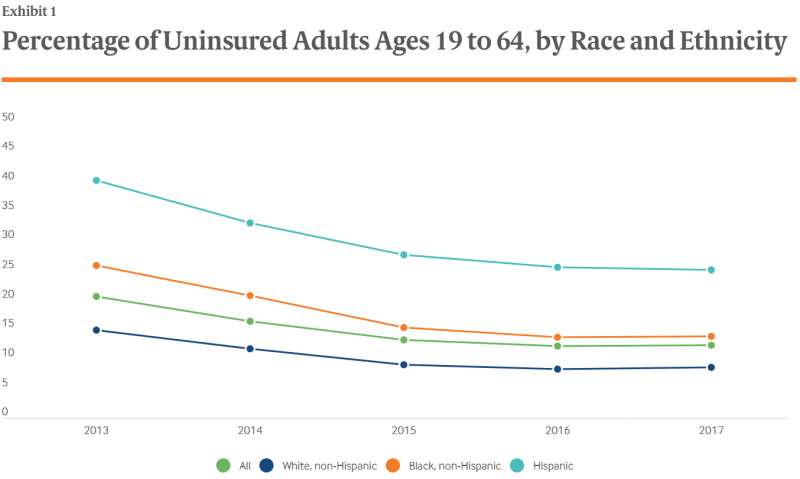 Support NCCS while shopping on Amazon.
A portion of your Amazon purchases will be donated to NCCS when you choose NCCS as your AmazonSmile charity.
Get started »
---
IMPORTANT READS
Futurity
A relatively small study at the Feinberg School of Medicine at Northwestern University looked at how often doctors make recommendations to patients about healthy lifestyles. Researchers surveyed 91 physicians: 30 primary care physicians; 30 oncologists; and 31 specialists (urologists, gynecologists, and dermatologists). While 90% of primary care doctors reported "recommending health promotion such as weight loss and smoking cessation to at least some survivors of cancer," only 26.7% of oncologists and 9.7% of specialists said they do. The study adds an interesting perspective to the discussion about the role primary care doctors play in long-term survivorship care, and ongoing gaps in overall cancer care.
The Scientist
In an opinion piece in The Scientist, David Rubensen argues that the National Cancer Institute (NCI) designated cancer center program "has evolved into a nationwide branding exercise, mostly signifying grant-writing endurance and adherence to metrics that skew scientific priorities and place centers in organizational straight jackets." He suggests questions that he believes should be addressed about the future of the program.
Oncology Nursing News
We often hear how fear of cancer recurrence affects cancer survivors after treatment, and fear of recurrence was the topic of one of our most popular webinars. Here, a cancer survivor and oncology nurse shares her experience facing recurrence anxiety and provides some ideas to help mitigate its impact.
New York Times
New York Times reporter Rod Nordland shares his personal experience discovering and navigating a brain tumor diagnosis while on assignment in New Delhi, India.
---
Related Posts
https://canceradvocacy.org/blog/health-care-roundup-august-2-2019/
https://canceradvocacy.org/blog/health-care-roundup-aug-16-2019/
https://canceradvocacy.org/wp-content/uploads/2020/06/NCCA-Logo.png
0
0
actualize
https://canceradvocacy.org/wp-content/uploads/2020/06/NCCA-Logo.png
actualize
2019-09-06 16:33:05
2020-07-06 10:11:52
Health Care Roundup: What President Trump's Health Care Plan Might Include; Recurrence Anxiety; Are There Too Many NCI Cancer Centers?; More