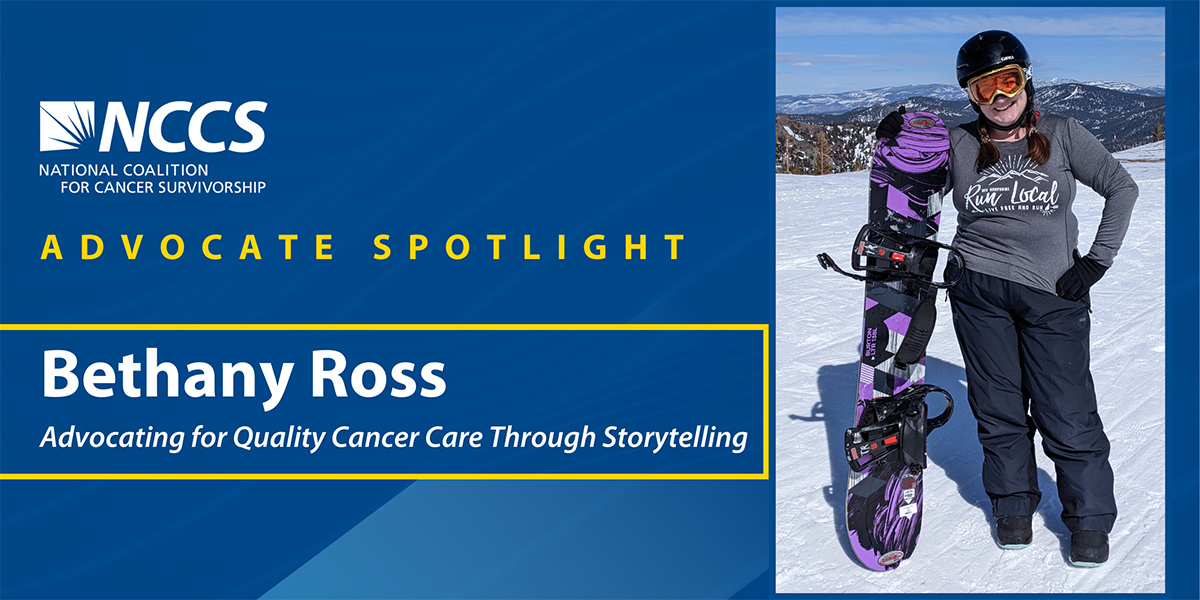 Bethany Ross: Advocating for Quality Cancer Care Through Storytelling
Advocate Spotlight July 2022 – Bethany Ross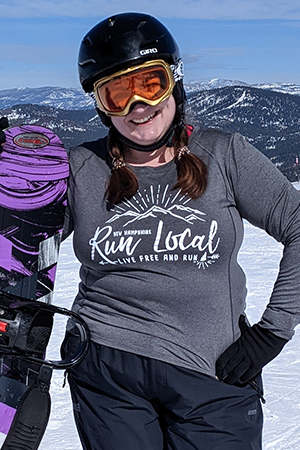 Bethany Ross is a four-year neuroendocrine cancer survivor, or "cancer badass," as she prefers to be called. She attended NCCS's in-person Cancer Policy and Advocacy Team (CPAT) Symposium for the first time in June as a CPAT steering committee member. "It was amazing. I've been talking to these people for years now through Zoom. To be able to meet them and get hugs from people I already knew, it was so nice," she says. The CPAT Symposium gave Bethany the opportunity to make new friends, share her interests in cancer advocacy with medical students, and interact with a diverse group of advocates from across the country. Most importantly, Bethany got to develop her own advocacy skills and hear the personal stories of those around her.
Storytelling is an essential part of Bethany's advocacy work. She has shared her survivorship journey in publications like Elephant and Tea Magazine and on webinars like NCI's Virtual Meeting on Survivorship Needs for Individuals Living with Advanced and Metastatic Cancers and NCCS's CPAT Webinar: Survivorship Needs for People Living with Advanced and Metastatic Cancers, but it hasn't always come easy.
Prior to attending a session on storytelling at NCCS's virtual CPAT Symposium in 2021, Bethany didn't know how to tell her story without crying. "That [session] really struck me when I participated in it and told my story, and then worked with the presenter to add humor. I use a lot of dark humor when I talk about cancer, anyway," she says. It took time for Bethany to understand why she should rehash some of the darkest moments of her life. Working with NCCS, she realized that sharing her experience allows her to build connections with people in similar situations. Now that Bethany knows that telling her story can make a difference, she welcomes others to reach out to her to ask questions and learn more about her journey.
Bethany's desire to build connections is what brought her to NCCS. After months of isolation during the COVID-19 pandemic, she felt determined to improve her mental health and find a sense of community among other young adult cancer survivors. While attending Stupid Cancer's virtual CancerCon, Bethany watched a session led by CPAT Member Xenia Rybak, who presented on self-advocacy and legislative advocacy. Although Bethany wasn't sure whether she could successfully speak with politicians about legislation that affects cancer survivors, she followed Xenia's advice to learn about NCCS and join CPAT. It wasn't until the virtual CPAT Symposium in 2021, where she learned to tell her story, that Bethany met others living with metastatic cancer. "I felt like I found a group that needed more advocacy about what our needs were," she says.
Not only has advocacy helped Bethany reclaim her power after enduring the helplessness that arose from her diagnosis, but it has helped her find purpose in her survivorship journey. "Through advocacy and working with other groups, it's like, if I can help at least one person feel understood, then it is worth it to me to do advocacy work."
Bethany is all too familiar with what it feels like to be misunderstood. At 30 years old, she began vomiting daily. She visited four doctors, including her primary care physician, who said the symptom was the result of anxiety, depression, or another misdiagnosis. She eventually traveled to Boston to get a fifth opinion, where a scan of her appendix, followed by surgery on August 1, 2018, revealed a neuroendocrine tumor. Although the doctor told Bethany that she had the "good" cancer and tried to reassure her that it was gone, the tumor board determined that she needed more scans.
A neuroendocrine cancer specialist at the Dana-Farber Cancer Institute informed her that the cancer wasn't gone. It was considered stage 4 because she had a separate primary cancer in her pancreas that spread to the lymph nodes in her liver. Bethany received monthly hormone treatments to manage her symptoms, that, unfortunately, all had multiple side effects. In January of 2019, she underwent surgery to remove the lymph nodes and have a liver resection. The doctors never found a visible tumor in her pancreas, which is a medical mystery to this day. Since then, doctors have monitored Bethany with Gallium PET scans every three to six months. The results of her most recent scan were stable.
Bethany's ultimate mission as an advocate is to encourage survivors to tell their story – but only when they are ready. Some survivors may not feel comfortable with people Googling their name and reading about their cancer diagnosis. However, for those who have reached the point of wanting to share their journey, Bethany believes in the value of finding people who can help develop their voice into one that can make a difference. "I would encourage anybody to do that," she says. "I didn't think I was a writer. I didn't think I was a public speaker. Cancer will make you do things that you never thought were possible, but also in a good way."
https://canceradvocacy.org/wp-content/uploads/Advocate-Spotlight-Bethany-Ross-web.jpg
600
1200
NCCS Staff
https://canceradvocacy.org/wp-content/uploads/2020/06/NCCA-Logo.png
NCCS Staff
2022-07-07 16:53:52
2022-07-07 16:53:52
Bethany Ross: Advocating for Quality Cancer Care Through Storytelling