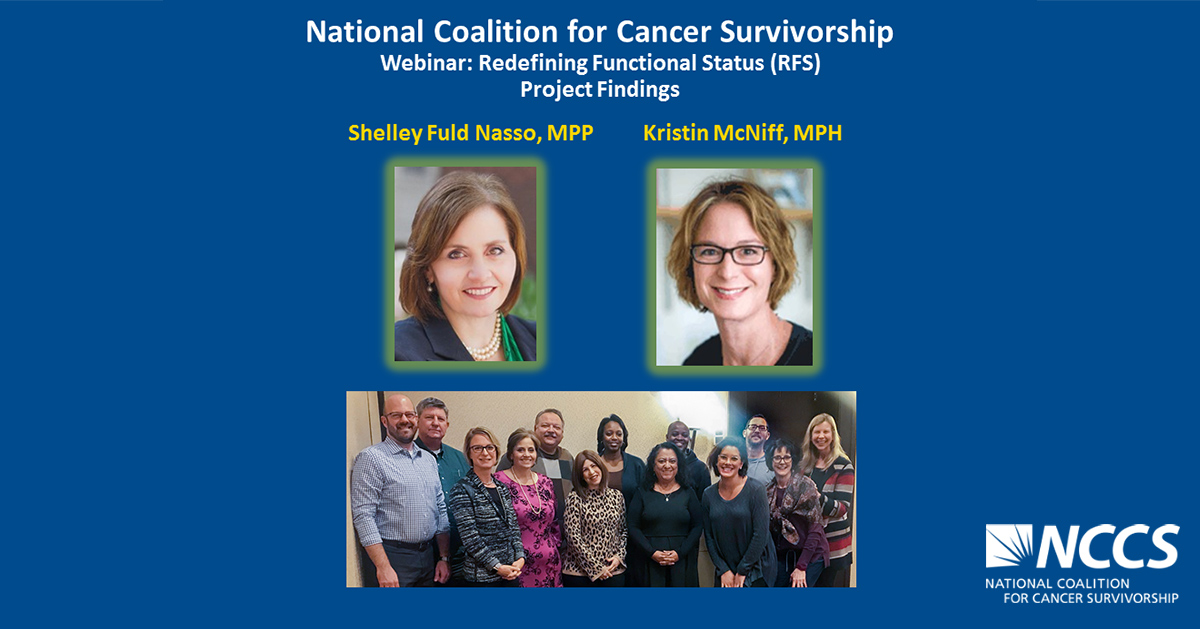 Webinar Video – Redefining Functional Status: A Patient-Led Quality Measurement Effort
"What would health care measurement look like if it reflected what patients and caregivers say matters most to them?"
Background
Quality measurement in cancer care is primarily focused on ensuring patients get the right tests and treatments, not whether those treatments help cancer survivors live well during and after cancer. NCCS embarked on an initiative to define quality measures by engaging survivors themselves to identify what's important to measure.
NCCS was awarded a grant from the American Institutes for Research (AIR), with support from the Robert Wood Johnson Foundation, to lead a group of cancer survivors in defining a new quality measure concept: redefining functional status (RFS) following a cancer diagnosis. With a unique project design that put patients in the driver's seat, NCCS was the only patient advocacy organization selected in a highly competitive selection process.
In this webinar, you will:
Learn how cancer survivors defined the concept of "redefining functional status" and how to measure it;
Hear from project co-leads Shelley Fuld Nasso (NCCS) and Kristen McNiff (KM Healthcare Consulting), as well as survivor committee members, about the project methodology, findings, and lessons learned;
Understand the value in patient advocacy organizations taking a leading role in quality measurement development.
Together, we hope to leverage this project to shape quality measurement and ensure cancer survivors live well during and after cancer treatment.
Download the webinar slide deck »
Read more about the Redefining Functional Status project »
"Patient-centered measurements are hugely important and I didn't recognize its value prior to participating in this study. Patients aren't always comfortable letting their provider know what they are experiencing and having a quality measurement that allows a patient to share their concerns, issues or changes can overcome the fear of speaking up."
– Matt Goldman, Multiple Myeloma Survivor and RFS Committee Member
"This project has allowed me to step back and look at the larger impact of disease and treatment beyond my own experience. Every individual is unique and affected differently when faced with diagnosis and treatment options. One size, one measure does not fit all patients."
– Allen Hirsch, Head & Neck Cancer Survivor and RFS Committee Member
---
https://canceradvocacy.org/wp-content/uploads/2020/02/RFS-Webinar-feat-img.jpg
629
1200
actualize
https://canceradvocacy.org/wp-content/uploads/2020/06/NCCA-Logo.png
actualize
2020-02-07 14:11:58
2020-07-06 09:54:22
Webinar Video – Redefining Functional Status: A Patient-Led Quality Measurement Effort