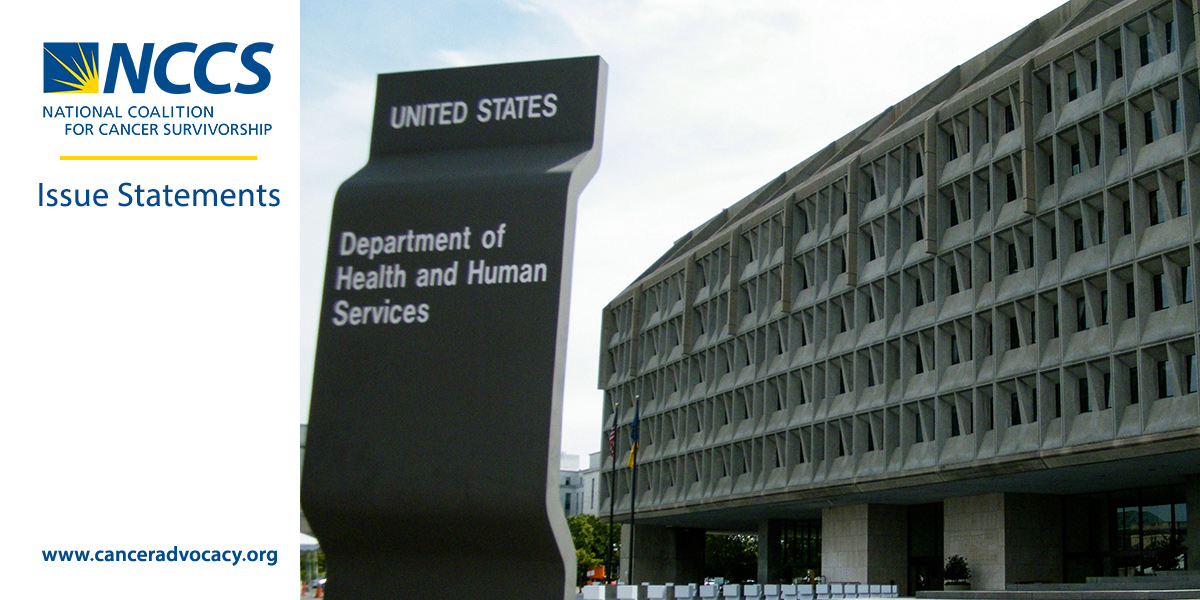 NCCS Expresses Opposition to CMS Healthy Adult Opportunity Guidance Permitting Medicaid Block Grants
WASHINGTON, DC. (January 30, 2020) – The Centers for Medicare & Medicaid Services (CMS) earlier today announced a guidance to state Medicaid programs that encourages states to create a block grant program for the portion of their Medicaid program expanded under the Affordable Care Act. The National Coalition for Cancer Survivorship (NCCS) opposes the CMS action to permit Medicaid block grants because of their potential negative impact on people with cancer. NCCS issued the statement below on Medicaid block grants.
"The National Coalition for Cancer Survivorship (NCCS) represents people with all forms of cancer in efforts to ensure access to quality cancer care. NCCS objects to the guidance issued today, which would provide states advice on how to cap the Medicaid expansion program.
"Block grants or caps on Medicaid spending may have several results. States that implement Medicaid block grants will reduce their Medicaid rolls, reduce benefits for those who retain eligibility, increase cost-sharing, or reduce provider payments. Any of these actions, and certainly all of them combined, will eliminate access to care for some and affect the adequacy and quality of care for others. We do not believe that the flexibility of block grants can be utilized without affecting patients negatively.
"The Centers for Medicare & Medicaid Services (CMS)" has named its new block grant program the Healthy Adult Opportunity and stated that it will provide states flexibility in providing care to adults under age 65 who are not eligible for Medicaid as a result of disability or in need of long-term care. The name of the program ignores the fact that adults who are on Medicaid expansion are 'healthy' only until they receive a cancer diagnosis or other serious diagnosis. At that point, they must have Medicaid benefits that are adequate and comprehensive so that they can receive the treatments they need to survive cancer. Such access may well not be available in a block grant program.
"We oppose the movement to Medicaid block grants, which will compromise access to quality cancer care for many enrolled in Medicaid expansion programs."
---
Related Posts
https://canceradvocacy.org/blog/health-care-roundup-jan-24-2020/
https://canceradvocacy.org/blog/health-care-roundup-oct-25-2019/
https://canceradvocacy.org/wp-content/uploads/2018/10/NCCS-Issue-Statement-HHS-CMS.jpg
600
1200
actualize
https://canceradvocacy.org/wp-content/uploads/2020/06/NCCA-Logo.png
actualize
2020-01-30 16:29:54
2020-12-01 13:47:04
NCCS Expresses Opposition to CMS Healthy Adult Opportunity Guidance Permitting Medicaid Block Grants