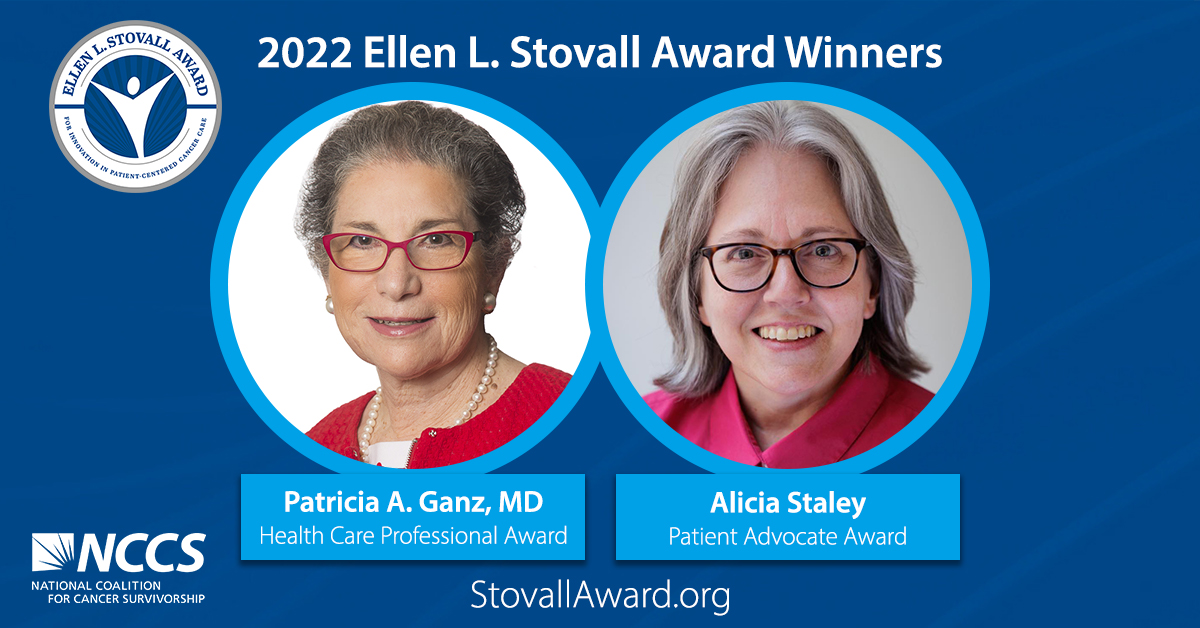 NCCS to Recognize Patricia Ganz, MD and Alicia Staley with 2022 Ellen L. Stovall Award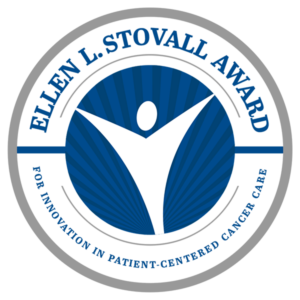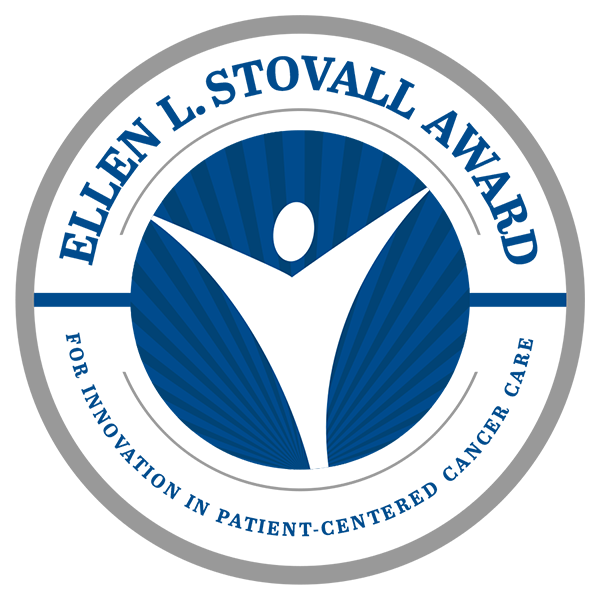 NCCS is pleased to announce the 2022 winners of the Ellen L. Stovall Award for Innovation in Patient-Centered Cancer Care are Patricia A. Ganz, MD, and Alicia Staley. They will be recognized at the 2022 Ellen L. Stovall Award Reception on Wednesday, November 16.
NCCS presents the Stovall Award annually to two recipients who have improved the care and lives of cancer survivors and their families — one health care professional and one patient advocate or advocacy organization. The selection committee chose from among a highly-qualified group of nominees who embody the essence of the award and Ellen's passion and advocacy for patient-centered cancer care.
As one of NCCS's founders, Dr. Patricia Ganz has been a leader of the survivorship movement for decades. She has been instrumental in developing the field of cancer survivorship, advancing the science, advocating for guidelines and policy change, and mentoring investigators and clinicians who contribute to the research and care of cancer survivors. She is truly an innovator in patient-centered care and a deserving recipient of the Ellen L. Stovall Award.

Alicia Staley has a cancer story and journey similar to Ellen Stovall's. Like Ellen, Alicia has dedicated her life to advocacy – helping other cancer survivors navigate their treatment and survivorship, connecting advocates with researchers, and making sure that people touched by cancer have a seat at the table when decisions are made. As a co-founder of the breast cancer social media (#BCSM) community, Ms. Staley created a worldwide network of patients, advocates, caregivers, clinicians, and researchers, providing support and advocating for better cancer care.
NCCS CEO Shelley Fuld Nasso
We invite you to attend the awards ceremony in Washington, DC on November 16 to recognize these innovative pioneers. Please register for the event and invite colleagues, friends, and family.
REGISTER »
Meet the Awardees
---
Patricia A. Ganz, MD
Health Care Professional Award
"As one of the original members of the cancer survivorship 'movement,' Dr. Ganz has been instrumental in driving the field toward where it is today. Through her own groundbreaking research, compassionate clinical care, and dedication to mentoring countless individuals, Dr. Patti Ganz has built, guided, and supported the field of patient-centered cancer survivorship care."
— Larissa Nekhlyudov, MD, MPH
Professor, Brigham & Women's Hospital, Harvard Medical School
Clinical Director, Internal Medicine for Cancer Survivors, Dana-Farber Cancer Institute
Read Bio
Patricia A. Ganz, MD
Distinguished Professor of Medicine at David Geffen School of Medicine, UCLA
Professor of Health Policy & Management at Jonathan and Karin Fielding School of Public Health at UCLA
Associate Director for Population Science, Jonsson Comprehensive Cancer Center
Patricia A. Ganz, MD, a medical oncologist, has been a member of the faculty of the UCLA School of Medicine since 1978 and the UCLA School of Public Health since 1992. She was a founding member of the National Coalition for Cancer Survivorship (NCCS) in 1986. Since 1993 she has been the Associate Director for Population Science at the Jonsson Comprehensive Cancer Center. In 1999 she was awarded an American Cancer Society Clinical Research Professorship for "Enhancing Patient Outcomes across the Cancer Control Continuum." Dr. Ganz was elected to the Institute of Medicine (IOM) in 2007, now National Academy of Medicine (NAM). She served on the National Cancer Institute Board of Scientific Advisors from 2002-2007 and on the American Society of Clinical Oncology (ASCO) Board of Directors from 2003-2006. She received the American Cancer Society Medal of Honor in 2010. Dr. Ganz received the Komen Professor of Survivorship Award 1999-2000, and was a Komen Scholar from 2009 to 2019.
Dr. Ganz was privileged to work closely with the late Ellen Stovall in multiple activities including as co-chairs of the Cancer Quality Alliance (2005-2010) and as members of the IOM/NAM National Cancer Policy Forum, co-leading several workshops. Dr. Ganz has served on three NAM consensus committees: From Cancer Patient to Cancer Survivor, 2005; Cancer Care for the Whole Patient, 2008; Delivering High-quality Cancer Care, 2013; and Diagnosing and Treating Adult Cancers and Associated Impairments, 2021. Dr. Ganz is a pioneer in the assessment of quality of life in cancer patients, and has focused much of her clinical and research efforts in the areas of breast cancer and its prevention. At the Jonsson Comprehensive Cancer Center, she leads Cancer Control and Survivorship Program. Her major areas of research include cancer survivorship and the late effects of cancer treatment, measurement of patient reported outcomes in clinical treatment trials, and quality of care for cancer patients. In July 2017, Dr. Ganz became Editor-in-Chief of the Journal of the National Cancer Institute (JNCI).
---
Alicia Staley
Patient Advocate Award
"While Alicia maintains an active role locally, her influence as a leader is well beyond her geographic location. Her advocacy reaches a national and, in fact, a global audience. Alicia has been and continues to be highly effective as a community builder, a collaborator, and a facilitator within groups of people seeking to improve care for cancer patients and their families. Her first-hand knowledge of cancer care and delivery after three separate primary diagnoses spanning several decades has afforded her a unique perspective and a variety of experiences which she infuses into everything she does."
— Anne Marie Mercurio
Patient Research Advocate
Read Bio
Alicia Staley serves as vice president of Patient Engagement at Medidata. She oversees the Patient Insights Program and the Patient Insights Board. She works to infuse the patient perspective throughout the product development lifecycle and help engage patients in novel ways. She created Patient Centricity by Design (PCbD) in 2018 as a way to provide structure and governance for developing patient-centric technical solutions.
Alicia is also a three-time cancer survivor, first diagnosed with Hodgkin's disease as a sophomore during college. With an extensive network of patient advocates and non-profit organizations, she collaborates with a wide range of stakeholders to help improve processes and policies that impact cancer care.
As a champion of patient advocacy and engagement, she understands the critical issues facing patients seeking to engage in clinical research.
Alicia has over 20 years of experience in software design and information systems management. Prior to joining Medidata, Alicia worked at Cure Forward leading their patient engagement and community initiatives to help advance clinical research. An early adopter of social media, she co-founded #BCSM, which attracts over 250 global participants each week to its scheduled online discussions. Since its launch in July 2011, #BCSM has been showcased at SXSW in 2013, 2014, 2015, and again in 2017. This foundational online social media support channel is recognized as the gold standard for disease-specific social media networks.
She is the 2019 eyeforpharma Patient Champion award winner for her extensive patient advocacy and engagement work. She truly understands the critical issues facing patients seeking to engage in clinical research. With a keen focus on improving access to clinical trials, Alicia is passionate about making a difference for patients seeking clinical trials.
In 2021, Alicia won the CHI SCOPE Participant Engagement award for her work on Medidata's Patient Centricity by Design initiative. Leveraging the classic design thinking framework, Alicia and her team developed a methodology for surfacing key insights from a patient's clinical trial journey and transforming those insights into software development elements. This methodology is utilized to deliver world class experiences to patients on Medidata supported clinical trials.
She has co-led numerous research studies on how patients share information in online forums and has published numerous research papers on patient engagement and the need for patient-centric approaches to the design and development of clinical trials. She has a Mechanical Engineering Degree from Syracuse University and a Masters of Information Systems and an MBA from Boston University.
---
Ellen L. Stovall Award Reception Details
The honorees will be recognized at the Stovall Award Reception in Washington, DC on Wednesday, November 16. The award presentation is open to the public and will feature special guests and videos highlighting the awardees and their work.
REGISTER FOR THE STOVALL AWARD RECEPTION »
# # #
https://canceradvocacy.org/wp-content/uploads/Stovall-2022-Awardee-Image-wide.jpg
628
1200
NCCS Staff
https://canceradvocacy.org/wp-content/uploads/2020/06/NCCA-Logo.png
NCCS Staff
2022-08-30 15:37:31
2022-08-30 15:42:16
NCCS to Recognize Patricia Ganz, MD and Alicia Staley with 2022 Ellen L. Stovall Award