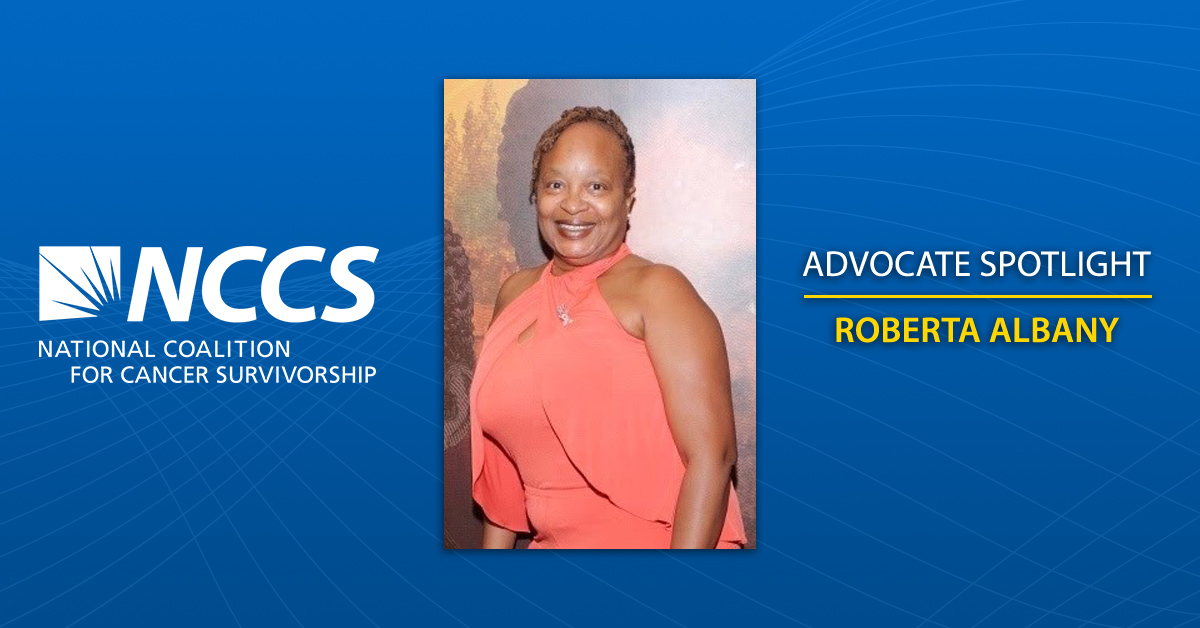 Roberta Albany: On a Mission to Educate the Black and Brown Cancer Communities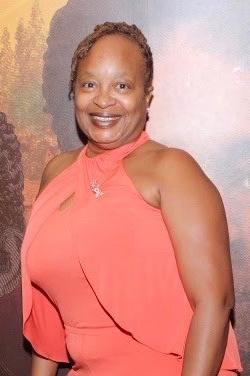 "I'm beautiful. I'm blessed, I'm loved, and I'm strong. I'm grateful. I'm victorious. I am a warrior. I am a survivor – but, more importantly, I am enough in Jesus' name. Amen," Roberta Albany says when she's feeling down, depressed, or not like her confident self before her breast cancer diagnosis.
Roberta describes the nine years of her survivorship journey as a rollercoaster ride. It all began while she was training for her first half marathon with Black Girls Run in October of 2013. She felt discomfort in her breasts, but she attributed it to lifting weights and doing CrossFit – plus, she had a clean mammogram in April. Roberta eventually performed a self-exam, and that's when she discovered a lump in her left breast. Her gynecologist ordered another mammogram in November, followed by an ultrasound that finally revealed the lump. "We're about to fast track you," the nurse said. "You need to make an appointment with a breast surgeon as soon as possible."
After undergoing a fine needle aspiration the week before Christmas, Roberta received a call from her surgeon with the results: "Are you by yourself?" he asked. "I'm sorry to tell you, but, unfortunately, it's breast cancer." Stage 2, Grade 3, estrogen-positive, progesterone-negative, HER2-negative invasive ductal carcinoma, to be exact. From that point on, Roberta's life became a whirlwind of more tests than she could ever imagine. A biopsy on her right breast revealed no sign of cancer, so she decided to have a mastectomy on her left breast only. Because the procedure caused Roberta to miss the Nike Women's Half Marathon, she asked her doctor to postpone her chemotherapy to give her time to run in the Hot Chocolate 15k/5k race in April. Although this was an unusual request, her doctor empowered her to make the decision.
Roberta's interest in cancer advocacy began while receiving chemotherapy and radiation between April and September of 2014. She eventually noticed that she was the only Black patient participating in activities at the hospital, despite there being many Black patients receiving treatment. In an effort to understand why, Roberta asked the nurses, "Do you pick and choose which patients to give these activities to?" They assured her that the activities were offered to everyone, but Roberta still needed to get to the bottom of why so few Black patients were engaged. After meeting Sarita, another survivor-thriver, through Black Girls Run, Roberta asked again: "When you go to different events – especially the ones that are free – are you the only Black person there?" Sarita confirmed Roberta's suspicions and encouraged her to become an advocate – but only after taking care of herself. "That made so much sense," Roberta says. "You can't help others if you don't get yourself together, because this journey messes with your mind, especially if you had a mastectomy."
That moment of clarity fueled Roberta's fire to become an advocate. She realized that talking about cancer was still taboo in the Black community. After taking Sarita's advice to take care of herself and go through the stages of grief that result from a cancer diagnosis, Roberta researched organizations that would train her to become an advocate. It was because of Sarita – her mentor and big sister – that Roberta became involved in NCCS's Cancer Policy and Advocacy Team (CPAT) in June of 2016. She appreciates NCCS's unique focus on survivorship because it recognizes that life after a cancer diagnosis is never the same.
NCCS provides support and resources to survivors who completed treatment, as well as those living with metastatic cancer. Roberta has always been civically engaged, but it wasn't until joining NCCS that she became aware of the politicization of health care, the importance of meeting with members of Congress to advance the cancer survivorship cause, and the need for proper education in the cancer community.
Throughout Roberta's years of attending CPAT Symposium and NCCS Hill Days, she's enjoyed learning the art of telling her cancer story and urging members of Congress to pass legislation that positively impacts survivors. "I go to the Hill because our legislative body needs to be educated on why we're fighting for the things that we're fighting for," she says. "They need to understand whatever it is that will help us to continue to survive and live a long, fulfilled life."
Although Roberta speaks on the behalf of all cancer survivors, she is unapologetically focused on addressing disparities in the Black and brown communities. The pandemic, along with the murders of Breonna Taylor and George Floyd, revealed trauma and deep disparities that society attempted to hide. After years of receiving pushback from elected officials and other members of the cancer community when discussing the marginalization of Black and brown communities, Roberta now tells them that it's time to deal with it. She gives them two choices: either continue to be a part of the problem or be a part of the solution. "I want to be a part of that solution," she says. "You have to send people in the communities that look like that community to build trust and a relationship."
Roberta's ultimate mission is to reduce the stigma around cancer in the Black community and to educate others about participating in clinical trials, monitoring your gynecological health, knowing your family's medical history, finding a medical team you can trust, and understanding breast health in both women and men. Roberta also advocates for all cancer patients to be assigned a licensed therapist, as well as a sex therapist and relationship counselor for patients experiencing the side effects of medications that affect sex and intimacy. "At the end of the day, your health is your wealth," she says.
Connect with Roberta on social media:
Twitter: @raalbany
Instagram: @roberta.albany
# # #
https://canceradvocacy.org/wp-content/uploads/Advocate-Spotlight-Roberta-Albany.jpg
628
1200
NCCS Staff
https://canceradvocacy.org/wp-content/uploads/2020/06/NCCA-Logo.png
NCCS Staff
2022-02-02 12:13:04
2022-02-02 12:13:04
Roberta Albany: On a Mission to Educate the Black and Brown Cancer Communities