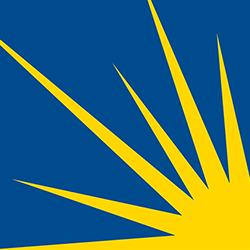 Health Care Roundup: Metastatic Breast Cancer Awareness; More on "Junk Insurance;" Reviewing Effects of California's Surprise Billing Law; More
We aim to make the Health Care Roundup a concise, one-stop summary of what you need to know as we continue working together to make cancer care better for everyone.
Your feedback is always welcome
 to make our content more useful to you. Please send comments to 
feedback@canceradvocacy.org
.
Subscribe to our email list and receive these updates in your email box »
---
HEALTH CARE HIGHLIGHTS
Ads Offering Bare-Bones Coverage are Everywhere
This Axios article highlights the growing trend of plans being advertised across the internet as "Trumpcare" plans. The problem? "Trumpcare doesn't exist, and many of these advertised plans offer bare-bones coverage."
"It's impossible to expect consumers to discern between the good guys and the con artists," said Sabrina Corlette, a health insurance researcher at Georgetown University. "And it's not the good guys that pop up on the first page of your Google search results."
As we've mentioned in recent Roundups, more stories are coming to light of people facing large medical bills because the comprehensive insurance they thought they were purchasing turned out to be "junk health insurance."
California's Surprise Billing Law
While progress on surprise billing legislation crept along in Congress, California moved forward with its own version. In the New York Times, Sarah Kliff and Margot Sanger-Katz reported on the implementation of the California law. Kliff and Sanger-Katz conclude that the law is providing protections to patients, pointing to data from two new studies. However, physicians strongly oppose the law and are warning Congress not to follow the example of California by adopting a benchmarking approach to surprise billing. With surprise billing increasingly in the news, this article provides a good overview of the topic and includes a look at the issues raised by surprise billing fixes.
---
CHART OF THE WEEK
Commonwealth Fund
There is increasing focus in the cancer community on "financial toxicity," the term used to describe anxiety and other problems some patients face due to the high cost of health care. This graph, from the Commonwealth Fund, succinctly shows how respondents feel about their ability to afford the care they need if they became seriously ill. Even with some type of insurance, 38 percent of respondents reported little or no confidence in being able to afford care.
Read the full Commonwealth Fund survey report here »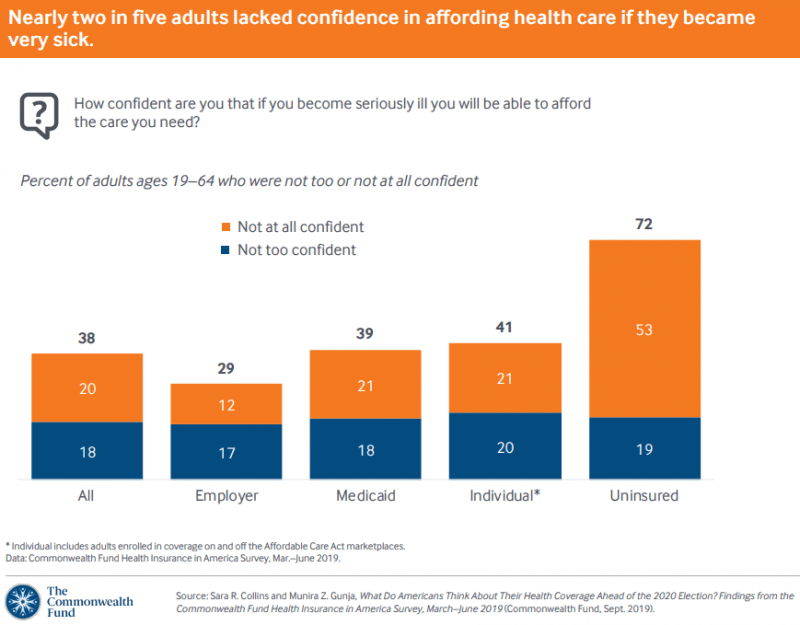 Support NCCS while shopping on Amazon.
A portion of your Amazon purchases will be donated to NCCS when you choose NCCS as your AmazonSmile charity.
Get started »
---
IMPORTANT READS
Time Magazine
In an excerpt published by Time Magazine from her new book Radical: The Science, Culture, and History of Breast Cancer in America, breast cancer survivor Kate Pickert helps raise awareness about how little funding goes to metastatic breast cancer research.
She writes, "…some 40,000 American women still die from breast cancer every year. Despite the billions of dollars collected and spent on breast-cancer research over the past half-century, relatively little has been devoted to studying metastatic-breast-cancer patients or their particular forms of the disease."
Washington Post
Many believe the 5th Circuit Court of Appeals' decision on whether or not to invalidate the Affordable Care Act (ACA) could happen any day. As the nation awaits the decision, more evidence is showing the ACA's impact on the health of Americans. As the Washington Post writes, "[There is] an emerging mosaic of evidence that, nearly a decade after it became one of the most polarizing health-care laws in U.S. history, the ACA is making some Americans healthier — and less likely to die."
OncLive (Free registration required, no paywall)
There are so many factors when it comes to receiving treatment for cancer. Access to quality, affordable health care is one, while appropriate workplace accommodations are another, as Victoria Blinder, MD, MSc, points out in this article. "Workplace accommodations are necessary because financial toxicity during treatment may impair a patient's ability to successfully fight cancer and retain employment over the long term." If all patients are to receive high quality cancer care, regardless of race or socioeconomic status, then employers need to provide necessary accommodations for cancer patients.
Washington Post
Wajahat Ali, a contributor to the New York Times and CNN, shared the cancer diagnosis of his two-year-old daughter during a TED talk. This moving article shares his experience and how over 500 people, mostly strangers, volunteered to be liver donors.
---
Related Posts
https://canceradvocacy.org/blog/health-care-roundup-sept-20-2019/
https://canceradvocacy.org/blog/health-care-roundup-sept-6-2019/
https://canceradvocacy.org/wp-content/uploads/2017/01/NCCS-Starburst-250px.png
250
250
actualize
https://canceradvocacy.org/wp-content/uploads/2020/06/NCCA-Logo.png
actualize
2019-10-04 15:33:08
2020-07-06 10:11:50
Health Care Roundup: Metastatic Breast Cancer Awareness; More on "Junk Insurance;" Reviewing Effects of California's Surprise Billing Law; More