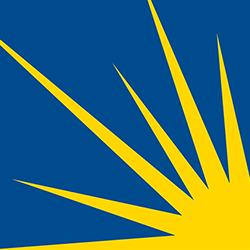 Health Care Roundup: Cokie Roberts; Survivorship in the News; Junk Insurance Doesn't Cover the Bills; Seeking Help and Encouragement; More
We aim to make the Health Care Roundup a concise, one-stop summary of what you need to know as we continue working together to make cancer care better for everyone.Your feedback is always welcome to make our content more useful to you. Please send comments to feedback@canceradvocacy.org.
Subscribe to our email list and receive these updates in your email box »
---
HEALTH CARE HIGHLIGHTS
Tennessee Unveils First Medicaid Block Grant Proposal
Tennessee became the first state in the country to release a plan proposing to block grant its Medicaid program. Currently, the federal government pays each state "a certain percentage of the cost of care for anyone eligible for health coverage." If changed to a block grant program, the federal government would "instead pay a state a lump sum each year while freeing it from many of Medicaid's rules, including who must be allowed into the program and what health care is covered." This would almost surely lead to benefit reductions and potentially impact the care of cancer patients who are on Medicaid.
American Lung Association: Do NOT Use E-cigarettes
The use of e-cigarettes, especially by teens and young adults, and the health concerns associated with their use have gained considerable media attention. Public scrutiny intensified even more after reports that at least seven people have died from vaping-related illnesses. The federal government is reviewing its policies, and two states, Michigan and New York, already took action to remove e-cigarettes from stores.
While some adults use e-cigarettes to help quit smoking, the number of teens who use e-cigarettes has increased sharply. The American Lung Association (ALA) issued a strong statement: "E-cigarettes are not safe and can cause irreversible lung damage and lung disease. No one should use e-cigarettes or any other tobacco product."
Remembering Cokie Roberts
The journalism and cancer communities are both deeply saddened this week by the passing of Cokie Roberts. A pioneer for women in journalism, she was also a staunch, outspoken advocate for cancer patients and survivorship issues. A longtime friend of NCCS, and a cancer survivor herself, her passion and dedication to improving the lives of cancer patients and their families will be missed. We offer our condolences to her family and to her colleagues at ABC News and National Public Radio.
View our tribute to Cokie and read more about her work with NCCS »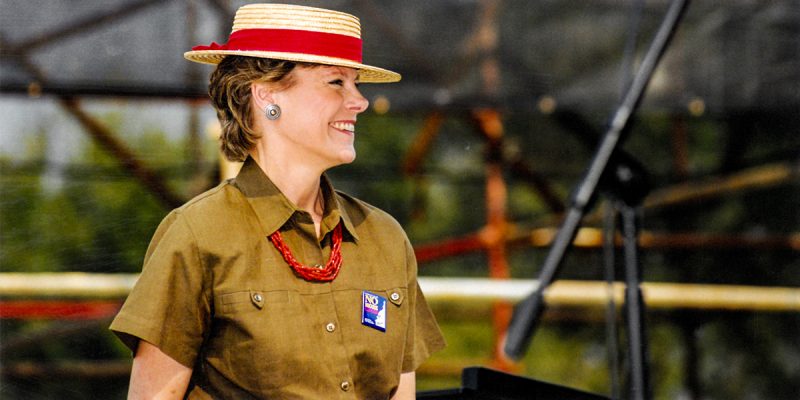 ---
CHART OF THE WEEK
NCCS and our partner patient advocacy organizations conducted a survivorship survey and promoted it to our constituents. We were thrilled that 1,380 cancer survivors responded and grateful to those of you who took the time to do so. They reported a mix of financial, emotional, and physical concerns when navigating their survivorship. Review the detailed results here »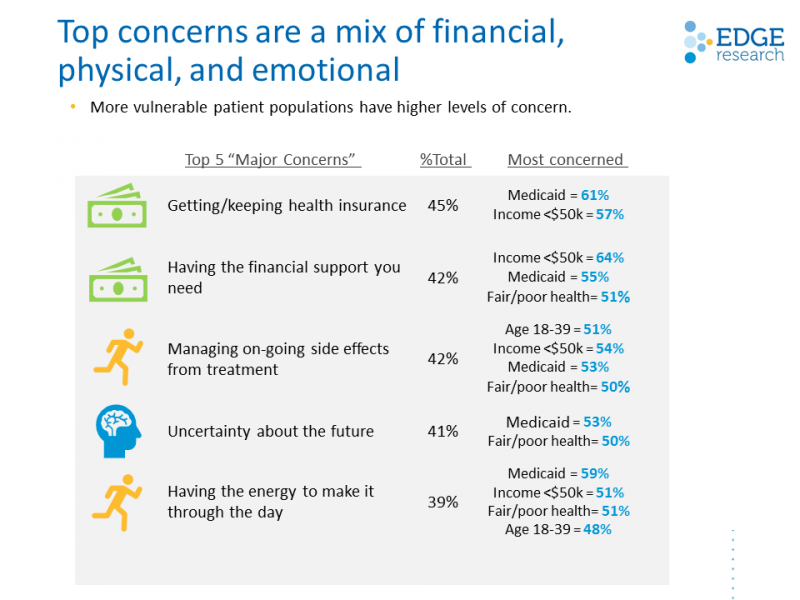 Support NCCS while shopping on Amazon.
A portion of your Amazon purchases will be donated to NCCS when you choose NCCS as your AmazonSmile charity.
Get started »
---
IMPORTANT READS
Wall Street Journal
Cancer survivor Laura Landro wrote this excellent piece highlighting how patients must navigate a multitude of physical and emotional survivorship issues. NCCS provided information for the piece, which mentions our survivorship survey results.
"When the treatment ends, the patients' next journey is just beginning."
Bloomberg
This detailed and heartbreaking article illustrates the perils of purchasing short-term health insurance plans. Often referred to as "junk" insurance, most of these plans do not provide the comprehensive coverage for people if they suddenly face significant health care needs.
The Diaz family thought they were buying comprehensive health coverage for a lower cost than their previous plan, which was ACA-compliant. After emergency bypass surgery, they were left with a $244,000 bill.
The article concludes by noting:
"The family switched to a comprehensive, ACA-compliant insurance policy in December 2017. With government subsidies, it costs less than they were paying for junk insurance."
CURE Today
NCCS Elevate Ambassador Doris Cardwell shares some of her experiences and advice as an inflammatory breast cancer survivor.
She writes, "If you are a survivor and need help dealing with all that you see, please hear me: I am a strong, independent, and sometimes sassy woman. I have walked through many difficult things in my life. Yet, it took me years to realize that seeking help takes more strength and courage than not."
ProPublica
Along with surprise medical bills gaining more scrutiny, so has the behavior of some hospitals for aggressively filing lawsuits against patients. It is this type of reporting that shines a spotlight on these practices and helps change behavior.
---
Related Posts
https://canceradvocacy.org/blog/health-care-roundup-sept-6-2019/
https://canceradvocacy.org/blog/health-care-roundup-aug-16-2019/
https://canceradvocacy.org/wp-content/uploads/2017/01/NCCS-Starburst-250px.png
250
250
actualize
https://canceradvocacy.org/wp-content/uploads/2020/06/NCCA-Logo.png
actualize
2019-09-20 16:24:37
2020-10-21 10:58:41
Health Care Roundup: Cokie Roberts; Survivorship in the News; Junk Insurance Doesn't Cover the Bills; Seeking Help and Encouragement; More