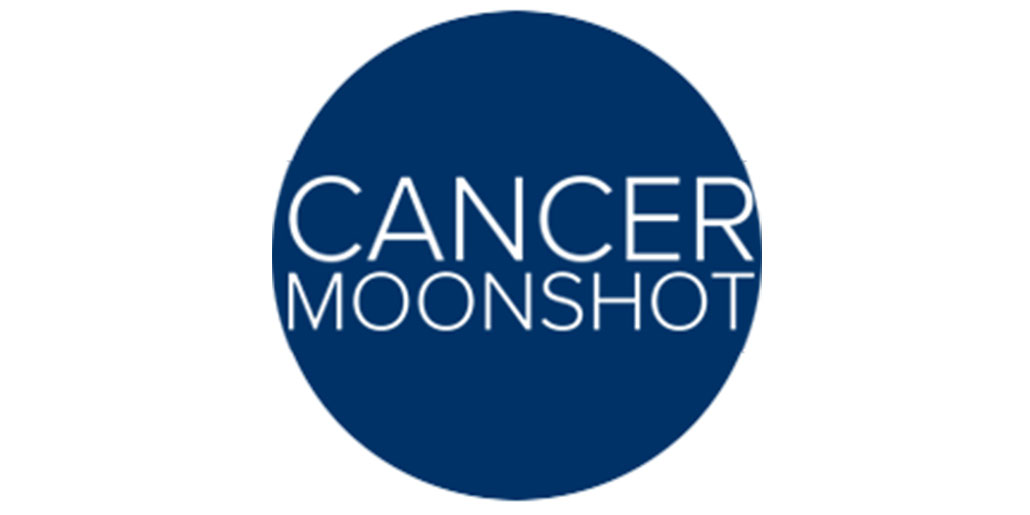 Webinar Video: "Cancer Moonshot – Symptom Management and Funding"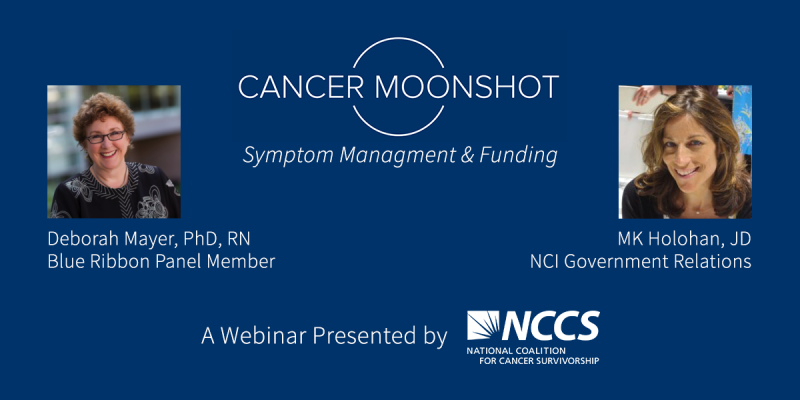 This week, NCCS hosted the latest CPAT webinar, Cancer Moonshot: Symptom Management and Funding. The featured presenters were Deborah K. Mayer, PhD, RN, AOCN, FAAN; and MK Holohan, JD. Dr. Mayer is the Director of Cancer Survivorship at the UNC Lineberger Cancer Center and a member of the Cancer Moonshot Blue Ribbon Panel. Ms. Holohan is the Director of Government Relations at the National Cancer Institute (NCI).In the webinar, Dr. Mayer walked through the process and structure of collaboration in the Moonshot initiative and described in detail her work on the Moonshot initiative's Blue Ribbon Panel. Dr. Mayer highlighted the Blue Ribbon Panel's recommendations, specifically focusing on the recommendation to minimize treatment side effects and what that means for cancer survivors. Ms. Holohan detailed how the Cancer Moonshot initiative could be funded in Congress, as well as potential barriers to achieving that funding. Ms. Holohan also talked about the 21st Century Cures Act, and the possibility it will be considered in the lame-duck session.
After their presentations, the speakers engaged in a short Q&A.
Watch the Webinar
---
Additional Resources and Links
Deborah K. Mayer's Presentation
Dr. Mayer's Presentation Slide Deck [PDF]
Dr. Mayer discussed a couple of online resources in her presentation. These items include:
Cancer Moonshot Task Force Report: This report describes activities and an implementation plan for achieving the Cancer Moonshot's goals.
Blue Ribbon Panel Report: This report was presented to the National Cancer Advisory Board in September. The final report describes 10 transformative research recommendations for achieving the Cancer Moonshot's goal of making a decade's worth of progress in cancer prevention, diagnosis, and treatment in just 5 years.
MK Holohan's Presentation
MK Holohan's Presentation Slide Deck [PDF]
---
About the Webinar Series
This webinar is a part of the Cancer Policy and Advocacy Team (CPAT) program. The goal of this program is to prepare advocates to be fully engaged in cancer care policy initiatives now and in the future. While this webinar concludes the 2016 CPAT events, we will soon be launching new programming in early 2017 including our in person symposium which will be held in June 2017 in Washington, DC. More information about that and additional webinars will be available in 2017. To join CPAT, please complete this brief questionnaire.
https://canceradvocacy.org/wp-content/uploads/Cancer-Moonshot.jpg
515
1030
actualize
https://canceradvocacy.org/wp-content/uploads/2020/06/NCCA-Logo.png
actualize
2016-11-03 16:36:44
2021-02-16 10:43:58
Webinar Video: "Cancer Moonshot – Symptom Management and Funding"