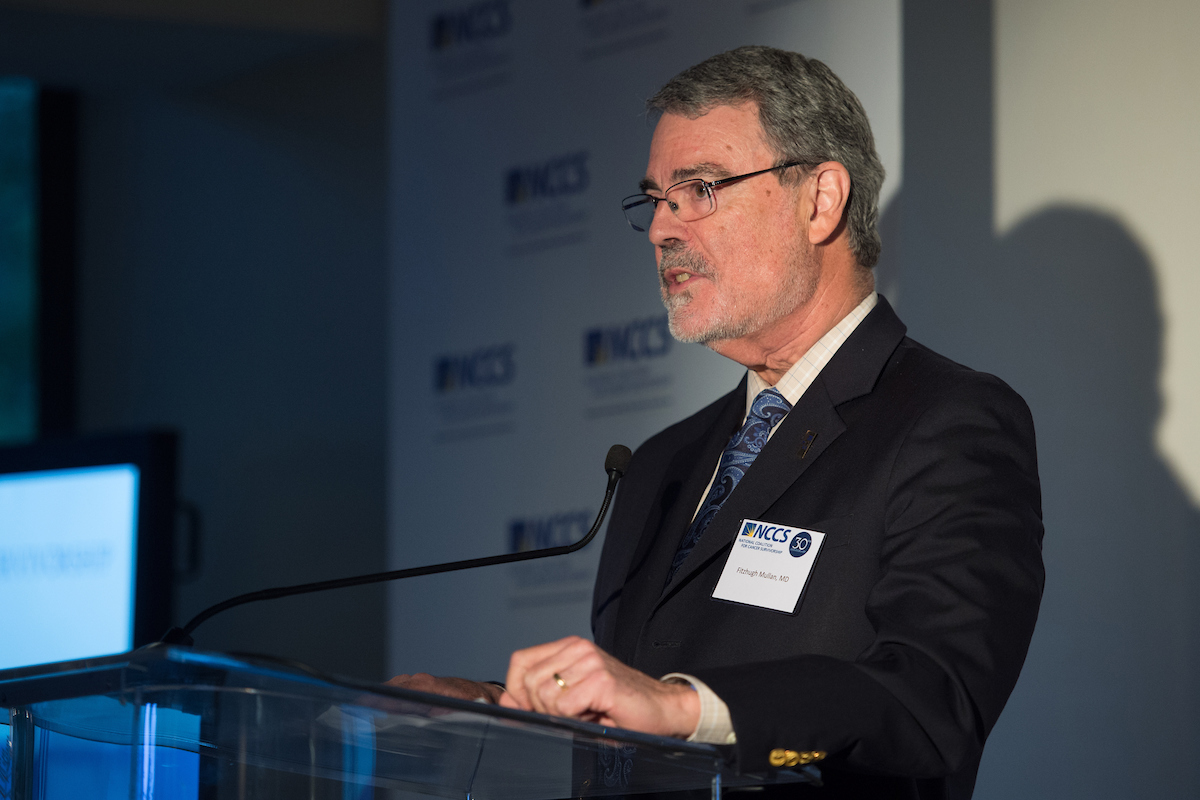 NCCS Marks 30 Years of Cancer Survivorship Advocacy
On October 13, 2016, the National Coalition for Cancer Survivorship (NCCS) recognized its 30th anniversary of advocating to improve cancer care. Current and past NCCS staff and board members, cancer survivors, caregivers, and representatives from throughout the cancer community attended to commemorate this milestone.
Today as the nation's oldest survivor-led advocacy organization, the event highlighted NCCS' many contributions to changing the culture of cancer care: by replacing "cancer victim" with "cancer survivor," creating the concept of "survivorship," and defining someone as a "survivor" from the time of diagnosis and for the balance of life, now the norm for the cancer community. "NCCS challenged the status quo of cancer care over the past thirty years, increasing the quality of care for millions of patients and their families," said NCCS CEO Shelley Fuld Nasso. "The need for that advocacy is as relevant as ever, and is why NCCS continues to ensure cancer care further incorporates patients' needs and values."
Photos from the 30th Anniversary Reception
[smartslider2 slider="46″]
Photos by Aaron Clamage
---
A Look Back at 30 Years
NCCS Co-Founder Fitzhugh Mullan, MD Speaks
NCCS Co-Founder and Founding President Fitzhugh Mullan, MD was at the event to deliver remarks about the milestone. Dr. Mullan was one of 22 cancer survivors who convened a three-day meeting on October 25, 1986 in Albequerque, NM. In his remarks, Dr. Mullan said, "After the electricity of coming together—sharing our experiences, sharing our passion, and our vision for a survivorship place—we formed the NCCS and went forth to make it part of the public discourse in America and the treatment experience for as many survivors, as possible."
The meeting was soon called by many as the "Constitutional Convention" of the cancer survivor movement. The founders drafted a charter for the nascent organization, adopting a list of objectives, with the primary goals being to raise national awareness of cancer survivorship, provide a clearinghouse for materials that educate survivors on their rights, and to advocate for research in the field of survivorship.
NCCS has had many successes in working to achieve its early objectives, one of many being the publication of The Imperatives for Quality Cancer Care, which directly led to the creation of the Office of Cancer Survivorship at the National Cancer Institute. "An organization such as NCCS has existed in a changing policy environment," Dr. Mullan said. "I think it's fair to say we were inspired by the early AIDS activists, who were in the field already in 1986 showing how you could speak up for your illness." He continued, "It is that same spirit of the empowered patient who brings the wisdom and the politics of the experience of having had cancer to public attention."
Make a Gift to NCCS Today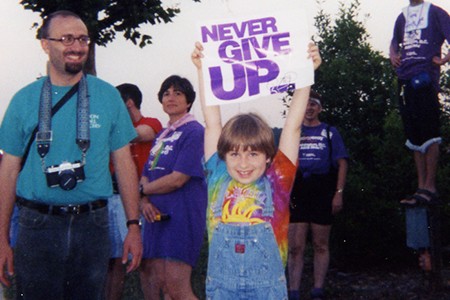 Dr. Mullan also turned his eye to the future of cancer care, stating that more attention is being paid to the long-term side effects of cancer treatment, and that the treatment itself is becoming more personalized. Dr. Mullan closed with a comment about achieving equity in cancer care. He said, "Health equity and attention to the disparities of care… are part of what a health system, in a country whose arc is bending towards justice, we like to think would improve over time. And we hope the cancer survivorship movement is at the forefront of those who argue for and help a society achieve better equity and fuller coverage. So it's been thirty good years, we expect 300 more, if cancer is around that long. We expect it to be beaten down by then. But certainly, we've made great progress in these thirty years."
Read More About the History and Accomplishments of NCCS:
---
The Ellen Stovall Award
Also at the 30th Anniversary Reception, the inaugural Ellen Stovall Award for Leadership in Patient-Centered Care was presented to Douglas W. Blayney, MD.
Read the blog post »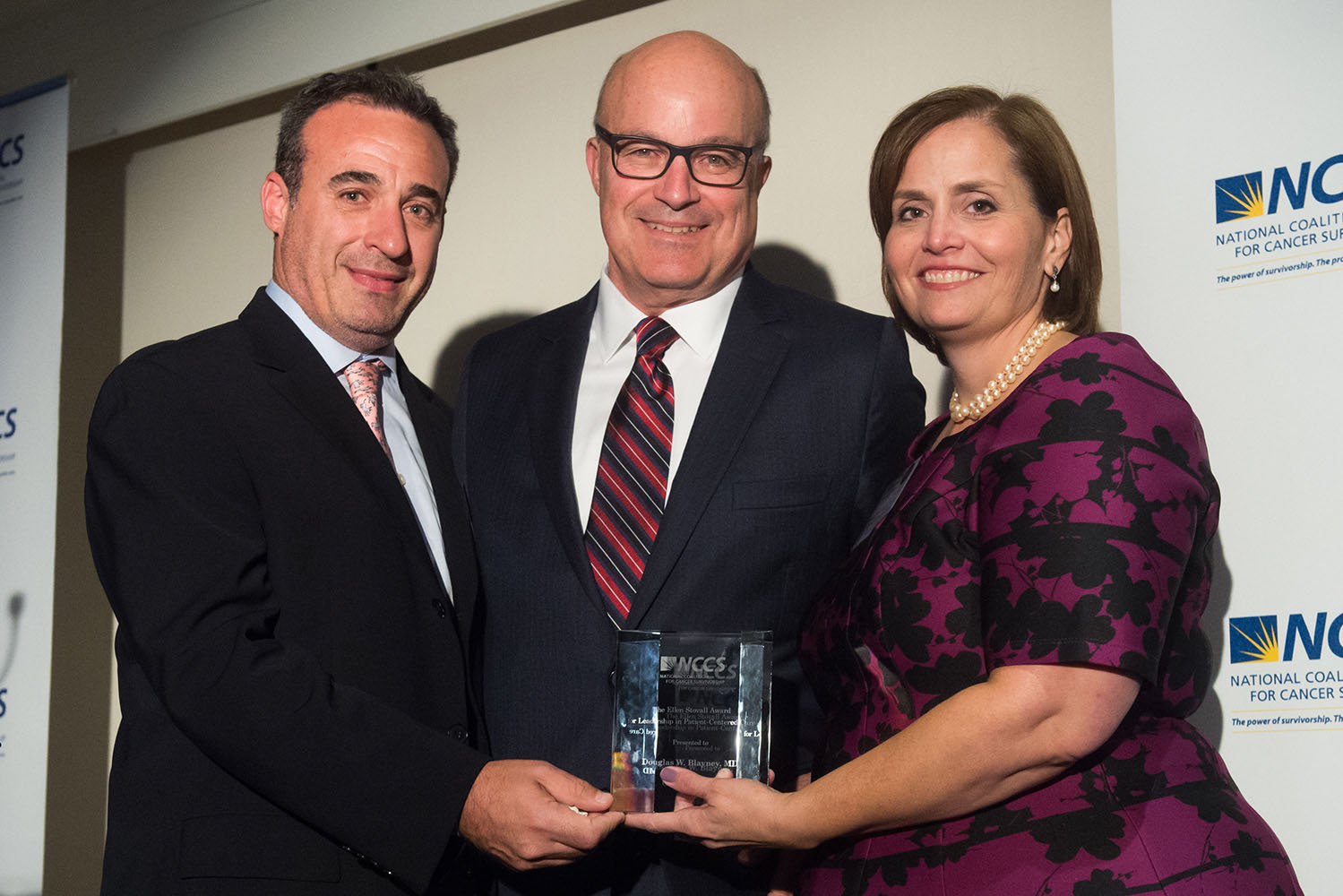 At the National Coalition for Cancer Survivorship's (NCCS) 30th Anniversary Reception on October 13, 2016, NCCS presented the inaugural Ellen Stovall Award for Leadership in Patient-Centered Care. The award was created to honor former NCCS CEO Ellen Stovall, who led the organization for more than twenty years and passed away in January 2016 from complications […]
---
https://canceradvocacy.org/wp-content/uploads/2016/10/161013_NCCS_Reception_065.jpg
800
1200
actualize
https://canceradvocacy.org/wp-content/uploads/2020/06/NCCA-Logo.png
actualize
2016-10-27 12:34:36
2016-10-27 12:34:36
NCCS Marks 30 Years of Cancer Survivorship Advocacy