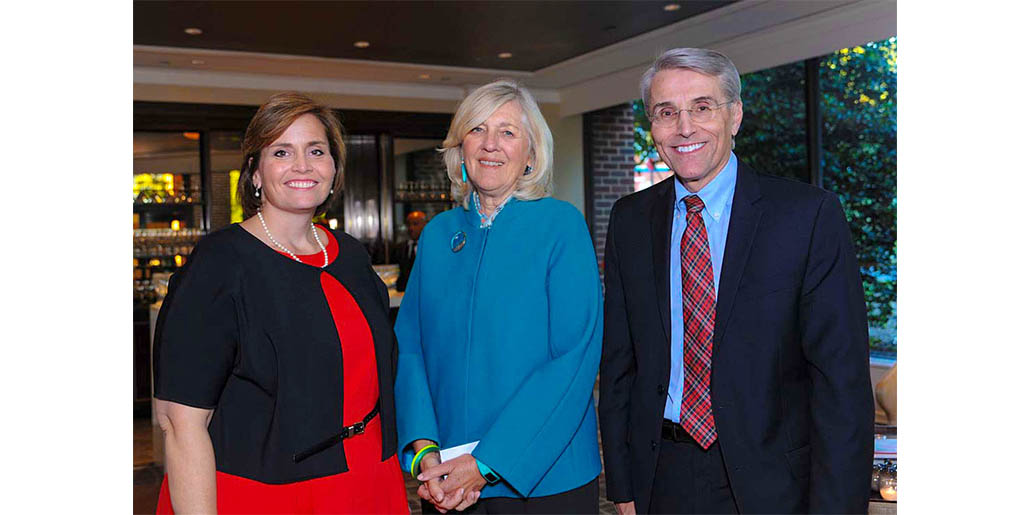 NCCS Celebrates "Focus on the Care" Reception in Honor of Dr. Richard Pazdur and Ellen Goodman
Last night survivors, advocates, researchers, innovators, and friends gathered at our 2015 Focus on the Care reception in celebration of two honorees who have used their unique talents to help the millions of people affected by cancer.  We are grateful for all who attended to show their support for Dr. Richard Pazdur and Ellen Goodman—two people who have made cancer care better for survivors and their families.
We were also pleased to have Dr. Robert Califf, the Food and Drug Administration (FDA) Deputy Commissioner for Medical Products and Tobacco and President Obama's nominee for FDA Commissioner, present Dr. Pazdur with the NCCS Public Service Leadership Award. In his acceptance speech, Dr. Pazdur, the Director of the FDA's Office of Hematology and Oncology Products, noted the urgent need for clinical trials that meet the needs of patients. Prior to the event, Dr. Pazdur and his wife, Mary Pazdur, sat down with us to discuss many issues in cancer care, including the importance of the physician/patient relationship, the collaboration of groups that have helped to advance cancer care, and the "patient cry." The full video and transcript can be viewed below.
This year also marked the inaugural presentation of the Jessie Gruman Award for Patient Engagement. For many years, we've admired Ellen Goodman, a Pulitzer Prize-winning columnist, author, and the co-founder of The Conversation Project, a widely-celebrated national public health campaign that works to change the way people talk about and prepare for their end-of-life care. Ms. Goodman has spent most of her life chronicling social change and its impact on American life. Her gift of story-telling has helped to shift the discourse surrounding important discussions about end-of-life choices and advance care planning. She spoke of the critical need to share our stories as our collective attitudes surrounding the experience of dying develop into a human experience. NCCS CEO Shelley Fuld Nasso presented Ms. Goodman with the Jessie Gruman Award, an honor named after a tireless advocate and the founder of the Center for Advancing Health.
We look forward to sharing more videos and photos in celebration of the honorees and our friend and colleague Jessie Gruman soon.
---
VIDEO TRANSCRIPT
Dr. Richard Pazdur: It's a fascinating time to be in medical oncology. One of my only regrets that I tell people, I wish that I could be here for the next thirty years because I think that that's going to be an even more fascinating period of time for the treatment of diseases. It's an interesting phenomenon that we've had of looking at diseases where there simply were no other therapies and where we're seeing multiple therapies being developed. We're seeing major advances in our understanding of the immune system and how the body interacts with cancer and developing appropriate drugs. So that gives me pause to think for the next thirty years to think of what oncology will look like. I'm really kind of jealous of the people that are just entering the field or early in their career. I think that they have a fantastic career ahead of them.
"…We're not the roadblock or the barrier or the challenge to get drugs approved. We're here to protect the American public, to promote the health of the American public."
There are a lot of distractions in medicine about the costs of the drugs, about how private practice is changing, how academic medicine is changing, but I think we have to take a look at the really big picture here and that is the patient and the physician and that relationship. And it is a very important relationship that I've always held very sacred and important in my life. As far as my vision for the FDA, when I came, and I think that's an important thing to discuss, I saw the potential for the FDA. And, here again, it needed an external face. People had to understand what we're doing at the FDA and I think through the cooperation and collaboration of patient groups, ASCO, AACR, ASH, the numerous interactions that we have, we've really put a different face on the FDA, a much more external face and it illustrates the importance of the work that we do here. I think it's important for people to understand that we're not the roadblock or the barrier or the challenge to get drugs approved. We're here to protect the American public, to promote the health of the American public.
When Personal and Professional Lives Intersect
I always give the joke that our first date was over a bottle of Adriamycin in the exam room, which sounds somewhat peculiar, but that was the truth. It was not over a bottle of chardonnay, or whatever. But it gave us a common experience, and I look back to all of those early patients that were treated with Mary, and myself, and the people at Rush (Rush-Presbyterian St. Luke's Medical Center) where we were working at that time in Chicago and it really was a special time in my life. I've enjoyed the partnership that I've had with Mary during those years. As many of you know, my life had been transformed over the past three years with my wife having ovarian cancer and this gives me a special perspective on the treatment of patients with cancer.
Mary Pazdur: I've always worked in oncology, even when I was an undergraduate nursing student and I was always drawn to oncology because it's so many different diseases affecting so many body systems and developmentally along the continuum of life. The silver lining is that you learn a lot of existential lessons about living and dying when you're almost too young to learn those things. But I think it has prepared me in advance because many times I would be in an exam room with a patient as a healthy healthcare provider wondering, "I wonder how I would cope with that situation. What would I do? What would I think?" So I've had the luxury of some rehearsal and very few people have that opportunity in their lifetime. And it's made it, in some ways, easier, and respectful of that experience with those people and you see also the strength and the resiliency of the human spirit that comes through. I've learned a new-found respect for the caregiver, since he has had to become a caregiver in addition to the other hats that he wears. I've always understood the important role that each of us with cancer has in having someone who is helping them through. The patient usually is the center or the focus, and it's very easy for the patient to forget that they wouldn't be there if it weren't for the other, besides the health care professionals, supporting them and helping them and being compassionate, but the people at home. The family.
"We have to understand that the clinical trials are here to serve the patients. The patients are not here to serve the clinical trials."
Dr. Richard Pazdur: I would say that one thing that has, one major issue that I think that this whole experience has taught me is our underestimation of drug toxicity from the patient's perspective. A physician simply doesn't have that. A physician spends fifteen minutes, a half hour, perhaps an hour with a patient, they're not there at two o'clock in the morning. They're not there when they leave their wife at eight o'clock in the morning and she's sitting on the couch because she's fatigued, and when you come back at five o'clock, she's still sitting on the couch, fatigued. That's not a grade two toxicity. It's really life-altering. And people have got to understand that. But I think one of the major things that you have always been interested in is maintaining quality of life and looking at what are the toxicities versus the benefit and having the perspective of knowing about the disease. I remember when we first got the diagnosis, three years ago, I was talking to a very good friend of mine who is a lawyer and I was telling him that having Mary have this disease and having worked with her with similar patients, et cetera, and having had patients throughout my professional career with this was like being in a book that you know. You know the entire story and how it's going to end.
The Patient Cry
One of the things that I really emphasize is that, when we hear the "patient voice," we really shouldn't get lost in the tree, so to speak, in arguments of whether one should take time to progression or overall survival as the endpoint. We really should look at larger questions that affect oncology. And these are some of the projects that we're looking at, at the FDA. For example, we've heard from almost all patients that they want clinical trials that work for them. They want eligibility criteria that are broadened, that represent the real world, that don't exclude patients because they've had a prior malignancy or they are a poor performance status, or they have HIV infection. We want to look at that, and this is one of the projects that we have ongoing in the divisions, all three of the oncology divisions, the clinical divisions, looking at ways of broadening eligibility criteria. There are major issues that really need to be addressed in the clinical trials enterprise here and we really need to bring the patient voice. One of the things that I've thought about during this whole interaction in the past few years with bringing in the patients more to the FDA and hearing the whole FDA initiative of the patient voice, I sometimes wonder if it's not a "patient voice," but a "patient cry," to really develop clinical trials that are more humanistic, that really address the needs of the patient. We have to understand that the clinical trials are here to serve the patients. The patients are not here to serve the clinical trials. So I think my goal was really to make us a partner in drug development and I think I accomplished that with the help of a fantastic group of people. And here again, I thank the organization (NCCS) for giving me this award, but it's really not for me. This award is really for the people who work in oncology and I have been blessed to work with many talented people.
---
The views & opinions expressed in any guest post or video featured on our site are those of the guest author and do not necessarily reflect the opinions & views of the National Coalition for Cancer Survivorship. Read our blog and comment policies here.
https://canceradvocacy.org/wp-content/uploads/Focus-on-the-Care1.jpg
515
1030
actualize
https://canceradvocacy.org/wp-content/uploads/2020/06/NCCA-Logo.png
actualize
2015-10-22 18:00:19
2020-12-01 12:27:00
NCCS Celebrates "Focus on the Care" Reception in Honor of Dr. Richard Pazdur and Ellen Goodman