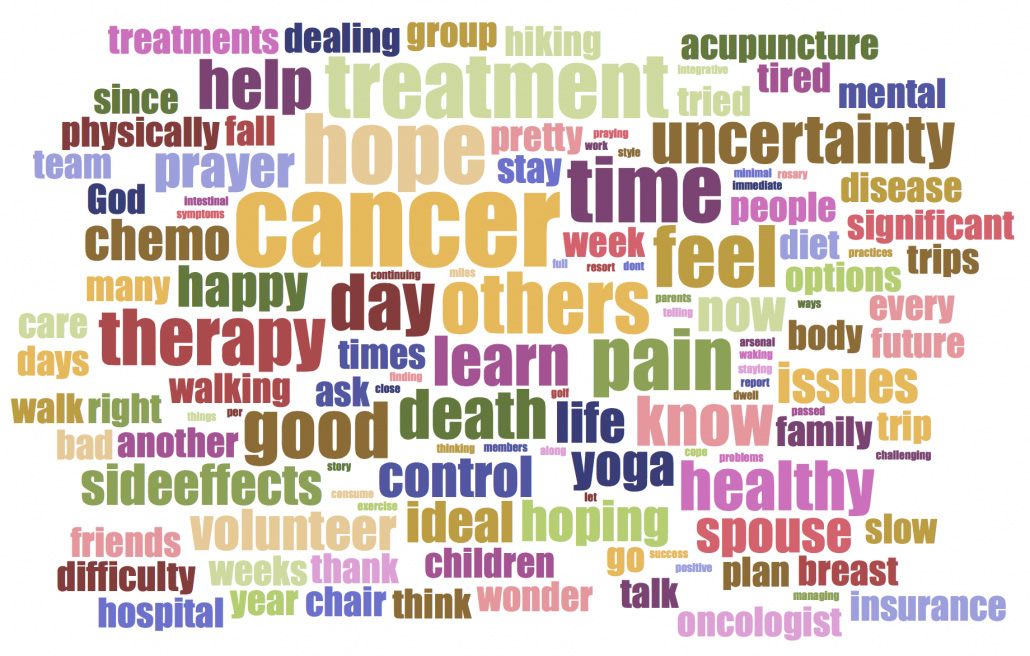 Metastatic Breast Cancer: A Student's Perspective
Recently I had the privilege of attending "A Journey of Courage and Hope: The Johns Hopkins Metastatic Breast Cancer Retreat for Couples." Facilitated by a renowned leader in patient-centered breast cancer care, Lillie Shockney, this unique retreat for patients and their spouses explores the resources to cope physically, financially, and emotionally with the chronic nature of metastatic breast cancer diagnosis and treatment. It engages participants in discussions about end-of-life in a safe and comfortable setting and provides people an opportunity to share their stories and to build relationships with others facing the same challenges.
As a medical student, the perspective gained while observing this retreat is invaluable in providing better patient care in the future. While a majority of patients with metastatic breast cancer report having good communication with their health care team, two out of five still don't openly discuss deeper concerns about emotional well-being, side effects, symptoms, and quality of life – factors that can alter treatment recommendations.
During times we shared meals together, I asked patients and their spouses, "After everything you have gone through, what is one thing you wish you could express to oncologists of the future?"  Some patients needed time to think, while others reacted as if they had been waiting for the opportunity to influence care of subsequent patients.
"Information," one replied. "I wish the doctors were more forthcoming and direct in providing information about all of the possibilities that lie ahead."
One inherent hardship for cancer patients and their families is the immense amount of uncertainty tied to the diagnosis.  Many feel lost and aren't even sure what questions to ask. Therefore, the desire for physicians to volunteer more information about all possible treatment options and prognoses remained a common response.
Many wished for oncologists to remain cognizant of the new world their patients are entering, one in which everyone speaks an entirely foreign language.
A patient explained, "When we got the diagnosis, it was like we had to learn calculus again."
Even after researching their cancer during its initial stage, the lexicon would shift as the disease progressed, and they would again find themselves frustrated with their lack of understanding.
These responses were surely powerful, but even more so was the exposure to the uncensored experiences of metastatic patients during this retreat. When you see the tears of a young mother trying to accept leaving three children behind, you quickly learn that while medication may shrink a tumor, there is yet to be a chemotherapy regimen that targets heartache. You learn that not even years of Tamoxifen can quell the vast amount of uncertainty these patients face. And while our goal as physicians is to heal our patients…does no evidence of disease mean that person is healed?
Most importantly I learned that healing stems from hope. And maybe for some, this is no longer a hope of immortality, but a hope for joy to be found in each day that remains. Patients have a right to this hope, and oncology providers have the responsibility to share in their hopes whenever possible. This is truly a partnership.
A group photo of all the attendees remains on my desk, above textbooks and board review materials, serving as a daily reminder of the humanity to be recognized in every patient I encounter. I would like to provide the promise that lessons learned from this experience will be applied to the betterment of all cancer care in the future.
About the Author: Tyler J. Trahan, MSc is a second-year medical student at Central Michigan University College of Medicine with a strong interest in patient-centered oncology care and research. His goal is to understand the inherent fears and aspirations of future patients in order to take a more active role in providing holistic care for patients and their families.
The views & opinions expressed in any guest post featured on our site are those of the guest author and do not necessarily reflect the opinions & views of the National Coalition for Cancer Survivorship. Read our blog and comment policies here.
---
Sources Cited:
Cancer Support Community. (2012) "Open to Options™/Advanced breast cancer online survey results report." Improving Patient-Provider Communication and Shared Decision Making Tip Sheet
https://canceradvocacy.org/wp-content/uploads/metastatic-breast-cancer.jpg
656
1030
actualize
https://canceradvocacy.org/wp-content/uploads/2020/06/NCCA-Logo.png
actualize
2015-10-08 15:16:13
2021-09-29 05:49:55
Metastatic Breast Cancer: A Student's Perspective