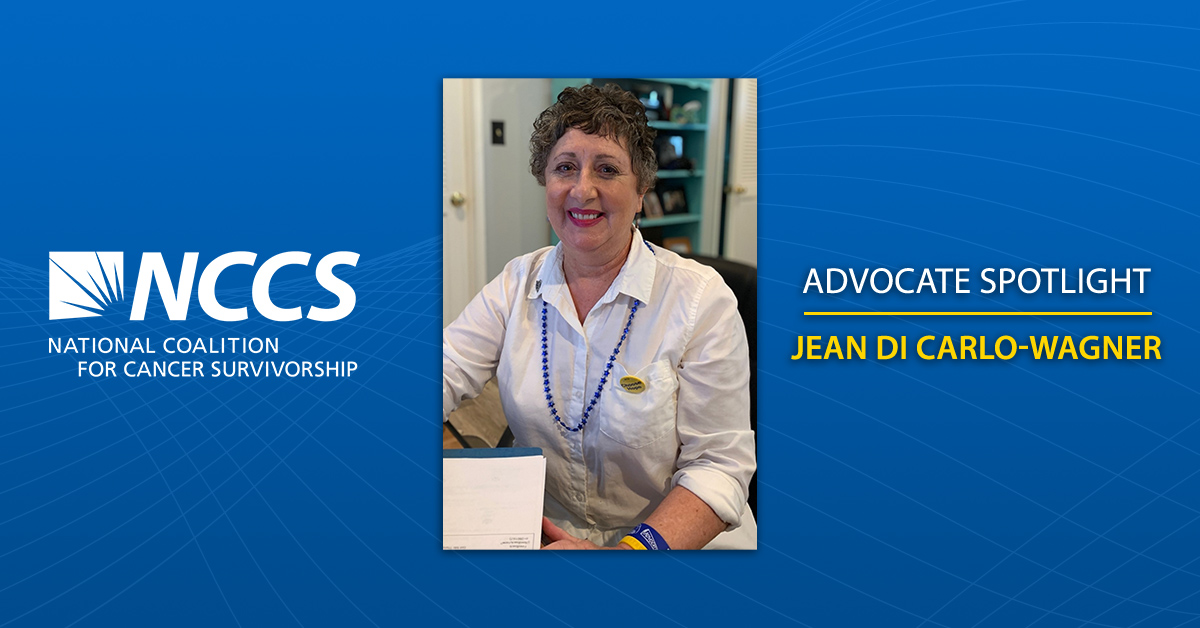 Jean Di Carlo-Wagner: Don't be Embarrassed to Death
In March of 2003, Jean Di Carlo-Wagner listened to a public service announcement by Katie Couric, in which she discussed the symptoms of colon cancer. It was then that Jean knew she had cancer.
After two years of bowel changes, fatigue, reflux, pain in her gut, weight changes, night sweats, and bloating, Jean's doctor ordered a colonoscopy. "Because I was only 46, my doctor didn't think these changes had to do with cancer, but with Crohn's disease or ulcerative colitis, which my older sisters both have," she says. Jean's bowels were so inflamed on the day of the colonoscopy that her gastroenterologist was only able to collect a few cells. The doctor ordered her to go in for X-rays with contrast the following day, which prompted them to schedule surgery. The time leading up to Jean's surgery was the hardest three weeks of her life. She felt severe pain, bled with every bowel movement, and lost 15 pounds. During the surgery, doctors removed a flat tumor that had eaten through Jean's bowel wall and into the nerve, as well as a foot of sigmoid bowel and two positive lymph nodes. The diagnosis: Stage 3c colon cancer.
Jean's doctor visited the post-surgical hospital room and grimly explained her diagnosis and prognosis. In 2003, there was only one existing chemotherapy agent and one in clinical trials for her type of cancer. With chemotherapy, he estimated that she had a 30% chance of living three years. After returning home for a few weeks to recover, Jean began a weekly schedule of 26 treatments.
Jean got involved with non-profit cancer organizations and learned about grassroots advocacy during treatment. Over the past 17 years, she's visited Capitol Hill with many organizations to advocate for cancer funding by sharing her story with members of Congress. She's advocated for and supported colorectal cancer survivors through the Colorectal Cancer Alliance, Digestive Diseases Health, Imerman Angels, and by volunteering as a Chemo Angel. Jean broadened her support of all survivors as a Livestrong Leader and as a trained advocate with the American Association of Cancer Research. Jean enjoys making meditations and audio yoga classes for cancer patients among her many hobbies. She has even shared her gift as a yoga instructor with CPAT members at the annual symposium and via webinars.
In need of a mentor to help her through treatment, Jean contacted Fight Colorectal Cancer. She was referred to Suzanne Lindley – a Stage 4 cancer survivor, active volunteer, and co-founder of Say YES to HOPE. Suzanne encouraged Jean to apply to advocacy roles through NCCS, so Jean joined the Cancer Policy and Advocacy Team (CPAT). Once Jean realized that she wanted to advocate for the whole community of cancer survivors, she knew that NCCS was the best place to put her energy.
NCCS's mission aligns with Jean's belief that all patients deserve to have information about their diagnosis in writing, with a cancer care plan that explains their options. Jean recalls learning everything she knew about her diagnosis through conversations with her doctor. "Listening when one is stressed isn't the best way to make informed decisions about your treatment," Jean says. "I was told what I needed to do. I was not part of a team, nor was my decision in any way 'informed.'"
There are more than 100 types of cancer, each starting with a diagnosis and a treatment plan. Jean understands the shock of hearing a diagnosis and being thrust into a world of terminology and science and feeling overwhelmed by making life-altering decisions, all while trying to acquire knowledge quickly. She knows the feeling of putting one's life in the care of strangers and the uncertainty of knowing whether one truly has the best doctor. "As an advocate, I learned that we need at least one other medical opinion on our diagnosis and treatment. We must seek out an institution that is doing research and is on the cutting edge of cancer treatments in our area of cancer, to make sure we have the best chance of survival," Jean says. "Putting a written plan in place, as CPAT members advocate for, is critical in getting quality cancer care to each new survivor."
Jean's personal mission is to make sure everyone knows the symptoms of colorectal cancer, their risk factors, family history, and that the new screening age is 45 years old. Symptoms include bowel changes, weight changes, reflux, night sweats, blood in stool, bloating, and abdominal pain. Risk factors include family history of inflammatory bowel diseases, such as Crohn's, ulcerative colitis, irritable bowel disease, or celiac. Jean encourages people of color to talk to their doctors about their risk and family history.
Now, more than ever, younger people are being diagnosed with late-stage disease. "I want to take the stigma away from colorectal cancers and treat our bowels as another part of our bodies that needs screening," Jean says. "My line to everyone about colorectal cancer screenings is, 'Don't be embarrassed to death.'"
Connect with Jean Online:
SoundCloud – Yoga Being
Facebook: Jean Di Carlo-Wagner
Twitter: @jeandw
LinkedIn: Jean Di Carlo-Wagner
# # #
https://canceradvocacy.org/wp-content/uploads/Jean-Di-Carlo-Wagner-feat-img.jpg
628
1200
NCCS Staff
https://canceradvocacy.org/wp-content/uploads/2020/06/NCCA-Logo.png
NCCS Staff
2022-03-02 15:09:58
2022-03-03 10:59:34
Jean Di Carlo-Wagner: Don't be Embarrassed to Death