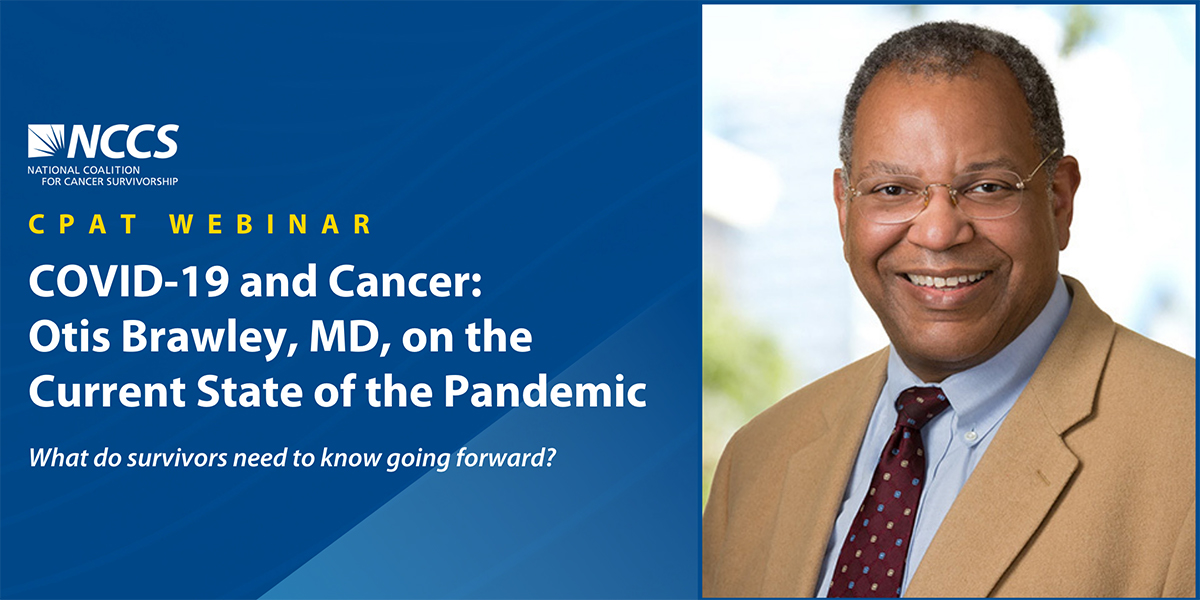 COVID-19 and Cancer: Otis Brawley, MD on the Future of the Pandemic
This week, globally-recognized cancer control expert Otis Brawley, MD, joined NCCS CEO Shelley Fuld Nasso to discuss the current state of the COVID-19 pandemic and what cancer survivors need to know going forward to best protect themselves.
Dr. Brawley began with opening comments before taking questions from the audience. He described what the current science says about the disease, summarizing recent statistics as well as current treatments and preventive measures for those who are vulnerable and/or contract severe disease.
Watch the full video below or watch on YouTube.
Questions and Topics
Dr. Brawley fielded a number of questions submitted by cancer survivors. In the YouTube video above, each question is split into a separate "chapter" so that you can more easily navigate the conversation. Below are the index of questions and topics that Dr. Brawley discussed, along with the video timestamp.
Time Topic
00:00 – Introduction
01:12 – Opening Comments by Dr. Brawley
06:59 – Why has masking guidance changed so often?
10:20 – How can we better communicate pandemic science?
12:55 – The difficulty of reinstating masking and other precautions.
14:43 – How concerned do cancer survivors need to be going forward?
17:31 – Concerns for Leukemia/Lymphoma/B-Cell Survivors
18:29 – Is there a useful test that measures immunity level?
19:06 – Natural immunity protection discussion
21:18 – Can you tell which variant of COVID you contracted?
22:11 – New B.A.2. variant and the transmissibility of variants.
24:49 – Was Omicron variant actually milder?
25:53 – Evidence that healthy lifestyles protect against infection?
27:58 – Travel safety recommendations for at-risk people
29:36 – How many times can you wear a KN95 or N95 mask?
30:05 – Precautions for in-person meetings without masks?
31:35 – What about wearing masks outside?
31:58 – Will we need a 4th shot? What about in the future?
33:09 – Vaccine concerns for young children
35:06 – Some late effects from COVID infection will take decades to surface.
36:53 – Is it safe to attend sports games or events with large crowds?
38:44 – Any groups of patients who still shouldn't get the vaccine?
39:34 – Are cancer centers allowing visitors again?
41:38 – Research on long COVID neurological side effects.
42:46 – What does an "endemic" phase of COVID look like?
44:10 – At what point does the pandemic become endemic?
45:11 – Is a "pod" approach still recommended for protecting immunocompromised patients?
45:47 – Is the Mu variant still a concern?
46:16 – If you're boosted and contracted Omicron, should you still get the fourth shot?
48:26 – Can an immunocompromised cancer survivor safely live with an unvaccinated person?
50:27 – Could the aftermath of COVID create new strains of cancer or chronic diseases?
52:57 – Should recently-infected individuals get a fourth shot, or wait for an Omicron-specific vaccine?
54:04 – Will boosters for children age 5-11 be recommended soon?
56:50 – Is there a way to participate in one of the long-COVID cohort studies?
57:40 – What does the recent rise in cases in the U.K. mean for Americans?
58:27 – Closing Comments
---
About Otis Brawley, MD
Otis Brawley, MD, is a globally-recognized expert in cancer prevention and control. He has worked to reduce overscreening of medical conditions, which has revolutionized patient treatment by increasing quality of life and reducing health disparities.
Brawley's research focuses on developing cancer screening strategies and ensuring their effectiveness. He has championed efforts to decrease smoking and implement other lifestyle risk reduction programs, as well as to provide critical support to cancer patients and concentrate cancer control efforts in areas where they could be most effective. Brawley currently leads a broad interdisciplinary research effort on cancer health disparities at the Bloomberg School of Public Health and the Johns Hopkins Kimmel Cancer Center, striving to close racial, economic, and social disparities in the prevention, detection, and treatment of cancer in the United States and worldwide. He also directs community outreach programs for underserved populations throughout Maryland.
Brawley joined Johns Hopkins University as a Bloomberg Distinguished Professor in 2019 from the American Cancer Society and Emory University. In 2021, Dr. Brawley joined the NCCS Board of Directors.
---