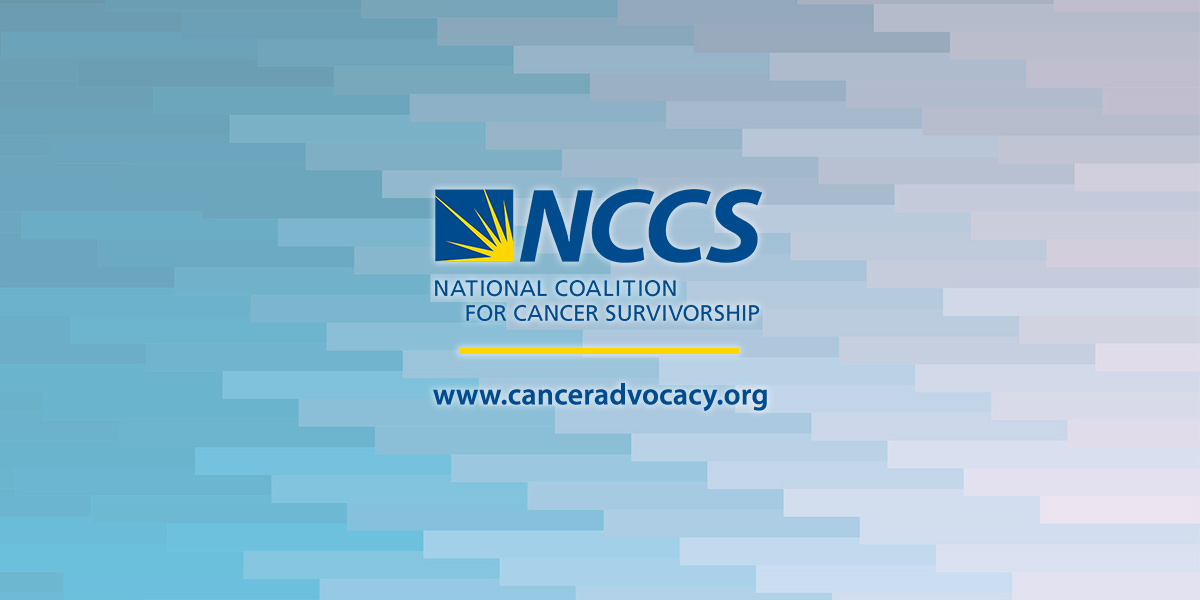 U.S. House Reps. DeSaulnier and Carter Introduce Bipartisan Cancer Care Planning and Communications Act (CCPCA)
Today, Representatives Mark DeSaulnier (D-CA) and Earl L. "Buddy" Carter (R-GA), co-chairs of the Congressional Cancer Survivors Caucus, introduced the Cancer Care Planning and Communications Act (H.R. 4414), which would create a Medicare service for cancer care planning, a key priority of the National Coalition for Cancer Survivorship.
The legislation would improve doctor-patient communication by enabling doctors to bill Medicare for the time they spend developing comprehensive cancer care plans, at diagnosis, when there is a change in treatment plan, and at the transition to post-treatment survivorship. When cancer patients receive a plan that includes expected treatment options and symptoms, they are better able to understand what to expect and become proactive in their own care.
"Cancer patients and survivors need a roadmap to guide their care, both during treatment and in the transition to post-treatment care," said Shelley Fuld Nasso, NCCS CEO. "In our State of Cancer Survivorship Survey, less than 20 percent of cancer survivors received a survivorship care plan. The Cancer Care Planning and Communications Act would ensure that cancer survivors get the help they need to navigate and coordinate their care. We are grateful to Congressmen DeSaulnier and Carter for their bipartisan cooperation and leadership in fighting for cancer patients and survivors, and we look forward to working with them to pass the CCPCA."
"A cancer diagnosis can leave a patient with more questions than answers. While the medical community continues to make breakthroughs in treatments and research, advancements in doctor-patient communications are not following at the same pace. Less than half of all cancer patients feel adequately informed about their diagnosis and the ensuing treatment options. A written plan that explains treatments and expected symptoms would help provide some of those answers. As a cancer survivor, I am grateful to have a healthy and full life ahead of me, and I hope that my experience and this legislation will help others better navigate a diagnosis," said Congressman DeSaulnier. "I am grateful to be working with Congressman Carter to show that supporting patients isn't a partisan issue."
"Cancer patients should be focused on getting better instead of trying to navigate the complexities of their diagnosis without clear direction or knowing what to expect from their care, especially as cancer treatment choices become more advanced," said Congressman Carter. "I'm proud to introduce this legislation with my friend Congressman DeSaulnier to help provide a personalized written roadmap for patients as they fight against cancer through diagnosis, treatment and survivorship care."
"The moment people hear the words, 'you have cancer,' they are overwhelmed not only by uncertainty but also by tremendous amounts of complicated information that they must weigh in order to make decisions," said Laurie Isenberg, a two-time cancer survivor, NCCS board member, and advocate at the UCSF Helen Diller Family Comprehensive Cancer Center. "A cancer care plan becomes a critical tool to help cancer survivors manage all the pieces of their care before, during and after treatment. By clarifying the treatment steps, a cancer care plan promotes better discussions between cancer survivors, their support teams and care providers. It takes the fear out of the unknown and is essential in post-treatment care, helping cancer survivors and their providers work in tandem to manage future cancer risks."
# # #
To learn more about the Cancer Care Planning and Communications Act and the case for cancer care planning, check out our CCPCA webpage.
View/Download the CCPCA Fact Sheet
https://canceradvocacy.org/wp-content/uploads/2019/10/Canceradvocacy-org-default-image.jpg
600
1200
NCCS Staff
https://canceradvocacy.org/wp-content/uploads/2020/06/NCCA-Logo.png
NCCS Staff
2021-07-15 14:19:08
2021-08-16 03:04:50
U.S. House Reps. DeSaulnier and Carter Introduce Bipartisan Cancer Care Planning and Communications Act (CCPCA)