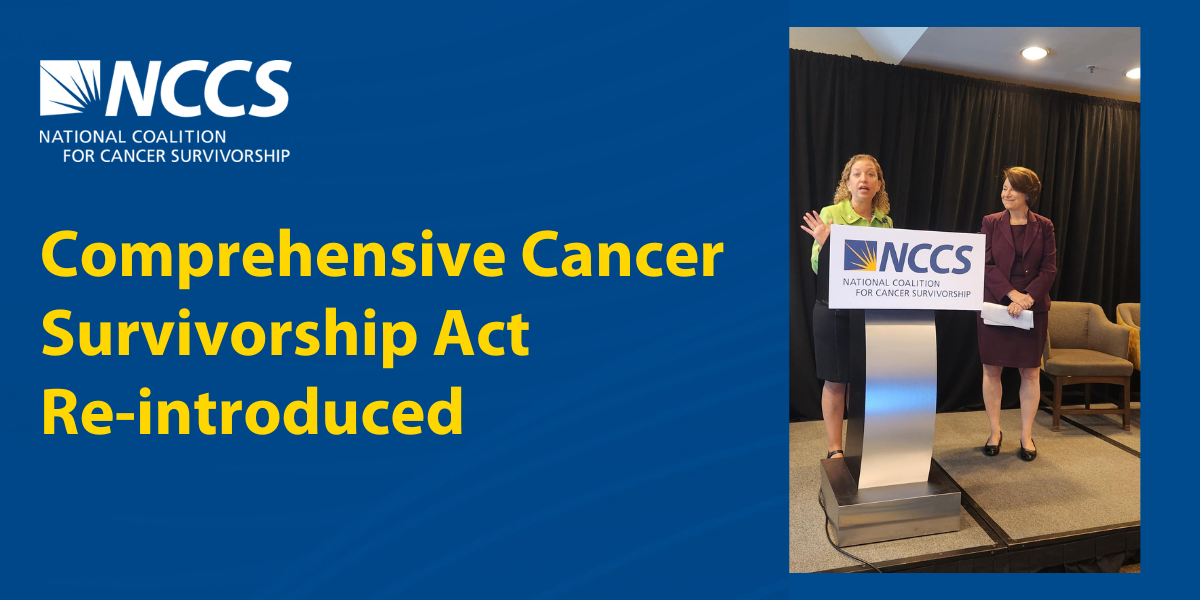 NCCS Applauds the Re-Introduction of the Comprehensive Cancer Survivorship Act (CCSA)
On Friday, Representatives Debbie Wasserman Schultz (D-FL-25), Brian Fitzpatrick (R-PA-1), and Mark DeSaulnier (D-CA-10) and Senators Amy Klobuchar (D-MN) and Ben Cardin (D-MD) reintroduced H.R. 4363/S.2213, the Comprehensive Cancer Survivorship Act (CCSA). This bipartisan legislation addresses the health of cancer survivors throughout the entire continuum of care – from diagnosis to active treatment and post-treatment – to improve survivorship, treatment, and transition for all survivors.
Care and the cancer journey do not end once active treatment ends, and survivors need lifelong support for their disease. To improve their quality of life and health outcomes, cancer survivors need resources to help monitor for these secondary cancers and late and long-term effects caused by their cancer treatment. Additionally, health care providers need resources to provide appropriate care for survivors throughout the entire continuum of care. The CCSA addresses the existing gaps in survivorship care and improve quality of care and navigation of health care systems for survivors, their loved ones, and their health care providers.
Last week, Representative Wasserman Schultz and Senator Klobuchar spoke at this year's Cancer Policy and Advocacy Team (CPAT) Symposium before advocates headed to Capitol Hill to advocate for this important legislation. Representative Wasserman Schultz acknowledged the challenging work that lies ahead and called on all members of the cancer community to lend their voices to this collective effort.
This comprehensive legislation will provide coverage for care planning services to address transition to primary care; develop navigation services for survivorship; establish employment assistance grants for survivors, caregivers, and their families; provide education and awareness through resources for survivors and health care providers; ensure coverage for fertility preservation services; and require study of the existing reimbursement landscape and development of an alternative payment model, among many other things.
---
CCSA Resources
Read the CCSA Bill Text (PDF) »
CCSA: H.R. 4363 on Congress.gov »
CCSA: S.2213 on Congress.gov »
CCSA Fact Sheet
This fact sheet summarizes the need for the CCSA and highlights some of the most important provisions.
CCSA Fact Sheet
CCSA: Section-By-Section Summary
This document breaks down each of the provisions in the CCSA and describes them in detail.
CCSA Section-By-Section Breakdown
https://canceradvocacy.org/wp-content/uploads/CCSA-Re-Introduced.png
600
1200
NCCS Staff
https://canceradvocacy.org/wp-content/uploads/2020/06/NCCA-Logo.png
NCCS Staff
2023-06-23 13:39:55
2023-06-28 09:47:26
NCCS Applauds the Re-Introduction of the Comprehensive Cancer Survivorship Act (CCSA)