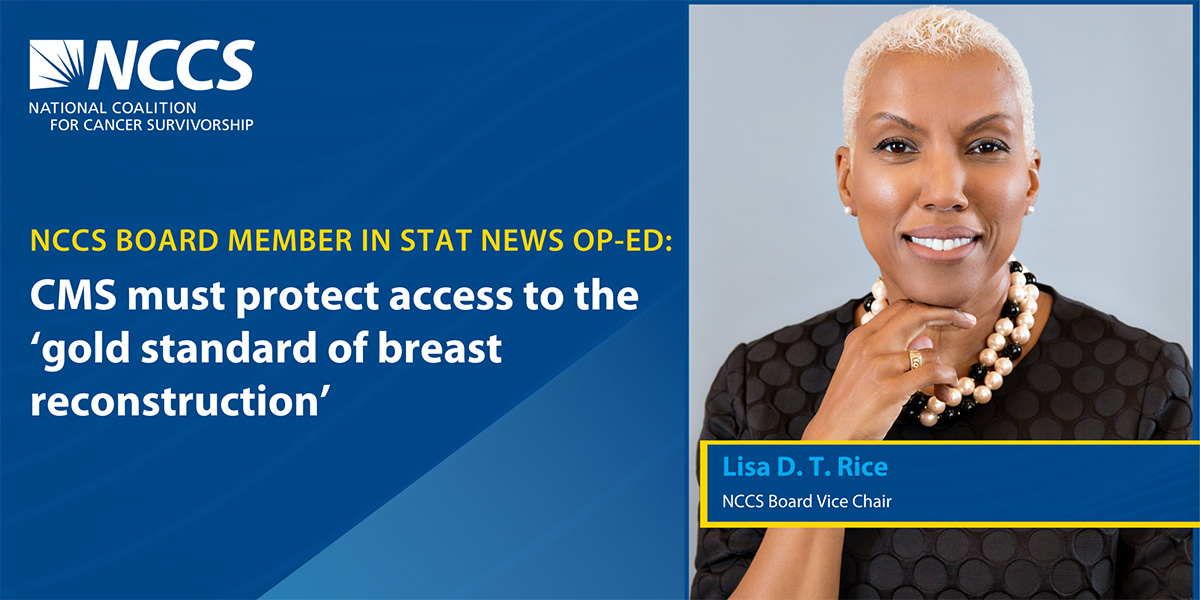 NCCS Board Member in STAT News Op-Ed: CMS must protect access to the 'gold standard of breast reconstruction'
STAT News recently published an op-ed by NCCS Board Vice Chair Lisa D. T. Rice on the threat to access of DIEP flap breast reconstruction surgery.
In 1983, I flew home from college to be with my mother as she woke up from a mastectomy. She opted out of breast reconstruction, choosing to "go flat" instead. When I was diagnosed with breast cancer in 2017 and had bilateral mastectomies, I had more reconstruction options than my mother did.
I chose the option that was the best fit for me: DIEP flap, which uses a person's own tissue to recreate the breast. Researchers have called it "the gold standard for reconstructive options." According to a 2017 study, it supports better well-being, has fewer complications, and helps people recover more quickly, with less hospitalization time, compared with other procedures that use muscle tissue. In 2020, more than 23,000 patients — almost one in five people who had reconstruction that year — chose DIEP flap.
But fewer people may have that choice going forward. Recently, at the request of insurance companies, the Centers for Medicare and Medicaid Services has announced that it is ending the medical billing code for DIEP flap. If that change takes effect, most patients won't be able to get the reconstructive care they need. It's imperative that CMS retain the code to ensure access to DIEP flap reconstruction.
https://canceradvocacy.org/wp-content/uploads/Lisa-Rice-DIEP-Flap-post.jpg
600
1200
NCCS Staff
https://canceradvocacy.org/wp-content/uploads/2020/06/NCCA-Logo.png
NCCS Staff
2023-06-30 10:38:53
2023-08-22 14:18:03
NCCS Board Member in STAT News Op-Ed: CMS must protect access to the 'gold standard of breast reconstruction'