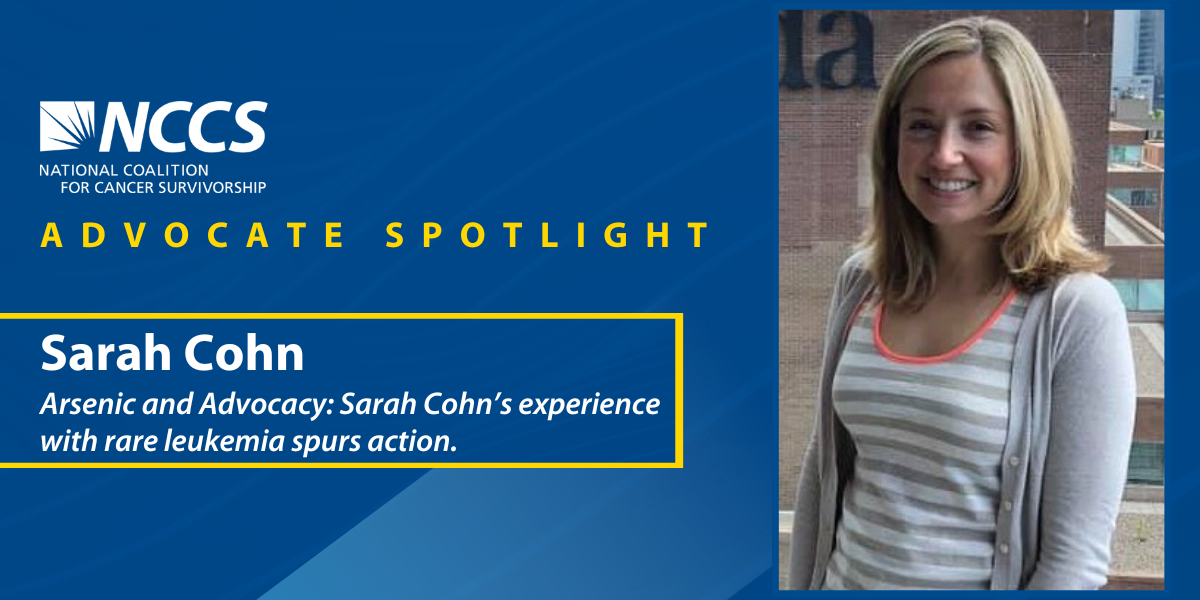 Arsenic and Advocacy: Sarah Cohn's Experience with Rare Leukemia Spurs Action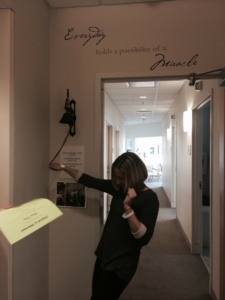 Diagnosed with a rare form of leukemia called acute promyelocytic leukemia (APL), Sarah Cohn's cancer diagnosis at the age of 30 took her by surprise. Sarah had just started a new job when symptoms appeared. "For survivors, it seems like there is always one thing that happens that leads directly to their diagnosis, and then they look back and realize there'd been other symptoms that they'd brushed off," she shares. "For me, I was cold all the time. Then I would feel winded after walking up a flight of stairs. Then I began having unusually heavy periods."
What finally sent her to the doctor was waking up with bruises all over her body the day after getting a massage. Her doctor suspected low iron was the culprit and scheduled bloodwork for later in the week. Days later, the side of her face went numb. She went to the emergency room, where she found out her hemoglobin levels were extremely low. Sarah was admitted for transfusions. The next day, she learned she had a rare type of leukemia, and would be transferred from her local hospital to an academic hospital in Philadelphia.
"Speak up in a kind way and understand that most of the time your health care providers want to be advocates for you. You just have to let them know how they can advocate for you."
Treatment for APL is unlike traditional chemotherapy. Targeted therapy for APL includes using arsenic trioxide (ATO) combined with tretinoin. "They tell you you have this weird type of leukemia, and that they're going to treat it with arsenic. It kind of sends you into shock," Sarah remembers. "Risk of hemorrhaging in the first two weeks is high. In the past, almost
20% of patients
would die from hemorrhaging, but now hospitals have protocols in place to better prevent that from happening. The remission rate now is around
90%,
" she said.
Treatment meant spending a month in the hospital with daily EKGs and frequent infusions, followed by monthly cycles of outpatient chemotherapy five days a week and concurrent oral treatments that were two weeks on, two weeks off. Having a PICC line meant not being able to lift anything heavy, including her son, and made showering a hassle. Eventually, Sarah asked if there was another way to get the infusions. "They said I could have an IV instead, and it was amazing how much that changed my quality of life. I could do whatever I wanted. I could go swimming and play with my son." That simple step of self-advocacy helped Sarah realize that speaking up for oneself can make a huge difference. "Speak up in a kind way and understand that most of the time your health care providers want to be advocates for you. You just have to let them know how they can advocate for you."
In addition to her personal battle with cancer, Sarah's professional background in health and science communications fueled her passion for advocacy. Her experience working for a cancer research organization, a hospital, and her current position in the hematology division of a pharmaceutical company provided her with valuable insights into the healthcare system. Sarah recognized that her privileged position, with knowledge and resources, made her treatment journey slightly easier compared to those with less access. This realization motivated her to speak up and advocate for change for others.
Sarah recognizes that cancer advocacy takes many forms. She participated in walks and runs with The Leukemia and Lymphoma Society (LLS) and is a big fan of the "Be the Match" organization, despite not having to undergo a stem-cell transplant herself. She's also passionate about the First Descents adventure programs for survivors. "Whenever I learn of a young person being diagnosed with cancer, I always tell them to check out First Descents and NCCS. Those are my two favorite organizations because I really love what they do for survivors."
Sarah aims to amplify the voices of cancer survivors and advocate for policies that improve patient outcomes and experiences. Her involvement with NCCS has been instrumental in her advocacy work. Sarah joined CPAT and attended the annual CPAT Symposium twice. Based on her professional expertise and personal experience, she was chosen as a speaker for a CPAT session where advocates learned how to tell their cancer story in their advocacy work. She's also participated in Hill Week, both in-person and virtually. Wanting to continue her advocacy work, Sarah applied for and was accepted into the Elevating Survivorship program with a project focusing on cancer survivorship and primary care physicians.
Survivorship care is often transferred to primary care physicians who might not have a lot of experience dealing with the needs of survivors. Sarah continues to manage treatment's late and long-term effects, like constant headaches and fatigue. "I would go see my primary care physician who was lovely and trying to help me," said Sarah. "But she'd never taken care of a 30-yr old cancer survivor before. She would have to look things up and I would look things up, too. We worked together to figure it out." The interactions inspired Sarah to do more. Through Elevate, Sarah focused on helping primary care physicians care for their cancer survivor patients.
Moving forward, Sarah is excited to continue her advocacy work. "I prefer to focus my energy on policy advocacy, like advocating on the Hill with policymakers. There's something special about an army of advocates coming together and marching up to the Hill." Sarah is looking forward to attending the CPAT Symposium in June to advocate for the Comprehensive Cancer Survivorship Act. "Congressman Brian Fitzpatrick is a co-sponsor of the bill, and I'm one of his constituents. I'm looking forward to meeting with his team while there." Sarah is also teaming up with NCCS this summer as part of her Master of Public Health (MPH) studies, helping to evaluate the Elevating Survivorship program, which has been so impactful in her advocacy experience.
When asked about her advice to fellow survivors or aspiring advocates, Sarah emphasizes the importance of knowledge, support, and self-advocacy. "Diagnosis and survivorship can be very overwhelming," she said. "You might feel like you have to get involved in everything. I think it helps to focus your energy on where you think it will be best used and on what's most important to you."
She encourages survivors to educate themselves about their condition, treatment options, and available resources. Sarah also urges survivors to become their own advocates, to ask questions, and to actively participate in decisions regarding their health care. Sarah firmly believes that by speaking up and sharing their stories, survivors have the power to drive change and make a meaningful impact in the lives of others.
# # #
Learn more and Join the NCCS Cancer Policy & Advocacy Team »
https://canceradvocacy.org/wp-content/uploads/Sarah-Cohn-Advocate-Spotlight-Blog-Banner.png
600
1200
NCCS Staff
https://canceradvocacy.org/wp-content/uploads/2020/06/NCCA-Logo.png
NCCS Staff
2023-06-14 13:41:08
2023-06-14 18:24:18
Arsenic and Advocacy: Sarah Cohn's Experience with Rare Leukemia Spurs Action