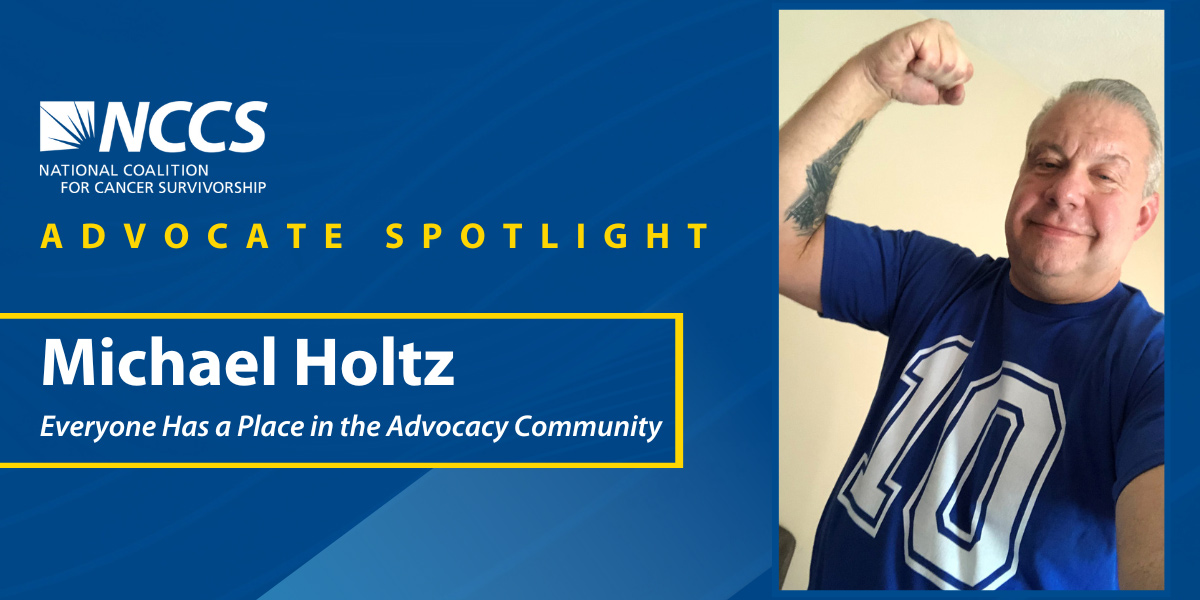 Michael Holtz: Everyone Has a Place in the Advocacy Community
"Everyone has a place in the advocacy continuum: Your lived experience is important."
Michael Holtz didn't know that the "funky" digestive symptoms in December of 2011 would be the first signs of his cancer diagnosis. These rectal spasms would leave Michael rushing to the bathroom, and either nothing would happen or there would be a mess when he couldn't get there fast enough. His body was trying to expel the tumor that had grown on his rectal wall. After months of thinking he had Celiac Disease or Irritable Bowel Syndrome, a colonoscopy revealed the tumor. The date was March 27, 2012, five days after his 43rd birthday.
After several tests and scans, including an endoscopic ultrasound, a flexible sigmoidoscopy, a CT scan, and a PET scan, his surgeon charted the course of treatment. He underwent five weeks of Xyloda oral chemo in combination with radiation therapy, then surgery to remove the tumor, followed by six months of adjuvant FOLFOX chemotherapy.
The surgery took longer than expected and the tumor was larger than anticipated. Additionally, scar tissue from radiation left no usable rectal tissue, so he came off the operating table with a permanent colostomy. His surgeon also wasn't sure he got all the cancer. Michael and his wife Sarah spent four days waiting to know about the future course of treatment and his prognosis. Gratefully, there were no living cancer cells in any of the tissue the surgeon removed.
For the last nine and a half years, Michael has been no evidence of disease (NED) but that doesn't mean that survivorship post treatment has been easy. He describes it as a bit of a doubled-edged sword. On the one hand he is exceedingly grateful for that fact, but the cancer treatment to save his life has taken a tremendous toll on his human body. Every year there seems to be a new condition to add to the growing list of long-term side effects as a result of his treatment. In addition to the colostomy, Michael deals with neuropathy in his feet, an enlarged left heart ventricle caused by the high blood pressure from the steroids that were infused to tolerate chemotherapy, low testosterone, a slow metabolism, and — more recently — non-pressure glaucoma, which has thankfully been kept in-check by medication.
Michael's story is unique in the fact that he was involved in the cancer community before this diagnosis. He was working at the American Cancer Society Cancer Action Network (ACS CAN). He explains, "If you have to be diagnosed with cancer, working there was definitely the place to be. The support I got from colleagues in my office and around the country was incredible." While recovering from treatment, it became too overwhelming to be living cancer 24/7, and he decided to leave the organization for other opportunities. Michael could not leave cancer advocacy behind though. Six months later he was invited to represent Tennessee at an ACS CAN event in Washington, DC, and became his state's lead volunteer. He was honored to be named State Lead Ambassador of the Year in 2019, and received the Volunteer Award for Excellence in Advocacy, ACS CAN's highest volunteer honor, in 2021.
Michael also serves on the board of the Cancer Support Community of East Tennessee. He is a Fight CRC 2023 Ambassador, a patient advocate for scientific peer review programs for the Colorectal Cancer Alliance, and a member of NCCS's Cancer Policy and Advocacy Team (CPAT).
He attended his first in-person CPAT Symposium in Arlington, VA this year and shared his story with the cancer survivors, caregivers, and medical students in attendance. "The CPAT Symposium was great because it was sort of like attending a family reunion. I had been connected to several of the other attendees through social media, so it was lovely to meet everyone in person."
Michael had the opportunity to represent NCCS at ASCO Quality Care Symposium this September in Chicago, IL. He described the best part as having a front-row seat to discussions about cancer research, health equity, and patient-reported outcomes. He also got to shake hands with one of his heroes, Dr. Otis Brawley, NCCS Board Member and the awardee of the 2022 Joseph Simone Quality Care Award.
The research that stuck out to him were the abstracts and interventions around patient-reported outcomes and the challenges of collecting data from patients. The researchers found that not everyone has internet access or a smartphone, and not everyone wants to use the patient portal. Michael joined the conversation and shared his lived experience of not engaging with surveys when he felt awful during treatment. He suggested more engaging approaches like a phone call or survey through text message. He urged researchers to make it easy to for cancer survivors to participate. Michael's biggest take away from ASCO Quality Care Symposium is the pervasive health inequities in the health care system. Patients who don't have equitable access to care are not getting appropriate care and are dying of cancer at higher rates. At the same time there are new promising interventions being utilized by developed communities and stakeholders to overcome transportation and other barriers.
Michael's advice for survivors is to find a way to use their experience to help others. Since the day he was diagnosed, Michael has been open about his cancer journey and the advocacy work in which he's involved. He shares his story in every possible venue, including on stage, with the media, on podcasts, and with lawmakers. They need to hear from the people who are living the experience. "Lawmakers are inundated with statistics, rhetoric and policy-speak. What they need to hear, and what they appreciate, are the lived experience stories from their constituents. It makes a difference, and it matters," he said. He knows not everyone is comfortable being so open, but everyone has a place in the advocacy spectrum, and organizations like NCCS are looking for survivors to get involved at their comfort level.
Connect with Michael online:
Instagram: @michaelholtzonline
Twitter: @michaelholtz
Facebook: @mholtzonline
LinkedIn: Michael Holtz
https://canceradvocacy.org/wp-content/uploads/Michael-Holtz-Advocate-Spotlight-feat.jpg
600
1200
NCCS Staff
https://canceradvocacy.org/wp-content/uploads/2020/06/NCCA-Logo.png
NCCS Staff
2022-10-12 14:22:18
2022-10-13 10:14:11
Michael Holtz: Everyone Has a Place in the Advocacy Community