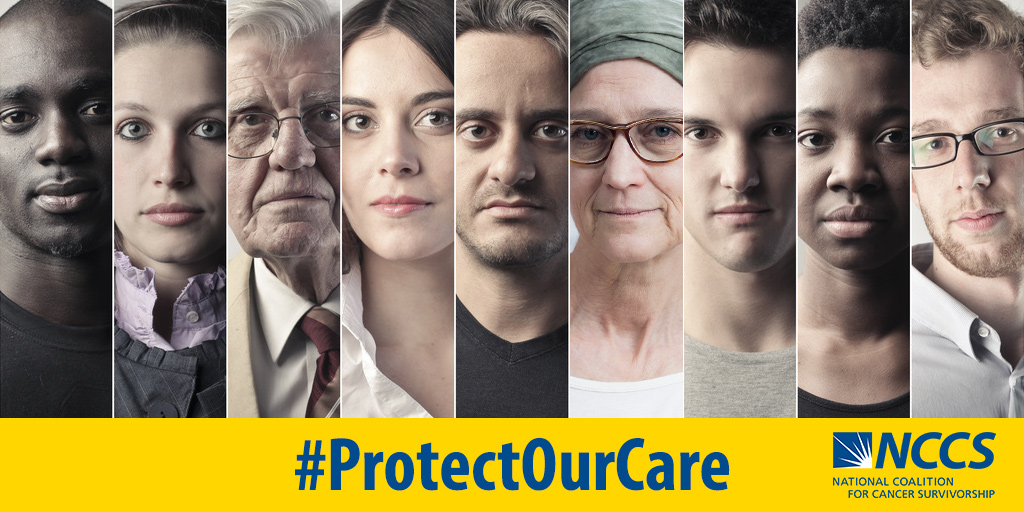 ACA Update | September 22, 2017 – Graham-Cassidy Bill: Patient Groups Opposed, McCain Says No, but Threat Continues

Prior to the Affordable Care Act (ACA), cancer survivors were at the mercy of the health care system, often forced to pay exorbitant premiums or simply denied coverage altogether. Today, America's 16 million cancer survivors benefit from the ACA's patient protections that are critical to providing them with quality, affordable, and accessible health care coverage. NCCS is actively engaged in advocating to ensure this unprecedented access for cancer patients and providers continues.
Senators Graham and Cassidy are working hard to get their bill, known as the "Graham-Cassidy bill," passed before the September 30th deadline. The
Graham-Cassidy bill would eliminate
the ACA's subsidies and the Medicaid expansion and instead gives block grants to states to create their own individual health systems.
Nearly every patient group, the American Medical Association, AARP, all 50 state Medicaid directors (NAMD), and insurers agree that this bill would be bad for Americans. "Taken together, the per-capita caps and the envisioned block grant would constitute the largest intergovernmental transfer of financial risk from the federal government to the states in our country's history," NAMD's board of directors wrote in a statement Thursday. Friday afternoon, Sen. John McCain (R-AZ) issued a statement saying, "I cannot in good conscience vote for the Graham-Cassidy proposal." This is a very encouraging development, but we must remain vigilant until Graham-Cassidy is defeated and there no longer exists a threat to repeal the ACA.
"There are so many unknowns about this bill, but one thing is for sure: it would be terrible for patients."
NCCS had many concerns with the Graham-Cassidy legislation, namely that it
eliminates critical patient protections
like ensuring those with pre-existing conditions cannot be discriminated against. The ACA banned insurers from charging sick people more than healthy people, and required that all plans include coverage for essential services like prescription drugs and hospital visits (known as essential health benefits). The Graham-Cassidy bill allows states to get rid of these ACA protections, which are absolutely critical to Americans living with cancer and other illnesses. We cannot go back to the days when insurers charged individuals with pre-existing conditions exorbitant premiums for skimpy coverage.
This is why it's critical that you call your Senators today at (844)257-6227 and tell them to vote NO on Graham-Cassidy.
Not only would this legislation dismantle significant parts of the ACA, but it would also drastically cut health care leaving already money-strapped states to pick up the tab. The block grants are estimated to be $107 billion less than what the federal government would have spent over the period 2020-2026 for ACA coverage. As Kaiser Family Foundation reports, there are winners and losers with the funding formula for the states, and the 31 states that expanded Medicaid will lose significant funding to provide health care to their constituents.
Another concerning aspect of the bill is the fact that the already insufficient block grant funding disappears after 2026. There are so many unknowns about this bill, but one thing is for sure: it would be terrible for patients. Additionally, because Republican leaders are pushing this bill through before the September 30th deadline, the Congressional Budget Office (CBO) will not have enough time for a full score to determine the impacts of this legislation. Senators will likely be voting on this bill without a full picture of its impacts on our nation's economy, and they will not know how many millions of Americans will be left without insurance if this bill becomes law.
Because cancer survivors would lose critical patient protections and access to comprehensive and affordable coverage, we strongly oppose the bill. Please contact your Senators at (844) 257-6227 to tell them to vote NO on the Graham-Cassidy bill as it would be harmful to cancer patients and survivors. We need a bipartisan and transparent process to strengthen the ACA and help provide critical long-term stability.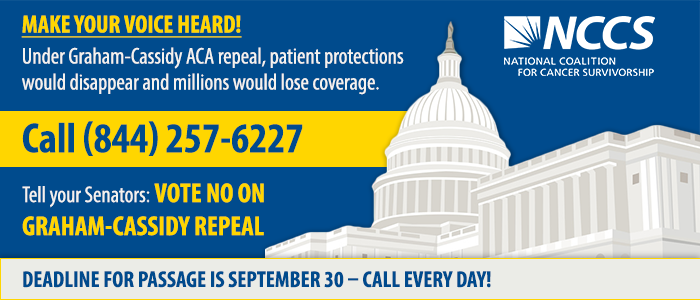 For more information on how you can get involved, check out our #ProtectOurCare page »
Follow NCCS on Twitter to stay updated on developments: @CancerAdvocacy.
---
Related Post
https://canceradvocacy.org/blog/aca-update-sept-20-2017/
https://canceradvocacy.org/blog/aca-update-september-15-2017-cassidy-graham-repeal-plan-devastating-patients-gaining-support-senate/
---
https://canceradvocacy.org/wp-content/uploads/2017/01/ProtectOurCare-1024px.jpg
512
1024
actualize
https://canceradvocacy.org/wp-content/uploads/2020/06/NCCA-Logo.png
actualize
2017-09-22 16:54:43
2017-09-22 16:54:43
ACA Update | September 22, 2017 – Graham-Cassidy Bill: Patient Groups Opposed, McCain Says No, but Threat Continues