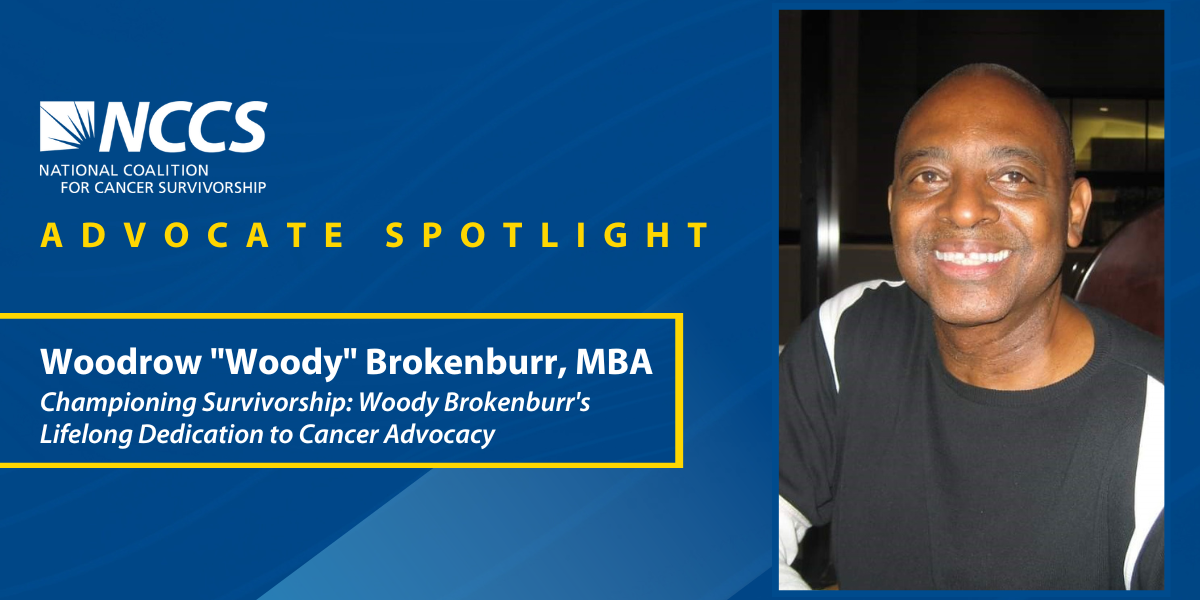 Championing Survivorship: Woody Brokenburr's Lifelong Dedication to Cancer Advocacy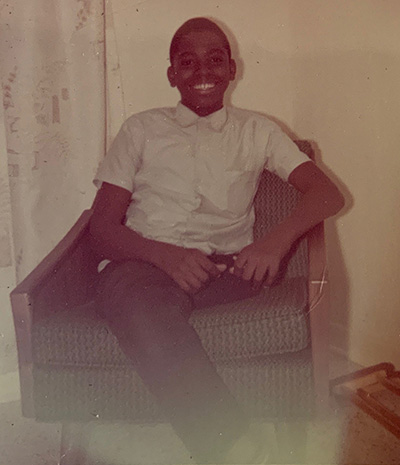 Woodrow "Woody" Brokenburr was diagnosed with cancer when he was 9 years old, after a biopsy revealed that the lump on his left thigh was osteosarcoma. In the 1960s, pediatric cancer care was challenging, even more so for Black children living in the racially segregated south, as access to quality care was limited. Effective chemotherapy treatments for osteosarcoma weren't developed until the 1980s, leaving amputation the primary treatment for Woody and other pediatric osteosarcoma patients, more than 80% of whom would later die as a result of metastatic disease. Woody's surgeons decided to "cut the cancer out, leaving little residual limb," because, he says, that "would give me the best chances of survival."
Following the surgery, Woody says that his family was instrumental in his recovery. "Especially two of my aunts on my mom's side of the family — they took up the slack as my mother had two young children to care for at the time of my surgery."
Woody recalls his family doting on him at first, worried about his prognosis. Later, when they decided he was going to be okay, Woody shares, "I just got back to doing the regular chores, and sort of going on with my life. Prior to having the cancer, I was really athletic. So I did a lot of running and played football and basketball, and baseball as well. So, I sort of got back to normal," he said. "They bought me a bike, and I started riding the bike with one leg. And then, on Sundays, I had a wild, adventurous, and fun-loving cousin. I used to pick her up and she would pedal the left pedal, and I would pedal the right pedal, and we would just ride around town, just having a good time. You know, being kids."
Throughout his life, Woody has chosen to focus on gratitude. He says, "At the beginning of each day I say, 'thank you God for the gift of another day.' I appreciate the beauty of my surroundings and the love and support that I receive from family and friends." With more than 60 years as a cancer survivor, Woody has spent much of his life advocating for cancer patients to improve access to care and the quality of care. "My father always told me to 'not let what I could not do interfere with what I can do.'"
For Woody, a life of advocacy has meant serving as Vice President of Community Conscience for the City of Thousand Oaks, CA. Woody believes that health outcomes for people of color are enhanced with treatment by people who look like them. In this vein, he has been involved with the Fielding School of Public Health at UCLA's Minority Training Program in Cancer Control Research. He's also served as a patient advocate at the Los Robles Medical Center, served on the Scientific Advisory Committee at the American Cancer Society and Stand Up to Cancer's Translational Lung Cancer Research collaborative, and as Chair Emeritus – Greater Conejo Valley Chamber of Commerce, Member of the American Cancer Society's Extramural Grants Council and various peer review committees.
Woody is an active writer, publishing his perspectives about cancer survivorship and equity in cancer care in Onco'Zine, Survivorship Today, and CURE Magazine. He's participated in panel discussions and interviews with Rotary Clubs, the American Cancer Society and National Coalition for Cancer Survivorship (NCCS). Woody remains an active member of the NCCS Cancer Policy and Advocacy Team (CPAT).
In 2020, Woody was chosen to participate as a member of NCCS's Elevating Survivorship program. As an Elevate Ambassador, Woody chose to focus on better understanding how to address the needs of those impacted by cancer. For his Elevate Project, Woody collaborated with the Cancer Outreach Committee at Los Robles Hospital to address health disparities and access to breast cancer care through the Power of Pink Symposium.
Woody is the proud father of three adult children. In his free time, Woody enjoys writing, collecting art, listening to music, foreign travel, studying languages, and practicing Sumi-e, the Japanese art of ink brush painting. For Woody, education and community involvement are priorities. In fact, it's what drew him to become a CPAT member with NCCS. "NCCS provides so many opportunities to educate oneself in the latest research outcomes and advocacy opportunities to help yourself and others as we embark upon our cancer journey," he says. "It's important to get involved so that we can make sure that more of us survive a cancer diagnosis, get diagnosed early on to ensure a favorable outcome, and also to foster empathy for people living with metastatic cancer. We must work to reduce the negative impact of treatment and be aware of comorbidities that might arise."
Drawing on his vast experiences, Woody emphasizes the significance of advocacy and policy work to advance access to quality cancer care for all. He encourages other advocates to remember the importance of being "conscious of leveling the playing field to ensure health equity" for all those that are touched by cancer.
# # #
Learn more and Join the NCCS Cancer Policy & Advocacy Team »
https://canceradvocacy.org/wp-content/uploads/Woody-Brokenburr-Advocate-Spotlight-Blog-Banner.png
600
1200
NCCS Staff
https://canceradvocacy.org/wp-content/uploads/2020/06/NCCA-Logo.png
NCCS Staff
2023-08-09 12:13:30
2023-09-13 15:18:49
Championing Survivorship: Woody Brokenburr's Lifelong Dedication to Cancer Advocacy