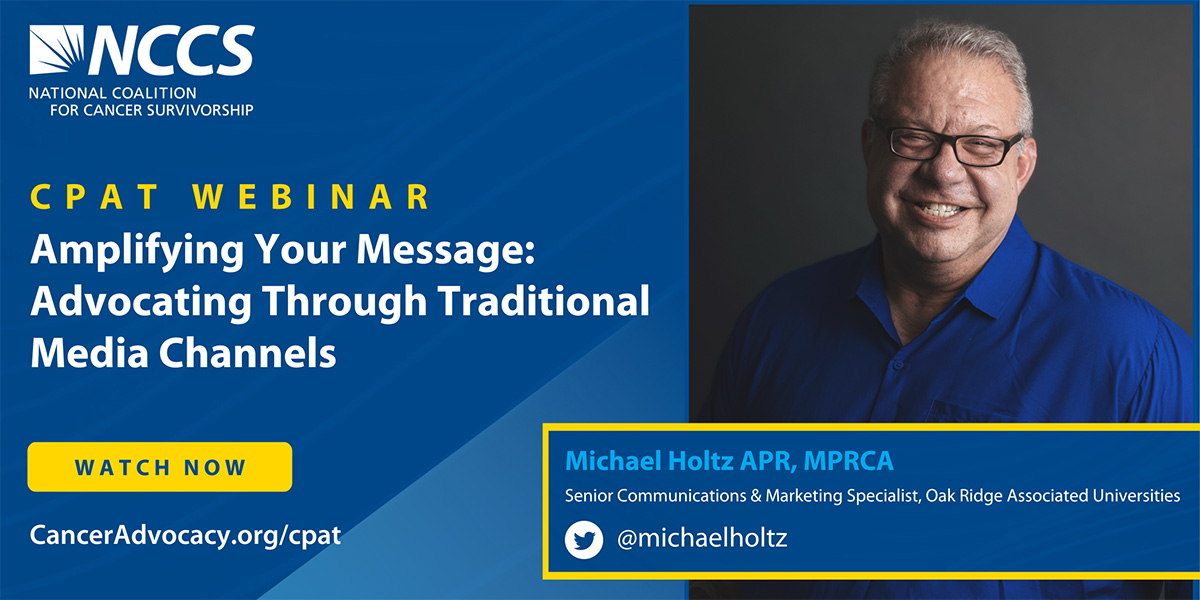 Webinar – Amplifying Your Message: Advocating Through Traditional Media Channels
NCCS hosted a CPAT webinar on leveraging traditional media for cancer advocacy with public relations and marketing expert Michael Holtz. While social media is an important tool for amplifying cancer advocacy messages, traditional media outlets like newspapers, television, and radio, and their digital counterparts, are still relevant and can help raise awareness and put pressure on decision makers.
Drawing on his experience as a regional media advocacy director for the nation's largest cancer nonprofit organization, as well as his current work as a volunteer for several organizations, Michael shares examples and best practices for working with and building relationships with the media.
In this webinar, you will learn how to make initial pitches to members of the media, get tips and tricks for getting coverage of events, and how to be prepared to share your story. Michael will also offer advice on the dos and do nots of media interviews and discuss the power of letters to the editor and op/eds for "giving legs" to advocates' messages.
While this webinar will focus on amplifying the message of the survivorship legislation that we will advocate for at the CPAT Symposium, the information shared will benefit advocates who support any organization and their individual cancer journeys. Don't miss out on this valuable opportunity to learn from an expert in the field and take your cancer advocacy efforts to the next level.
Watch the full video below or watch on YouTube.
Webinar Resources
The telling your story worksheets mentioned during the webinar will be made available in the coming weeks.
This webinar is a part of NCCS's Cancer Policy and Advocacy Team (CPAT) program for survivorship advocates passionate about improving cancer care. Learn more at https://canceradvocacy.org/cpat.
---
About Michael Holtz, APR, MPRCA
Michael Holtz is an 11-year survivor of stage 3-b rectal cancer. Since his diagnosis in March 2012, he has been a passionate advocate for cancer patients, survivors, and caregivers. He is a 2023 Ambassador for Fight Colorectal Cancer and is a member of the American Cancer Society Cancer Action Network National Advocacy Team, a group of seasoned volunteers who work on special projects designed to advance the mission of the organization. He previously was ACS CAN State Lead Ambassador for Tennessee, a volunteer role he held for over seven years. He is an American Cancer Society Voice of Hope and a Relay For Life Global Hero of Hope. Michael received ACS CAN's highest honor, the Volunteer Award for Excellence in Advocacy, in September 2021, and was named State Lead Ambassador of the Year in 2019.
In his professional life, Michael is senior communications specialist for Oak Ridge Associated Universities, where he hosts Further Together and the ORISE Featurecast, two company podcasts, and leads the organization's media relations and website content development work. Before joining ORAU, he was director of community assessment and health promotion for the Knox County (Tennessee) Health Department. Prior to KCHD, Michael worked for the American Cancer Society/ACS CAN for 12 years. In his last role before leaving the Society, he was regional director for media advocacy for ACS CAN's South Region, where he provided strategic consultation and implementation of media tactics alongside advocacy staff managing campaigns across 14 states.
Michael is the author of It's Not Harder Than Cancer: The Mindsets You Need to Survive and Thrive After Serious Illness. He is a speaker, writer, frequent media guest, and blogger at www.michaelholtzonline.com. Michael lives in Knoxville, Tennessee, with the lovely Sarah, his wife of 26 years, and their rescue dog, a Golden Bassett named Marley.
https://canceradvocacy.org/wp-content/uploads/Michael-Holtz-CPAT-Webinar-Media-Training-Post-web.jpg
600
1200
NCCS Staff
https://canceradvocacy.org/wp-content/uploads/2020/06/NCCA-Logo.png
NCCS Staff
2023-04-21 15:40:05
2023-04-21 15:40:05
Webinar – Amplifying Your Message: Advocating Through Traditional Media Channels