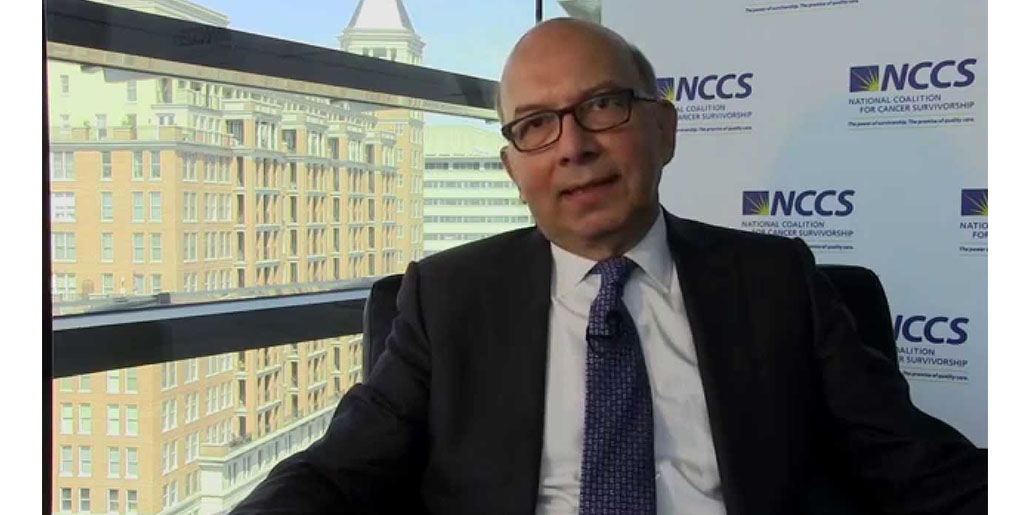 Video Post: Dr. Fred Smith Discusses Payment Systems in Cancer Care
Earlier this year, Dr. Fred Smith participated in a National Coalition for Cancer Survivorship Cancer Policy Roundtable panel addressing the question of whether new cancer care payment systems foster the delivery of the right treatment at the right time.
VIDEO TRANSCRIPT:
I'm Fred Smith, I'm a practicing medical oncologist in the Washington community area and have been doing so for the past 30 years. Prior to that, I was in academic practice at Georgetown University's Lombardi Cancer Research Center.
The major challenge that all community oncologists would admit to at the present time is the concern about delivering state of the art, cutting-edge care and being reimbursed for this. Many community oncologists have quit the practice of medical oncology in the community to join health care systems because of the red ink, if you will, of the drug expenses. I think that, in terms of trying to keep to date, we like to offer cutting-edge therapy and sometimes, these are met with delays in reimbursement.
We are appropriately asked to request prior authorization for a plan of treatment. I think that is a very reasonable thing to do. And we all try to conform to the National Comprehensive Cancer Network clinical guidelines, but even doing so, we're often left with delays in reimbursement that has led to a number of my colleagues closing their practices to join a health care system.
I think in terms of looking forward, the ideas of bundling for payment leaves many of us concerned that we won't be able to mete out the same care. In terms of what was discussed by some of the other panelists, Dr. Newcomer and Dr. Kline, of paying for episodes was a lot more palatable. And if that can be taken to the community practitioner–the community practitioner could get rid of the vagaries of retailing chemotheraputic agents themselves… I think that would lead to a much more comfortable practice of medical oncology in this day and era.
---
About the contributor: Dr. Smith is a practicing Medical Oncologist in the DC Metropolitan Area and holds a Clinical appointment as Associate Professor of Medicine at Georgetown University having pursued five years of academic research during that tenure at the Lombardi Cancer Research Center. He has contributed several publications during that time and continues to pursue a keen interest in Clinical research in Breast, Lung, Colorectal, Ovarian and Lymphoma in his community practice.  As a consequence, he remains very much in touch with the realities of patient care while maintaining a cutting-edge cancer care focused on the comfort and satisfaction of each patient and family. He represents an excellent bridge for both the academic and private practice communities.
The views & opinions expressed in any guest post featured on our site are those of the guest author and do not necessarily reflect the opinions & views of the National Coalition for Cancer Survivorship. Read our blog and comment policies here.
https://canceradvocacy.org/wp-content/uploads/Payment-Systems-in-Cancer-Care.jpg
515
1030
actualize
https://canceradvocacy.org/wp-content/uploads/2020/06/NCCA-Logo.png
actualize
2015-11-12 10:41:08
2020-12-01 12:19:03
Video Post: Dr. Fred Smith Discusses Payment Systems in Cancer Care