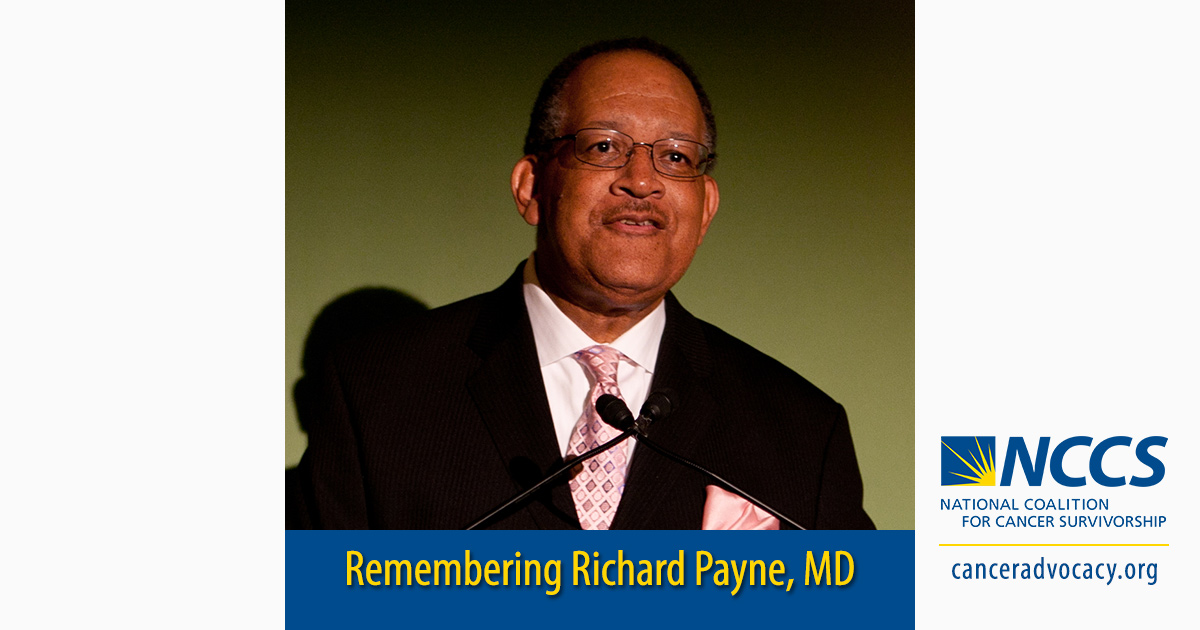 Remembering Richard Payne, MD
By Barbara Hoffman
NCCS Founding Member
With great sadness, we mourn the passing of former NCCS Board Chair Richard Payne, MD, on January 3.
Dr. Payne was a member of the NCCS Board of Directors from 2005 to 2012; he served as Board Chair from 2010 to 2011. Thoughtful, deliberative, and soft spoken, Dr. Payne was a valued and collaborative leader of NCCS. A lover of books and golf, he was always attentive and generous to his extended family, both personal and professional.
Dr. Payne was Professor Emeritus of Medicine and Divinity at Duke University Divinity School and held the John B. Francis Chair at the Center for Practical Bioethics. An internationally-recognized expert in palliative care, Dr. Payne devoted his career to making quality palliative care standard practice for people with late-stage illness.
He testified before the Congressional Black Caucus National Brain Trust and the President's Cancer Panel on healthcare access disparities in cancer care, palliative medicine, and end-of-life care. He received many awards for his work, including a Distinguished Service Award from the American Pain Society; the Humanitarian Award from the Urban Resources Institute; and the Janssen Excellence in Pain Award.
A graduate of Yale College and Harvard Medical School, Dr. Payne served as Chief of Pain and Symptom Management Sections, Department of Neurology at M.D. Anderson Cancer Center (1992-1998), and he led the Pain and Palliative Care Service at Memorial Sloan Kettering Cancer Center (1998-2004).
Dr. Payne frequently noted that he valued the opportunity and privilege to journey with cancer survivors at the end of their lives. He understood the need to provide coordinated, compassionate care to the whole family, which he taught in clinical practice and in academia. We will deeply miss his friendship and passionate advocacy.
If you would like to share a remembrance of Dr. Payne, please leave a comment in the box below.
# # #
---
https://canceradvocacy.org/wp-content/uploads/2019/01/Remembering-Richard-Payne.jpg
630
1200
actualize
https://canceradvocacy.org/wp-content/uploads/2020/06/NCCA-Logo.png
actualize
2019-01-10 10:48:22
2020-07-06 10:12:55
Remembering Richard Payne, MD