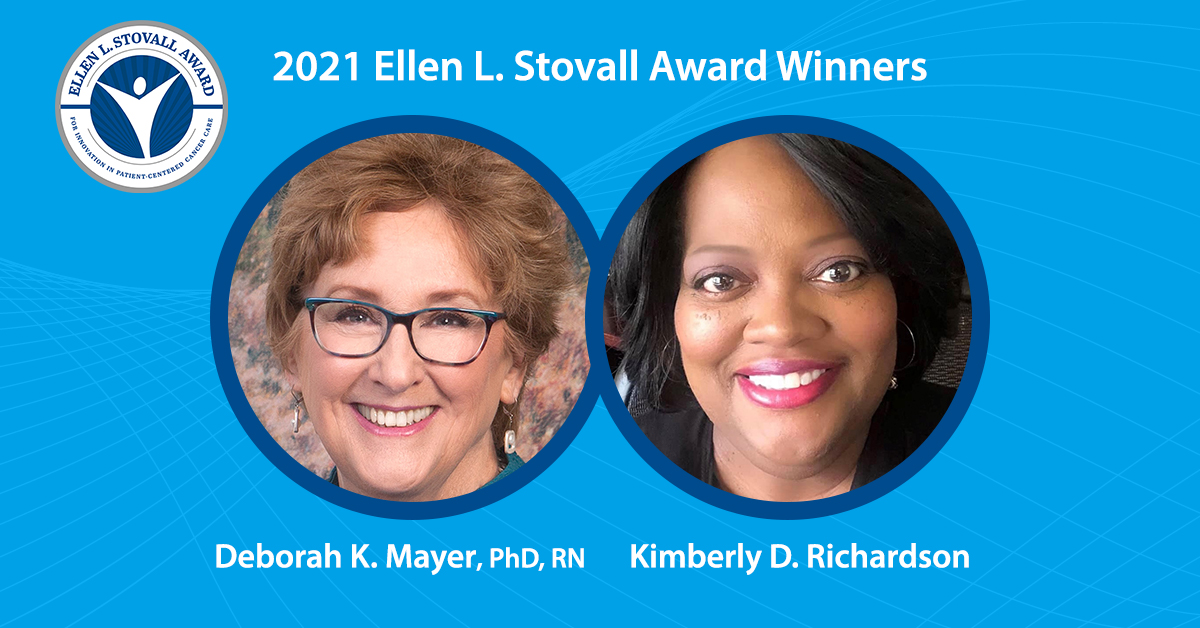 NCCS to Recognize Deborah K. Mayer, PhD, RN and Kimberly D. Richardson with 2021 Ellen L. Stovall Award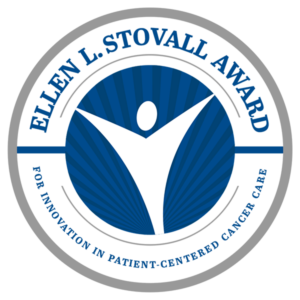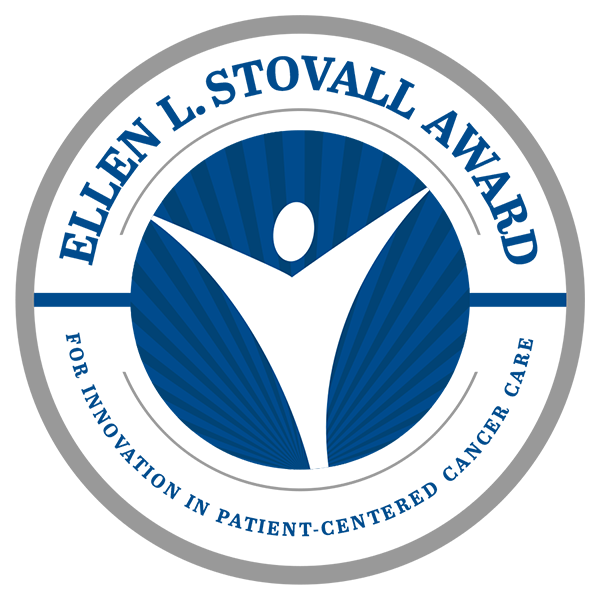 NCCS is pleased to announce the 2021 winners of the Ellen L. Stovall Award for Innovation in Patient-Centered Cancer Care are Deborah K. Mayer, PhD, RN, and Kimberly D. Richardson. They will be recognized at the 2021 Ellen L. Stovall Award Reception on Wednesday, November 17.
The Stovall Award is given annually to two recipients who have improved the care and lives of cancer survivors and their families — one health care provider and one patient advocate or advocacy organization. The health care provider award is co-presented by the American Society of Clinical Oncology. The esteemed selection committee chose from among a highly-qualified group of nominees who embody the essence of the award and Ellen's passion and advocacy for patient-centered cancer care.
Dr. Mayer and Ms. Richardson are incredible leaders who have used their considerable expertise and advocacy skills to improve cancer care and cancer survivorship. They have each dedicated their life's work to advancing science and improving the lives of cancer survivors. NCCS is honored to recognize their efforts with this well-deserved award, named for our former CEO Ellen Stovall.
NCCS CEO Shelley Fuld Nasso
We invite you to attend the virtual awards ceremony on November 17 to recognize these innovative pioneers. Please register for the event and invite colleagues, friends, and family.
REGISTER FREE »
Meet the Awardees
---
Deborah K. Mayer, PhD, RN, AOCN, FAAN
Health Care Provider Award
"What I find most impressive about Dr. Mayer is how she marries real-world pragmatism with a deep knowledge of both theory and data. Quite simply, she has impeccable judgment with respect to survivorship program development, training initiatives and policy development. Her career-long involvement in cancer care and contributions to survivorship science and care have left Dr. Mayer with a rich and unique perspective on cancer care in this country and around the world."
— Donald L. Rosenstein, MD
Director, Comprehensive Cancer Support Program
Division Head, General Adult Psychiatry
University of North Carolina at Chapel Hill
Read Bio
Deborah K. Mayer, PhD, RN, AOCN, FAAN is the Frances Hill Fox Distinguished Professor Emeritus of Nursing at the University of North Carolina Chapel Hill School of Nursing. Dr. Mayer is an advanced practice oncology nurse who has more than 45 years of cancer nursing practice, education, research, and management experience. She earned a PhD from the University of Utah, her MSN from Yale University, her BSN from Excelsior College, her Nurse Practitioner Certificate from the University of Maryland, and her diploma from Pennsylvania Hospital School of Nursing.
Dr. Mayer is past president of the Oncology Nursing Society (ONS), was a member of the National Cancer Institute's National Cancer Advisory Board (a Presidential appointment) and Board of Scientific Advisors. Dr. Mayer was elected as a fellow of the American Academy of Nursing. She is active in ONS and the American Society of Clinical Oncology (ASCO) and is a Past Chair of the ASCO Survivorship Committee. She served as Editor for the ONS' Clinical Journal of Oncology Nursing (CJON) from 2007-2015 and has published over 200 articles, book chapters, and editorials on cancer-related issues. She was awarded the ONS Lifetime Achievement Award in 2015 and, in 2016, was appointed as the only nurse to Vice President Biden's Cancer Moonshot Blue Ribbon Panel. She was the Interim Director of the Office of Cancer Survivorship at NCI from 2018-2020.
At UNC School of Nursing, she was the coordinator for the oncology focus of the adult and gerotonology nurse practitioner program. Her program of research focuses on the issues facing cancer survivors and improving cancer care. She was the Director of Cancer Survivorship at the UNC Lineberger Comprehensive Cancer Center. As a nurse who worked on the "frontline" with cancer survivors, and as a cancer survivor herself, she brings a unique perspective to her clinical, research, and health policy collaborations with the cancer community.
---
Kimberly D. Richardson
Patient Advocate Award
"Kimberly is a true champion of the patient perspective with a deep understanding of how all stakeholders interact within cancer communities. She approaches her work with a fierce dedication to honor, integrity, and empathy. Her approach to working with all stakeholders is a master class of diplomacy and collaboration. She understands the problems facing the industry and has a creative and tactful way of navigating some of the toughest conversations around access, equity, and equality for cancer care."
— Alicia C. Staley
VP, Patient Engagement
Medidata
Read Bio
Kimberly D. Richardson is a two-time cancer survivor of both ovarian and breast cancer and has been active as a patient advocate since her first diagnosis in 2013. She was a member of the inaugural group of NCCS Elevate Ambassadors in 2019. As an Elevate Ambassador, she partnered with University of Illinois College of Medicine students to launch an educational program for scientists and cancer survivors called, "Survivors Advising Scientists Educational Program" (SASEP). The mission of SASEP is to create a bidirectional educational platform that connects young investigators with cancer patients, survivors, research advocates and allies to increase scientific literacy and engagement across the community.
Ms. Richardson is a member of several advisory groups on disparities in ovarian and breast cancer, serves on patient expert councils for global organizations striving for better patient outcomes in clinical trials, and advocates at the state and federal level for funding for cancer research. She is the co-Chair of the Patient Advocacy Committee of the Society of Integrative Oncology, where she sits on the Disparities committee. Her most recent appointments are to the NCI Moonshot IMPACT program, the American Board of Emergency Medicine, and the Ovarian Cancer Research Alliance Industry Council on Disparities.
Ms. Richardson is Founder and Organizer of Chicago's first researcher/survivor summit, including six major teaching hospitals and universities to bring key stakeholders together to discuss current gynecological research. She has written and spoken about her perspective on health inequity related to COVID-19 through blogs, webinars, and podcasts. Prior to her cancer diagnosis, Ms. Richardson had 30 years of urban planning and community economic development experience, serving as the Director of Planning and Development for the City of Harvey, Illinois and managing a community-based non-profit organization.
---
Ellen L. Stovall Award Reception Details
The honorees will be recognized at the virtual Stovall Award Reception on Wednesday, November 17. The award presentation is open to the public and will feature special guests and videos highlighting the awardees and their work.
REGISTER FOR THE STOVALL AWARD RECEPTION »
# # #
https://canceradvocacy.org/wp-content/uploads/2021-Stovall-Awardees-FB2.jpg
628
1200
NCCS Staff
https://canceradvocacy.org/wp-content/uploads/2020/06/NCCA-Logo.png
NCCS Staff
2021-08-26 13:09:51
2021-09-16 15:20:56
NCCS to Recognize Deborah K. Mayer, PhD, RN and Kimberly D. Richardson with 2021 Ellen L. Stovall Award