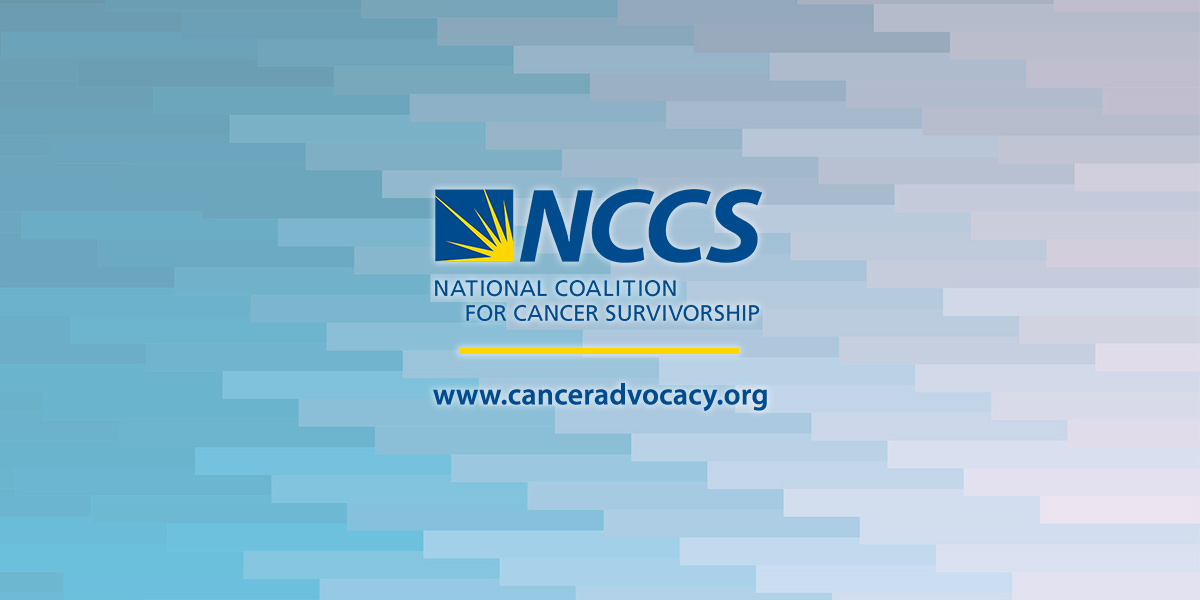 NCCS Announces New Appointment of Four Board Members
Silver Spring, MD – The National Coalition for Cancer Survivorship (NCCS) is pleased to announce four new officers of its Board of Directors. Laurie Isenberg is the new Board Chair, and Lisa D. T. Rice is the Vice Chair. Dr. Julia Rowland is the Secretary, and Taylor Ferrell will serve on the Finance Committee, along with long-time Finance Committee Chair Michael Kappel. All four officers have been members of the NCCS board and agreed to move into leadership roles in 2022.
"We are thrilled and honored to welcome Laurie Isenberg as our new Board Chair, and we are deeply grateful to outgoing chair, Samira Beckwith, for her commitment, dedication, and visionary leadership since 2017," said NCCS CEO Shelley Fuld Nasso. "We are also grateful to Lisa Rice, Julia Rowland, and Taylor Ferrell for assuming new leadership roles. Driven by their own cancer survivorship, their loved ones, and their personal mission to improve the quality of cancer care for all, each member of our Board understands the progress NCCS has made and the challenges that lie ahead and to transform cancer care for survivors, their families, and their caregivers."
"As a cancer survivor, I am honored to serve as the Board Chair. NCCS works at the forefront of the complex systemic issues facing cancer survivors,"
said Ms. Isenberg, who joined the Board in 2016
. "Shelley and her team have done a remarkable job over the past few years – especially during the pandemic – to strengthen the organization and to ensure that it addresses pressing legislative and care issues related to cancer survivors. I am excited to lead the Board in our continuous support of NCCS's efforts to educate, collaborate, and advocate around issues that will ensure all cancer survivors have quality care."
Ms. Isenberg was inspired by her cousin, former NCCS CEO Ellen Stovall, to get involved in patient advocacy. She has worked with the UCSF Center of Excellence for Breast Cancer Care, where she served in a marketing advisory capacity at BreastCancerTrials.org. She is currently working with a team at the UCSF Cancer Center to build integrated survivorship care resources across various cancer programs. Her work also includes developing a brand strategy for Breast Cancer Prevention Partners.
"I am pleased to join the executive committee of the NCCS Board of Directors as Vice Chair, keeping our mission to advocate for quality cancer care at the forefront of all we do,"
said Ms. Rice
. "As a caregiver and third-generation cancer survivor, I am personally committed to supporting this community through advocacy, empowerment, and by strengthening national public policy that affects cancer survivors."
Rice has been involved with NCCS since 2015. The death of two of her friends to metastatic cancer motivated her search for a meaningful policy role in the cancer advocacy community. She has actively advocated for NCCS policy efforts on Capitol Hill in both the U.S. House and Senate since 2016, and she joined the NCCS Board in 2019.
"I am honored to be named Secretary for the Board of NCCS, an organization that is dear to my heart and deeply esteemed,"
said Dr. Rowland
. "I look forward to working with other Board members and staff to ensure that NCCS continues to thrive in its vital role as a nationally recognized champion for the wellbeing and quality of care of the over 17 million cancer survivors across the US."
Dr. Rowland has a long history of collaboration with NCCS, and she served as a board member early in NCCS's history. She rejoined the NCCS Board in 2017 after her retirement from the National Cancer Institute, where she was director of the Office of Cancer Survivorship for 18 years. She has been unwavering in her pursuit to improve cancer care and elevate the individualized needs of survivors.
"It is an honor to join the NCCS Board Finance Committee. I look forward to helping NCCS continue to do tremendous work supporting cancer survivors, their families, and caretakers,"
said Mr. Ferrell
. "My five-year remission anniversary is approaching this summer, and I want to commemorate that by expanding my efforts to help the survivorship community."
Ferrell is an environmental attorney with the Department of Justice. He formerly worked in the Pentagon and in the White House under President Obama. A cancer survivor, he lives in Washington D.C. with his wife and two children. He joined the NCCS Board in 2017.
Read more about NCCS's Board of Directors »
# # #
https://canceradvocacy.org/wp-content/uploads/2019/10/Canceradvocacy-org-default-image.jpg
600
1200
NCCS Staff
https://canceradvocacy.org/wp-content/uploads/2020/06/NCCA-Logo.png
NCCS Staff
2022-01-27 16:13:28
2022-01-28 13:30:06
NCCS Announces New Appointment of Four Board Members