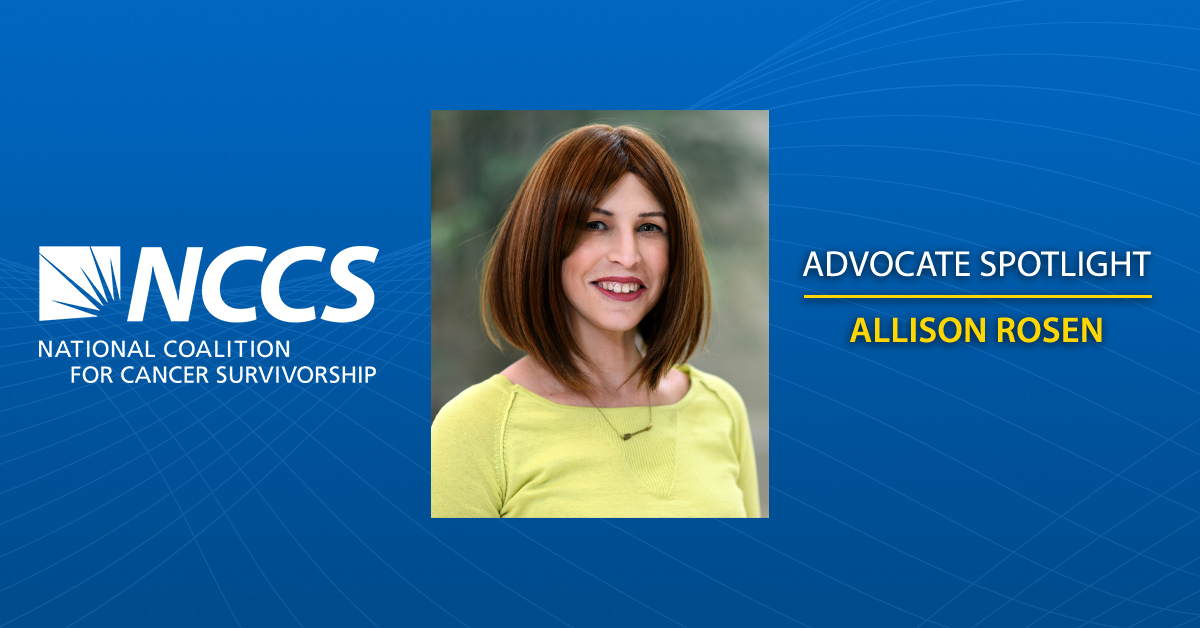 NCCS Advocate Spotlight: Allison Rosen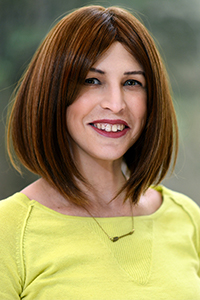 Advocate Spotlight October 2021 | Allison Rosen
After years of struggling with Crohn's disease, Allison Rosen's life was totally disrupted at the age of 32, when a colonoscopy revealed Stage 2C colorectal cancer in June 2012.
Allison, now cancer free for the past nine years, transformed herself into an ardent patient, research, and policy advocate. Her work focuses on designing, implementing, and evaluating public health programs and initiatives, and addressing cancer awareness and care disparities among medically underserved populations. Allison is the Project Director at the Center for Health Promotion and Prevention Research at the University of Texas Health Science Center at Houston, where she focuses on colorectal cancer prevention.
Outside of her job, Allison is involved in policy work, assisting such organizations as the National Coalition for Cancer Survivorship (NCCS), Fight Colorectal Cancer, and the American Cancer Society Cancer Action Network. In addition, she has been active in community engagement in her leadership roles within the Colorectal Cancer Alliance (as a member of the Never Too Young Board) and the Colon Cancer Coalition (as the Houston "Get Your Rear in Gear" event Director). She is a patient advocate for academic institutions, such as MD Anderson Cancer Center and the Dan L. Duncan Comprehensive Cancer Center. Her most recent appointments are as a member of the Research Advocates in Training program with Fight Colorectal Cancer and with SWOG Cancer Research Network representing the adolescent and young adult community.
Allison was first introduced to NCCS at a Stupid Cancer conference and she felt instantly drawn to the organization's mission and work. Once she attended her first Cancer Policy and Advocacy Team (CPAT) Symposium, she realized her voice and story mattered. Allison explained, "After I was told I was cancer free, my journey with cancer survivorship began and I was lost. Most people thought I was all better and could go back to my life before cancer, but that was far from true." Through the community of advocates that she met, Allison found something she was missing, people who understood her.
Allison urges fellow advocates to never give up because their story and voice can make a difference. She says that even when policy initiatives do not become law, you have to keep going and sharing your voice and perspective. Engaging in policy work may seem daunting but our elected representatives' job is to listen and support our initiatives. "You are never alone in advocacy work because this community is relentless and determined to make positive changes," says Allison. "Being a part of that is so rewarding."
Find Allison on social media:
Twitter: @ARosen380
Facebook: facebook.com/alicat380
Instagram: @alicat380
TikTok: @allisonrosen4
# # #
https://canceradvocacy.org/wp-content/uploads/Allison-Rosen-advocate-spotlight.jpg
628
1200
NCCS Staff
https://canceradvocacy.org/wp-content/uploads/2020/06/NCCA-Logo.png
NCCS Staff
2021-10-05 12:33:15
2021-10-06 13:19:55
NCCS Advocate Spotlight: Allison Rosen