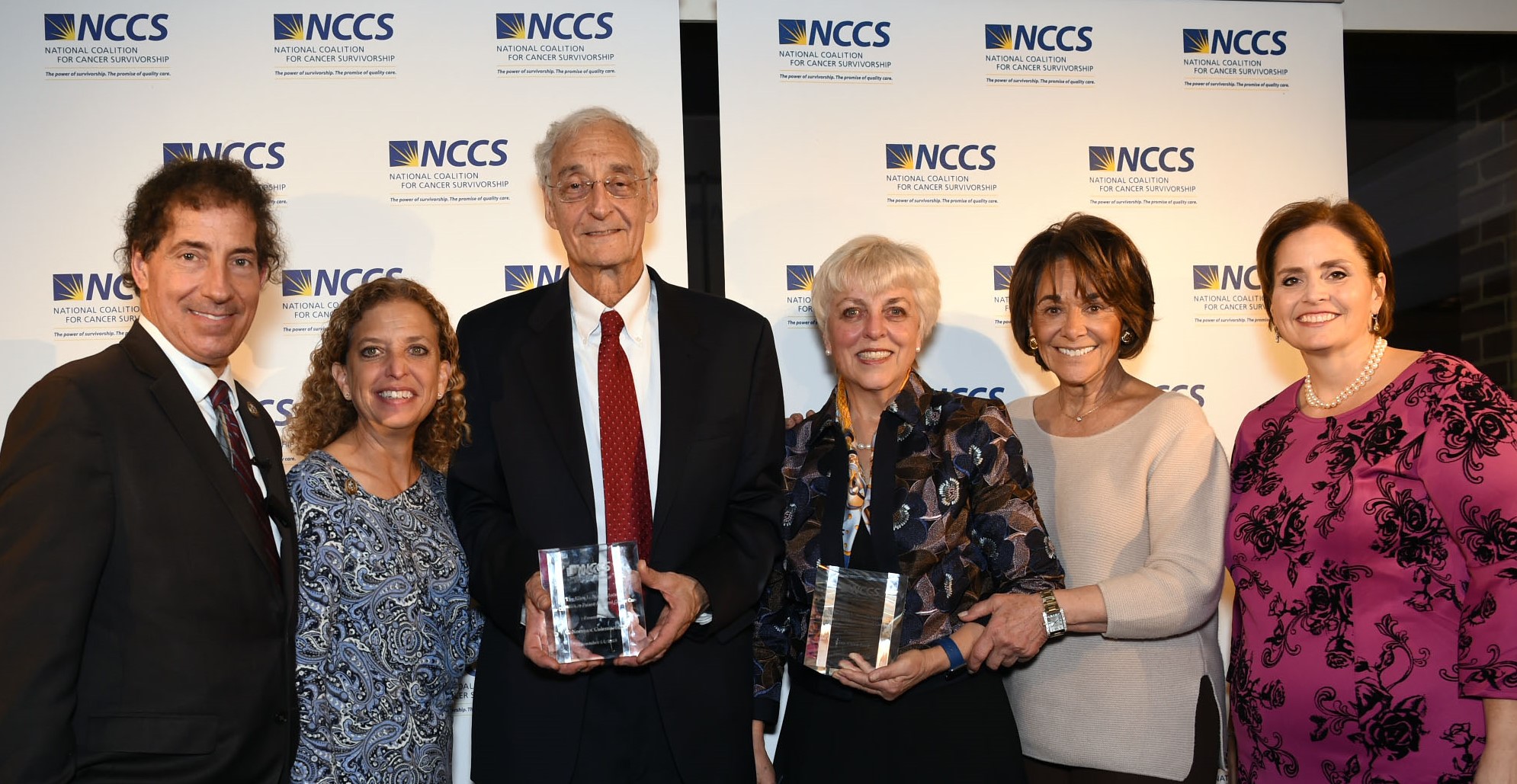 NCCS Presents 3rd Annual Ellen L. Stovall Award to Gay Crawford and Dr. Norman Coleman, Their 40+ Year Careers Focused on Improving Patient-Centered Cancer Care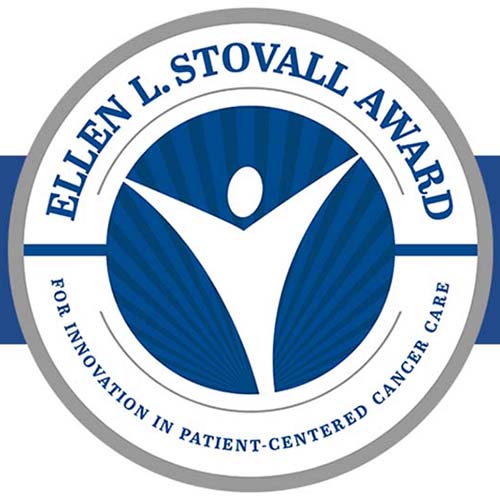 Washington, D.C. – The National Coalition for Cancer Survivorship (NCCS) hosted the 3rd annual Ellen L. Stovall Award for Innovation in Patient-Centered Cancer Care reception. Named for former NCCS CEO, Ellen Stovall, who died in 2016 due to complications from three cancer treatments, the award seeks to highlight those who continue Ellen's work of transforming cancer care to further incorporate patients' goals, needs, and values. This year's honorees are Gay Crawford, founding director of Cancer CAREpoint, and Dr. Norman Coleman, senior investigator at the National Cancer Institute.
NCCS was honored to be joined by three Members of Congress. Rep. Anna Eshoo (CA-18) introduced and presented the award to her constituent, Gay Crawford. Rep. Jamie Raskin (MD-8), a cancer survivor, introduced and presented the award to his constituent, Dr. Norman Coleman. Rep. Debbie Wasserman Schultz (FL-23), also a cancer survivor, shared opening remarks about her cancer journey and why patient-centered care is so important.
"Once again, we have two exceptional leaders in Gay Crawford and Dr. Norman Coleman as this year's honorees of the Ellen Stovall Award," said NCCS CEO Shelley Fuld Nasso. "For more than forty years, they each have used their experience and expertise to improve the lives of so many who face a cancer diagnosis. They are each incredibly impressive individuals for what they have done for patients in their careers and are highly deserving of this recognition."
Since her diagnosis of breast cancer at age 30, Gay Crawford spent the last 44 years playing a major leadership role in bringing more complete patient-focused cancer care to the Silicon Valley area. She's helped found and lead numerous organizations, culminating in the non-profit organization Cancer CAREPoint, providing a wide-range of cancer support services to anyone in Silicon Valley free of charge.
"Since 1974 and my first cancer diagnosis, I realized that there must be a better way to help patients navigate and ultimately improve the experience of a cancer journey," said Gay Crawford. "Knowing that patient-focused care and advocacy at the personal and legislative level can make a real difference is a driving force that remains with me today. It is an honor to be recognized with the Ellen Stovall Award."
Dr. Norman Coleman is board certified in internal medicine, medical oncology, and radiation oncology. He was a professor at Stanford University School of Medicine and Harvard Medical School, before returning to the National Cancer Institute to serve as director of the Radiation Oncology Sciences Program. He continues to lead a laboratory at NCI focusing on radiation-induced molecular and immunotherapy targets. He is also a Senior Medical Advisor in the Office of Emergency Management, and the Senior Scientific Advisor to the International Cancer Expert Corps (ICEC), a non-government organization focusing on global disparities in cancer care.
"I met Ellen Stovall many years ago and our shared interest and understanding of innovative patient-centered cancer care delivery forged a tremendous friendship," said Dr. Norman Coleman. "Since early in my career and in every role that I serve, I always ask myself, 'is this what the patient wants and is it in their best interest?' Having known Ellen and worked with her over the years, I want to thank NCCS for this recognition and I appreciate being part of their present and future efforts to bring quality cancer care to the many in need. This award and collaboration mean so much to me."
Read more about Gay Crawford, Dr. Norman Coleman, and the Ellen L. Stovall Award »
Read about Ellen's life of advocacy »
# # #
Watch Videos About the Stovall Award Honorees
---
Related Posts
https://canceradvocacy.org/nccs-news/nccs-ellen-l-stovall-award-reception-recognizes-two-individuals-advancing-patient-centered-cancer-care/
https://canceradvocacy.org/blog/nccs-presents-inaugural-ellen-stovall-award-douglas-w-blayney-md/
https://canceradvocacy.org/wp-content/uploads/2018/11/2018-Stovall-Award-presentation.jpg
1029
1990
actualize
https://canceradvocacy.org/wp-content/uploads/2020/06/NCCA-Logo.png
actualize
2018-11-15 13:59:36
2018-11-15 13:59:36
NCCS Presents 3rd Annual Ellen L. Stovall Award to Gay Crawford and Dr. Norman Coleman, Their 40+ Year Careers Focused on Improving Patient-Centered Cancer Care