It Takes a Team – Connecting with Survivors at the Amgen Tour of California
Last week, four members of the NCCS team traveled from our home office outside of DC to join our Breakaway from Cancer partners for eight stages of an outdoor festival at the Amgen Tour of California. Our work with Breakaway from Cancer is an opportunity to get the word out about the many resources that are available for those facing a cancer diagnosis, but it also allows us to meet with patients, caregivers, and survivors to hear about their experiences with cancer. This dialogue is critical to our work and our advocacy as the voice of survivorship in national policy issues.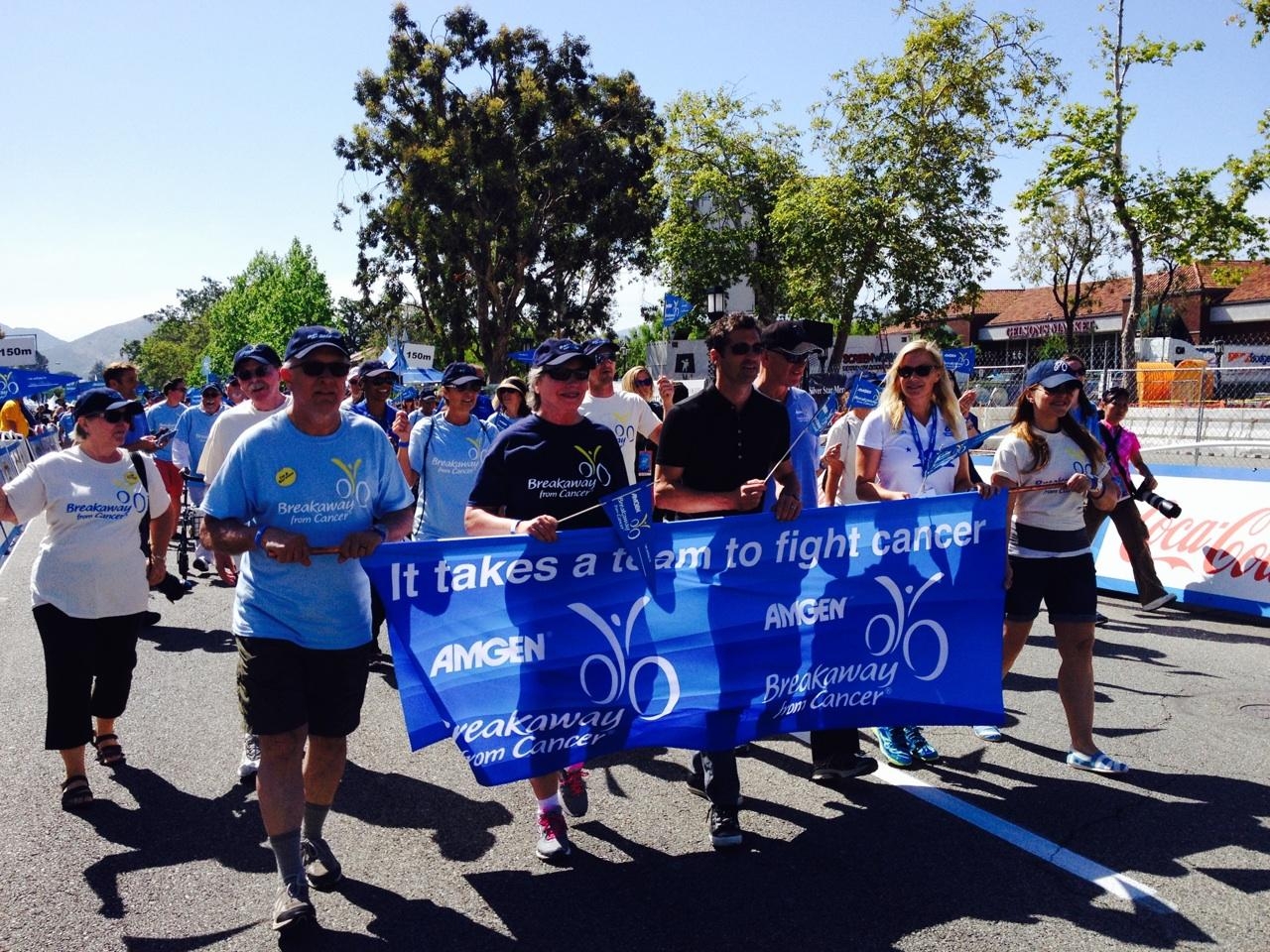 Actor Patrick Dempsey joins the Breakaway Mile in Thousand Oaks. See more on our Facebook page.
In speaking with hundreds of individuals over the course of the tour, it is clear that there is no
one story
of survivorship. Many people who speak to us are newly diagnosed, and need more information about how to navigate their care and the financial and emotional issues that accompany a diagnosis. Some survivors seek information about assessing their risk for a recurrence, or for managing the late and long-term effects of their treatment. Many inspire us with stories of advocating for their care. At one stage of the tour, a couple approached us − not to ask about the resources available to them − but to tell us about their decision to stop active treatment and find doctors who were willing to respect their wishes so that they could focus on quality of life issues. A woman described finding fertility resources after experiencing the shock of a breast cancer diagnosis while in her early thirties. A man described his coordinated transition back to his primary care doctor after his treatment for prostate cancer.
Despite these differences, one common theme emerged. When describing "good" care, people often attributed it to luck. They were "lucky" to find the right doctor who would listen to them, or they were "lucky" to have received their treatment through a provider that emphasized coordinated care.
For many, the day of diagnosis is the unluckiest day imaginable. Cancer is a statistical anomaly, a lottery that no one wants to win. As patients, caregivers, and advocates, we feel powerless in the face of such a terrible disease. However, good care should not be a matter of chance. Shared decision-making or coordinated care should not be about luck, or geography, or any other number of factors. For this reason, we continue to advocate for reforms that will close gaps in care and in quality. NCCS recently published Principles for Health Care Payment Reform to Improve Cancer Care Quality. The goal of our public policy activities is to foster a cancer care system that is evidence-based, quality-driven, patient-focused and affordable and accessible to all. In other words, all care should be "lucky."
As the Breakaway from Cancer initiative nears its 10 year anniversary, we are taking stock in the accomplishments of a decade and looking towards the future of securing quality cancer care. We ask that you join us, by becoming a self-advocate or an advocate for others, and by engaging in the policy issues that will continue to advance quality care for all people facing a cancer diagnosis.
Breakaway from Cancer represents a partnership between Amgen and four nonprofit organizations dedicated to empowering patients with education, resources and hope, wherever they may be in the cancer care continuum.
https://canceradvocacy.org/wp-content/uploads/2014/05/bfccycle.jpg
250
250
actualize
https://canceradvocacy.org/wp-content/uploads/2020/06/NCCA-Logo.png
actualize
2014-05-21 14:38:45
2014-05-21 14:38:45
It Takes a Team – Connecting with Survivors at the Amgen Tour of California