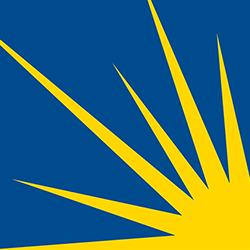 Health Care Roundup: Trump Drug Pricing Plan; HHS Cuts ACA Navigator Funding; CAR-T Therapy Coverage Issues; Biosimilar News; and More
In order to bring you the latest cancer-related health care policy and news, we at NCCS combined our ACA Updates and What Caught Our Eye (WCOE) content into a weekly email and blog post. We aim to make this a concise, one-stop summary of what you need to know as we continue working together to make cancer care better for everyone.
Your feedback is always welcome to make our content more useful to you. Please send comments to feedback@canceradvocacy.org.
Subscribe to our email list and receive these updates in your email box each week »
---
HEALTH CARE HIGHLIGHTS
Comment Period Closed for Trump Drug Pricing Plan
Comments for the Department of Health and Human Services' (HHS) drug pricing proposal were due this week. The plan, introduced by the Trump administration, outlined proposals seeking to increase competition, reduce out-of-pocket costs and incentivize better negotiations for lower drug prices. NCCS joined with other organizations of the Cancer Leadership Council (CLC) to provide comments regarding the blueprint, called "American Patients First."
Sent to HHS Secretary Alex Azar, the letter outlines the groups' concerns and asks questions of HHS about the plan's recommendations, with the hope of ensuring that patients' physical and financial health are protected and considered a top priority.
We do not support changes in Part D formulary standards. Since the enactment of Medicare Part D and its implementation, cancer advocates have strongly supported the protected classes policy, which includes antineoplastics, as well as expansive formulary approaches.
Elimination of the protected classes policy and the implementation of restrictive formularies with aggressive formulary management tools may serve to limit timely access to cancer drugs.
–
CLC Letter
to HHS Secretary Azar on Drug Pricing Blueprint
The letter also outlined concerns for cancer patients regarding moving Medicare Part B drugs to Medicare Part D, posing the questions:
Will Part B coverage standards (for approved indications of cancer drugs and certain off-label uses) apply in the Part B to Part D shift? Will the payment system of Part B apply if drugs are shifted from B to D?
Hospitals Lose Suit Against 340B Cuts in Appeals Court
The U.S. Court of Appeals for the District of Columbia Circuit unanimously upheld a ruling in a case brought by the American Hospital Association and several other hospitals to prevent HHS from cutting $1.6 billion from the 340B drug discount program. The initial lawsuit was rejected last year after a federal judge ruled that the lawsuit was filed before the hospital plaintiffs experienced the cuts proposed by the Trump administration.
Hospitals that participate in the program receive higher reimbursement for 340B approved drugs through Medicare Part B. The cuts issued by HHS will reduce payments to 340B hospitals by 27 percent, a move that hospital groups say they will continue to fight. This ruling is the latest in the Trump administration's push to reform the drug rebate system.
FDA Releases Guidelines on Speeding Development of Biosimilar Products
The Food and Drug Administration (FDA) announced earlier this week that it will take steps to speed up the development of biosimilars, generic versions of biologic drugs, by allowing for greater competition. This draft guidance is the latest in FDA Commissioner Scott Gottlieb's goal to roll back regulations on the production of biosimilars in the United States, including the approval process of these drugs. Last month, the agency had withdrawn a draft guidance that outlined suggestions to companies producing biosimilars on how to evaluate analytical similarity between the two versions of drugs, citing the need for updated evaluation methods and greater flexibility for companies involved in developing biosimilars.
U.S. Death rates from liver cancer increase by over 40%
The Centers for Disease Control and Prevention (CDC) reported that liver cancer death rates shot up by 43 percent, placing liver cancer from the ninth leading cause of cancer death to the sixth. Men were more than twice as likely to die from liver cancer compared to women. "Obesity is a big risk factor that often goes overlooked," said Dr. Sam G. Pappas, chief of the Division of Surgical Oncology at Rush University Medical Center.
---
CHART OF THE WEEK
Two charts from KFF highlight two important facts regarding the recently announced cuts to ACA navigator funding:
1) "The number of new marketplace participants was lower in 2018 compared to 2017."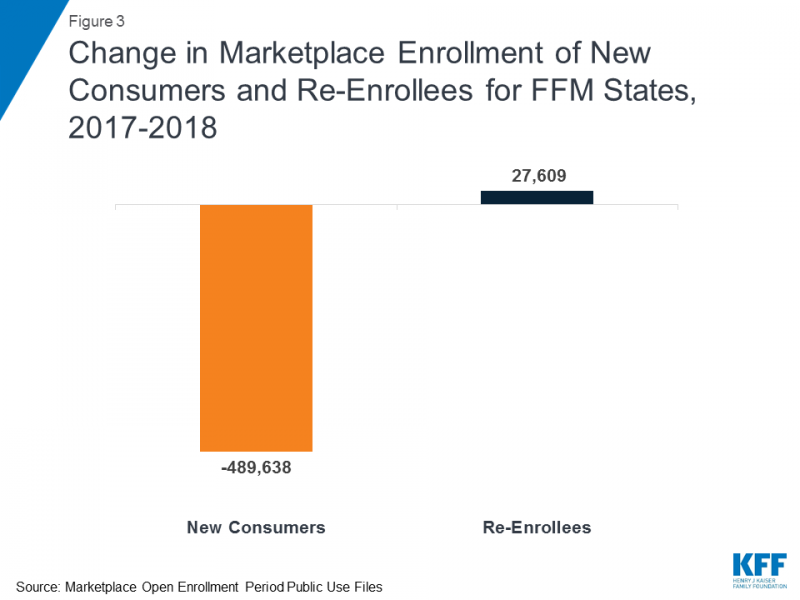 2) Consumers seeking help "had limited understanding of the eligibility and enrollment process, or of health insurance, and lacked confidence to apply on their own."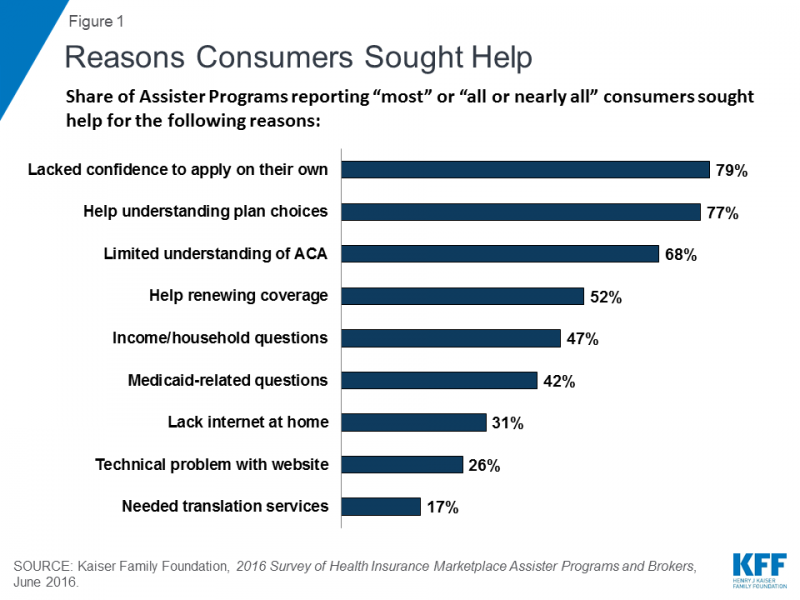 Source: Kaiser Family Foundation, "Data Note: Further Reductions in Navigator Funding for Federal Marketplace States."
---
IMPORTANT READS
Kaiser Family Foundation
Kaiser Family Foundation released a brief reviewing data CMS presented as justification for their decision to once again reduce funding for navigators, a marketplace-funded program created under the Obama administration. The navigators encourage those eligible for marketplace and Medicaid coverage to sign up through education, outreach, and enrollment guidance.
While CMS argued that knowledge on how to enroll in the marketplace is now wide-spread, KFF counters CMS claims by stating that millions of Americans lose their coverage each year and that understanding how enrollment works will continue to remain complicated, especially for low-income Americans and those without proper access to improved health literacy. The brief also highlights how data provided by CMS did not fully capture the extent of assistance navigators provided to beneficiaries. Read More »
Via National Public Radio (NPR)
This NPR article details how insurers and data brokers work together to collect personal details about millions of people in this country and how they utilize "lifestyle" data to set prices for health care plans. The information provided to insurers can range from your socioeconomic status to what you posted to social media last night. Health insurance companies can use these data to maximize their profits, but at the cost of health privacy for many. Diminishing privacy as well as the issue of poor inferences from the data insurers collects is an ongoing debate, and something that will not be resolved anytime soon. This information could become exponentially more harmful if efforts to repeal pre-existing condition protections are successful.
Read More »
Via NPR
The process and costs towards coverage for CAR-T Cancer therapies is under scrutiny. Astronomical costs for therapy in addition to confusing and time-consuming approval processes have left many health care providers frustrated and patients overburdened, both financially and mentally. Private insurers are not the only ones who have received numerous criticisms in how they cover patients. Patients who rely on Medicaid and Medicare have also faced obstacles in ensuring adequate coverage. Some Medicaid programs do not provide coverage for the gene therapy. For Medicare, issues with reimbursement rates may further exacerbate problems with outpatient care for cancer patients. Read More »
---
Related Posts
https://canceradvocacy.org/blog/nccs-joins-clc-letter-hhs-drug-pricing-blueprint-american-patients-first/
https://canceradvocacy.org/blog/health-care-roundup-july-13-2018/
https://canceradvocacy.org/wp-content/uploads/2017/01/NCCS-Starburst-250px.png
250
250
actualize
https://canceradvocacy.org/wp-content/uploads/2020/06/NCCA-Logo.png
actualize
2018-07-20 15:43:42
2018-07-20 15:43:42
Health Care Roundup: Trump Drug Pricing Plan; HHS Cuts ACA Navigator Funding; CAR-T Therapy Coverage Issues; Biosimilar News; and More