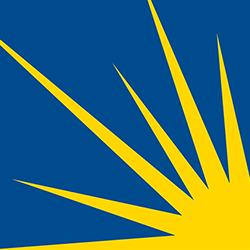 Health Care Roundup: "Toxic Town" in WV Battles High Cancer Rates; CMS News: Risk Adjustment, 340b, Site-Neutral Payments; Hospital Costs; More
In order to bring you the latest cancer-related health care policy and news, we at NCCS combined our ACA Updates and What Caught Our Eye (WCOE) content into a weekly email and blog post. We aim to make this a concise, one-stop summary of what you need to know as we continue working together to make cancer care better for everyone.
Your feedback is always welcome to make our content more useful to you. Please send comments to feedback@canceradvocacy.org.
Subscribe to our email list and receive these updates in your email box each week »
---
HEALTH CARE HIGHLIGHTS
CMS Resumes ACA Risk Adjustment Payments
The Centers for Medicare and Medicaid Services (CMS) announced it will continue payments—amounting to $10.4 billion—to the Affordable Care Act's (ACA) risk-adjustment program. The program was established to ensure that risk is spread across insurance companies.
Recently, in one of the many efforts to dismantle the ACA, CMS announced that it would halt the payments, highlighting concerns about the risk-adjustment formula from a federal judge's ruling in New Mexico.
Insurers responded to CMS' move by warning about the possibility of raising next year's ACA premiums due to unpredictability of risk adjustment payments. In a statement regarding the decision to allow payments to be made to insurers again, CMS Administrator Seema Verma said:
Issuers that had expressed concerns about having to withdraw from markets or becoming insolvent should be assured by our actions today. Alleviating concerns in the market helps to protect consumer choices.
– CMS Administrator Seema Verma
Additional Cuts Proposed to 340B Drug Program
CMS is seeking to make further cuts to 340B drugs at hospital off-campus sites in a proposed rule released on Wednesday. The 340B program allows hospitals to buy certain drugs at a lower cost. CMS is now proposing to make additional cuts to 340B hospitals by extending these cuts to an even greater number of off-campus hospitals and outpatient clinics. This proposal could harm patients' access to care, especially for vulnerable populations who rely on 340B hospitals for their care.
In 2018, CMS implemented a payment policy to help beneficiaries save on coinsurance on drugs that were administered at hospital outpatient departments and that were acquired through the 340B program—a program that allows hospitals to buy certain outpatient drugs at a lower cost.
Due to CMS's policy change, Medicare beneficiaries are now benefiting from the discounts that 340B hospitals enjoy when they receive 340B-acquired drugs. In 2018 alone, beneficiaries are saving an estimated $320 million on out-of-pocket payments for these drugs. For 2019, CMS is expanding this policy by proposing to extend the 340B payment change to non-excepted off-campus departments of hospitals that are paid under the Physician Fee Schedule.
Hospitals that take part in the 340B program will undoubtedly push back aggressively on this proposed rule. The Association of American Medical Colleges responded, "CMS' proposal to cut Medicare payments to existing outpatient departments for clinic services runs counter to Congressional intent and would seriously damage the ability of the nation's teaching hospitals to serve the most complex and vulnerable patients."
CMS Seeks Site-Neutral Payment Policies
In another move that is adding further frustration for hospital groups, CMS announced they intend to adopt site-neutral payment policies.
As an Inside Health Policy article explains it:
The proposed rule would establish a payment rate for hospital outpatient clinic visits equivalent to what those services would be paid under Medicare's physician fee schedule–which would amount to 40 percent of what CMS currently pays under the Outpatient Prospective Payment System.
The article went on to say:
CMS Administrator Seema Verma said on a call with reporters that she wants to end Medicare policies that pay different rates for similar services based on the type of site where the services are provided.
"This would put all providers on a level playing field, so CMS is not tipping the scales toward one site of care," Verma said.
If finalized, the change would result in a significant reduction in payments to hospitals. We will continue to monitor these changes as they may impact patients' access to care.
---
CHART OF THE WEEK
Bob Herman, Axios.com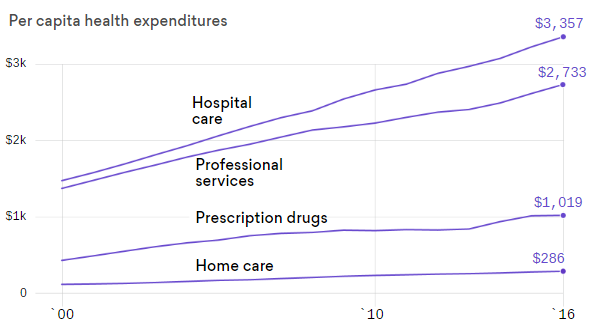 Per capita health expenditures, 2000 – 2016.
Data: Centers for Medicare & Medicaid Services
Chart by Kerrie Vila, Axios
---
IMPORTANT READS
Via HealthCareDive.com
This brief highlights the concerns many female health care professionals still face when it comes to gender parity. While many are happy to see the shift towards a more gender equitable workplace still ongoing, more and more women continue to speak out on issues relating to sexual harassment and the wage gap, as well as, racial discrimination for women of color.
Via Washington Post
Cancer clusters remain a frightening environmental and public health concern for all Americans. Physician Ayne Amjad is one of the many who have been deeply affected by her town's history of mismanaging toxic waste that led to the "illnesses plaguing [the] town."
This report delves into the history of industrial chemical dumping in Milden, West Virginia, the community's overwhelming cancer rates and deaths, and Amjad's search to connect the two. Following the footsteps of her physician father, who passed away from cancer himself, Amjad remains dedicated to carry on his work in not only learning more about the link, but to bring justice to the people who will continue to struggle under the burden of cancer for years to come.
Via Public Health Newswire
The "social determinants of health" continue to pave the way for how we look at and address community and population health, shared Ceci Connolly, CEO of Alliance of Community Health Plans, as she discussed the importance of improving the incorporation of social determinants into community health plans.
Connolly outlines how these health plans can better serve beneficiaries, providing examples such as "treat the whole person", "meet people where they are", "speak their language", and "address economic and housing insecurity." These social determinants must get more attention, as the article points out that "public health professionals are well aware that 75 percent of the factors affecting our health are believed to be non-medical, such as homelessness, hunger and lack of transportation."
Via Washington Post
Hennepin Healthcare System in Minnesota faces mounting scrutiny and anger for their practice of sedating patients without consent, then using results for research. Patients with agitation who were taken by ambulance were given powerful drugs without their consent and were later informed by Hennepin that they were subjects in a study that compared the effectiveness of different sedatives-most notably ketamine- on patient agitation. Hennepin responded to inquiries about their practices, emphasizing the hospital system's dedication to transparency and "integrity of scientific research."
---
Related Posts
https://canceradvocacy.org/blog/health-care-roundup-july-20-2018/
https://canceradvocacy.org/blog/nccs-joins-clc-letter-hhs-drug-pricing-blueprint-american-patients-first/
https://canceradvocacy.org/wp-content/uploads/2017/01/NCCS-Starburst-250px.png
250
250
actualize
https://canceradvocacy.org/wp-content/uploads/2020/06/NCCA-Logo.png
actualize
2018-07-27 15:24:50
2018-07-27 15:24:50
Health Care Roundup: "Toxic Town" in WV Battles High Cancer Rates; CMS News: Risk Adjustment, 340b, Site-Neutral Payments; Hospital Costs; More