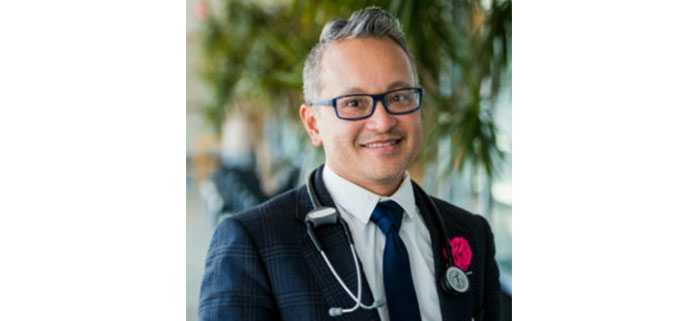 Guest Post by Dr. Don Dizon: When Even the Best Advice Isn't Good Enough
Every so often I see a patient who views cancer as a constant threat to be handled — it becomes so significant that it is as if she can never let her guard down. I always worry about this, partly because that singular focus on fighting cancer can sometimes detract one from other aspects of life, and those facets that give life meaning. Such was the case with Jane*.
Jane* has advanced ovarian cancer. At the time she was initially diagnosed, she was a very successful attorney — on her way to partner. She was married and they had been trying for their first kid. It was how she was diagnosed — a routine ultrasound of her pelvis delineated a mass in her ovary and labs showed a very elevated CA-125 level. Surgery followed and while she had a complete removal of tumor, the disease was far more advanced than imaging suggested. The whole thing happened so quickly — she had not even absorbed the fact she would never carry her own child as she began medical treatment. At each chemotherapy visit, I would no sooner walk in the room that Jane would inquire about her CA-125. She seemed so relieved when I told her it was normal, and honestly, I was ecstatic for her. By the time she entered follow-up, we fell into a routine. Instead of a "Hi, how are you doing", I would enter the room and tell her, "Your CA-125 is still in the normal range." She was always so relieved and happy to hear it. That is, until she relapsed.
Jane was devastated by her recurrence. She could not understand what had happened — what she had done "wrong". "I stopped eating sugar, reduced saturated fats. I practiced yoga and religiously worked out. I cut back at work so I wouldn't have more stress than I thought I could handle — heck, I even passed up my chance at partnership. But it still came back." I assured her that she did not do anything wrong — that sometimes, for reasons we have yet to uncover, ovarian cancer recurs at a very high rate. I told her she was okay, that we could treat her, though the goal was no longer cure, but rather it was control.
Recurrence transformed her. She had a new sense of purpose — to stay alive. To her, it meant being "on top" of the cancer, to never yield the "upper hand". We began pegylated liposomal doxorubicin, and I had counselled her not to be alarmed if her CA-125 went up before it started to fall. She tolerated it well and had no real side effects from treatment. But after two visits in which I told her, "your CA-125 went up a little bit", she requested that we change treatment.
"Why would you want to change treatment now?"
"My CA-125 isn't falling. If treatment worked, it would fall."
"Remember how I told you that a rise in the CA-125 is expected? And besides, clinically, you have no signs or symptoms that you are progressing."
We discussed this for a bit — me recommending at least one more dose of treatment and she asking for an entire new plan. Finally, I suggested we get a CT scan before we made a treatment decision, arguing that if it did not show disease progression then it meant treatment was working. However, she countered that it didn't matter. "Even if it's not growing yet, we know it's going to."
At this point, I took a step back to try to figure out what was motivating her request.
"Can I ask you, why would you want to change treatments so soon?"
"Because, I want to live," she said. "And I don't want to make another mistake. The next one might cost me my life."
It dawned on me that no matter what I had said in the past, she did not really believe my line of "cancer as a chronic disease". She was still afraid — very afraid. Afraid that her CA-125 would never fall, that her cancer would keep progressing, and afraid she would die. I would learn later from her husband that she had been recording each and every CA-125 since diagnosis, and how had taken to recording every symptom she experienced. She stayed up searching for new treatments, reading blogs and other women's experiences with the disease. She had become obsessed with "beating" cancer.
Ultimately I convinced her to proceed with the CT scan. She wasn't pleased that we had delayed a decision about staying on pegylated liposomal doxorubicin, but at the end of that visit, I felt she had understood the rationale and my approach.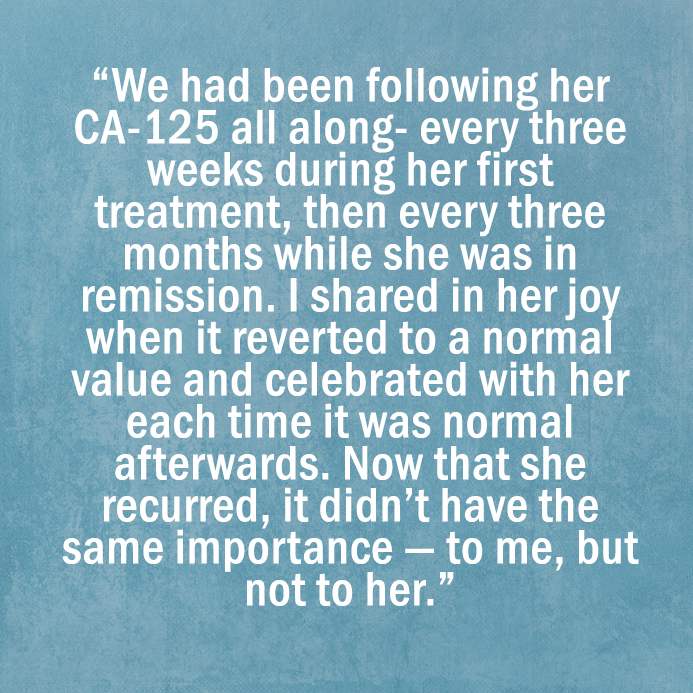 The next week I received a letter from Jane. She stated she was going to transfer her care. She thanked me for being her doctor these past years. "I just feel I won't get the care I need to stay alive, " she wrote. "We want to approach this cancer differently, and I'm sorry — but it's my life at stake. I found a doctor that understands my view better and he recommended we change treatment."
After that letter, it was my turn to ask, "What did I do wrong?" I could have changed her treatment as she had requested, without using a CT scan. I could have come off as less "academic" when discussing the evidence. It would've been easy for me to chalk up her decision to her own irrational conception of CA-125 and its meaning. But that would be wrong, because I had a direct hand in shaping how she perceived it. We had been following her CA-125 all along- every three weeks during her first treatment, then every three months while she was in remission. I shared in her joy when it reverted to a normal value and celebrated with her each time it was normal afterwards. Now that she recurred, it didn't have the same importance — to me, but not to her. She had become "addicted" to CA-125, and I had a hand in that.
After Jane, I realized the context for this blood test needed to be made more clear — early on and frequently repeated. CA-125 should not and cannot be perceived as the sole measure of disease, and treatment based on a CA-125 is not a key to long-term survival.
I don't know if I could have said anything differently to Jane to stop her from finding a new doctor, short of changing treatment as she requested. But approaching cancer requires a relationship built on trust and comfort — things that had apparently diminished with our last conversation. I knew then that she was right in finding a new doctor and ultimately, I wrote her back, wishing her well and that, despite the fact she had changed providers, I would always be available should she ever need me.
*The name and all patient details have been changed to protect her privacy.
---
Don S. Dizon, MD, FACP, is formerly an Associate Professor at The Warren Alpert Medical School of Brown University and is now affiliated with Harvard Medical School. He practices medical gynecologic oncology at the Massachusetts General Hospital (MGH) Cancer Center, where he also is Founder and Director of the Oncology Sexual Health Clinic. Dr. Dizon serves as Chair-Elect for ASCO's Cancer Communications Committee. In addition to his regular column on ASCOconnection.org, which has been honored with APEX awards in 2013 and 2014, he is a blogger for MGH and Deputy Editor at UpToDate.
Follow Dr. Dizon on Twitter@drdonsdizon. The views & opinions expressed in any guest post featured on our site are those of the guest author and do not necessarily reflect the opinions & views of the National Coalition for Cancer Survivorship. Read our blog and comment policies here.
https://canceradvocacy.org/wp-content/uploads/When-Even-the-Best-Advice-Isnt-Good-Enough.jpg
321
699
actualize
https://canceradvocacy.org/wp-content/uploads/2020/06/NCCA-Logo.png
actualize
2015-02-20 11:19:51
2020-11-24 11:47:40
Guest Post by Dr. Don Dizon: When Even the Best Advice Isn't Good Enough