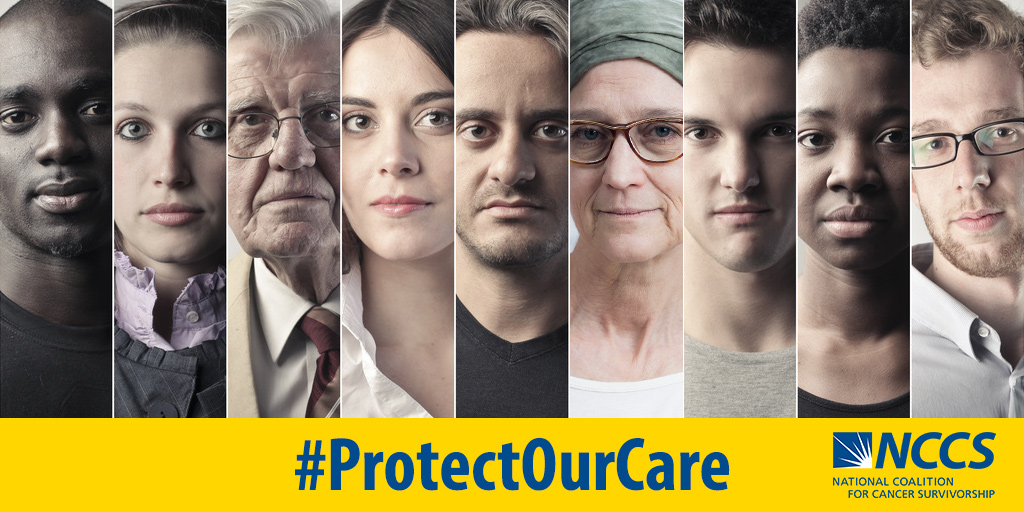 ACA Update | April 10, 2017: New GOP Proposal Would Undermine Pre-Existing Condition Protections

Prior to the Affordable Care Act (ACA), cancer survivors were at the mercy of the health care system, often forced to pay exorbitant premiums or simply denied coverage altogether. Today, America's 16 million cancer survivors benefit from the ACA's patient protections that are critical to providing them with quality, affordable, and accessible health care coverage. NCCS is actively engaged in advocating to ensure this unprecedented access for cancer patients and providers continues.
As talks of repeal and replace quickly resurfaced after the downfall of the American Health Care Act (AHCA), the House Republicans' newest proposals are even more devastating for cancer patients than the AHCA would've been.
The newest Republican health care proposals would eliminate even more patient protections, including the essential health benefits that require insurers to cover services such as chemotherapy, hospital visits, prescription drugs, and doctor visits. One of the most concerning proposals is to eliminate community rating within the ACA, which bars insurers from charging people with pre-existing conditions more than healthy individuals for the same insurance policy. Community rating is one of the fundamental provisions of the ACA that protects cancer survivors' ability to purchase affordable insurance.
Protection for people with pre-existing conditions is seen as a requirement even by many who want to repeal the ACA. Recognizing this fact, Republicans on Thursday released text of an amendment that would set aside money for an "invisible" high risk pool to help lower premiums for sicker people, providing $15 billion for states to reimburse health insurers for covering those patients. The $15 billion would be spread across all states and over almost a decade, making it an insufficient sum. The Kaiser Family Foundation stated that, "It's nowhere near enough money to cover a meaningful share of the claims for high-cost patients."
But as we reported last week, it's not just Congress who can impact the ACA – the administration has leverage to either strengthen or weaken the ACA marketplace through a number of ways. The administration could withhold cost-sharing subsidies which would wreak havoc on the marketplace and cause even more uncertainty for insurers. Outreach and enrollment assistance were critical to the success of previous enrollment periods. An administration that is not behind the ACA could scale back or eliminate support of enrollment assistance. In fact, in January, the Trump administration announced plans to eliminate advertising near the end of the enrollment period.
Opportunities for Advocates
Over the next two weeks, Congress will be on recess. This will present constituents and advocates with multiple opportunities to remind your elected officials that the majority of people across America oppose repealing the ACA. Members of Congress must hear this simple message: Do not take away our care. Stop trying to repeal the Affordable Care Act.
A major factor in the failure of the AHCA was the groundswell of support for the ACA and advocates making noise at town halls, rallies, and calling their members. Please continue your efforts to share your stories about how the ACA has helped you and how Republican proposals are not acceptable for cancer patients. Let's put the pressure on Members of Congress again and protect our care.
NCCS is here to help.
Watch our most recent webinar on the ACA (embedded below), which includes a message from a Congressional staffer on how to contact your members.
Contact Lindsay Houff, Public Policy Manager at lhouff@canceradvocacy.org with any questions you may have, or for help with setting up a meeting with your Members of Congress.
NCCS Webinar: ACA Update (April 6, 2017)
Learn more about the ACA, including tips for contacting your lawmakers »
---
https://canceradvocacy.org/wp-content/uploads/2017/01/ProtectOurCare-1024px.jpg
512
1024
actualize
https://canceradvocacy.org/wp-content/uploads/2020/06/NCCA-Logo.png
actualize
2017-04-10 13:28:24
2017-04-10 13:28:24
ACA Update | April 10, 2017: New GOP Proposal Would Undermine Pre-Existing Condition Protections