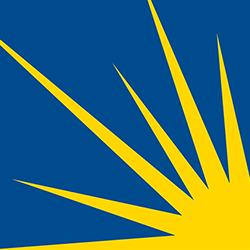 Health Care Roundup: Cancer Care on the Front Lines of COVID-19; Study: Cancer Patients at Higher COVID-19 Risk; COVID-19 Cancer Disparities; More
We aim to make the Health Care Roundup a concise, one-stop summary of what you need to know as we continue working together to make cancer care better for everyone. Your feedback is always welcome to make our content more useful to you. Please send comments to feedback@canceradvocacy.org.
Subscribe to our email list and receive these updates in your email box »
If you have any cancer-related questions or concerns about COVID-19, please reach us at www.canceradvocacy.org/contact.
---
HEALTH CARE HIGHLIGHTS
Policy Updates
Fourth Relief Package Passed
It's hard enough to keep up with the day of the week, much less which relief package Congress is currently considering. We're here to help make sense of what's happening on Capitol Hill during these unpredictable times. Last week, Congress approved a fourth package totaling $480 billion to help small businesses and hospitals and expand testing for the coronavirus.
---
Cancer Survivors Have Higher Risks from COVID-19
Early this week, a study that compared cancer and non-cancer patients in China with covid-19 was published and presented at the American Association for Cancer Research (AACR) Virtual Annual Meeting. While the study was small, the findings showed that cancer patients — especially those with blood or lung malignancies, or tumors that have spread throughout the body — have a higher risk of death or other severe complications from COVID-19 compared with those without cancer.
---
Supreme Court Ruling on Risk Corridor Case
On Monday, the U.S. Supreme Court ruled in favor of insurers in the Affordable Care Act (ACA) risk corridors case. The ACA included so-called risk corridor payments to compensate insurers for the risks that they might bear from participating in the marketplaces without knowing who would purchase coverage. If medical costs exceeded the premiums collected, an insurer would be eligible for payments from the federal government. After Congress refused to appropriate the funds for the risk corridor payments, several insurers sued. Justice Sotomayor, writing for the majority, said that the government was bound by a simple principle of honoring its commitment as spelled out in the ACA. The insurers will receive the payments now. Health experts have already raised questions about how the payments will be distributed among insurers.
This #GivingTuesday, May 5, please consider making a gift to NCCS. Because of your support, we are able to allay fears, provide tools, share credible information, and support the wellbeing of survivors and their families during this time of crisis. Please support our COVID-19 emergency response and advocacy on behalf of cancer survivors this #GivingTuesday and beyond.
---
WHAT WE'RE LISTENING TO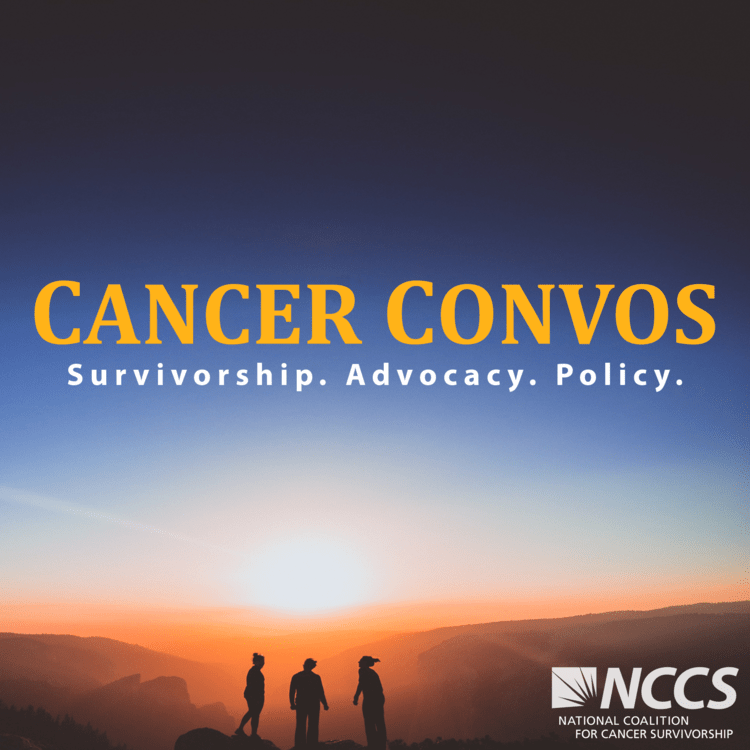 NCCS Podcast: "Cancer Convos." NCCS CEO Shelley Fuld Nasso interviews Dr. Don Dizon, a medical oncologist who is chronicling his experience on the front lines of oncology during COVID-19 in a series for Medscape entitled COVID-19: Diary of an Oncologist. We talk with Dr. Dizon about the challenges of delivering cancer care and conducting clinical trials during a pandemic.He shares his advice for cancer patients currently in treatment, as well as for cancer survivors coping with the stress and anxiety of life after cancer. We also talk about how he engages on social media and uses TikTok to create fun, educational messages. He also shares how virtual communities can provide support during challenging times.
Bipartisan Health Experts Send Letter to Congress
In an NPR interview, Scott Gottlieb, former head of the FDA, and Andy Slavitt, who led the Centers for Medicare and Medicaid under Obama, talk about their plan to reopen the U.S.
---
CHART OF THE WEEK
Business Insider
Business Insider compiled data from the COVID Tracking Project, the Centers for Disease Control and Prevention, the National Highway Traffic Safety Administration, and the US Census Bureau to show how COVID-19 deaths over time compare with other common causes of death in the US: heart disease, cancer, bad flu seasons, and car crashes.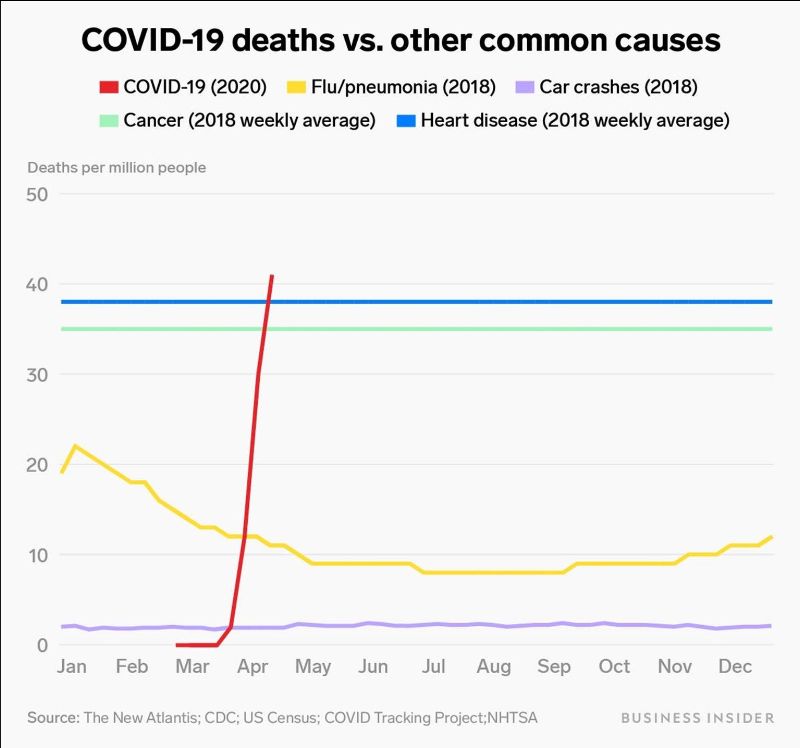 ---
WHAT WE'RE READING
TIME
Dr. Esserman gives advice on what options are available to cancer patients during the COVID-19 pandemic. She said, "Don't panic…There is time to learn about your options and sort out what is right for you."
Doctors Olazagasti and Duma discuss disparities in COVID-19 patients with cancer. They say that the popular statement, "we are all on the same boat," isn't true for many Americans.
"Not all of us have the same means when it comes to facing this pandemic. Some are in yachts, others in sailboats, and some can find themselves in river rafts."
Reuters
"Routine medical tests critical for detecting and monitoring cancer and other conditions plummeted in the United States since mid-March, as the coronavirus spread and public officials urged residents to stay home, according to a new report by Komodo Health."
---
More COVID-19 Information
Error: View 454df2721p may not exist
https://canceradvocacy.org/wp-content/uploads/2017/01/NCCS-Starburst-250px.png
250
250
actualize
https://canceradvocacy.org/wp-content/uploads/2020/06/NCCA-Logo.png
actualize
2020-05-01 17:25:43
2021-09-29 04:42:10
Health Care Roundup: Cancer Care on the Front Lines of COVID-19; Study: Cancer Patients at Higher COVID-19 Risk; COVID-19 Cancer Disparities; More