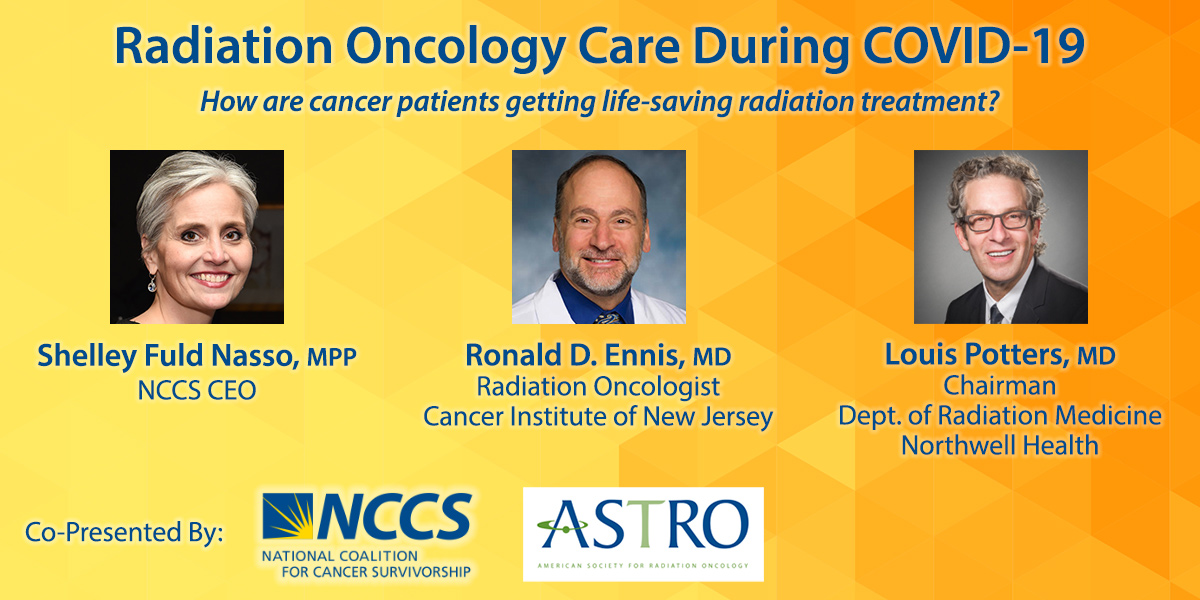 The National Coalition for Cancer Survivorship (NCCS) has been collecting questions from covid-19 patients and survivors on the coronavirus crisis and is addressing these questions through a series of webinars and podcasts.
Leading experts from the American Society for Radiation Oncology (ASTRO) Ronald D. Ennis, MD and Louis Potters, MD joined NCCS CEO Shelley Fuld Nasso to discuss the effects of the COVID-19 pandemic on radiation oncology practices and answer questions from cancer patients. NCCS is pleased to co-present this conversation with ASTRO.
The conversation focused on how cancer patients can receive life-saving radiation treatment while implementing safety and quality measures during the COVID-19 pandemic. Shelley Fuld Nasso also posed important questions and concerns from cancer survivors about their care. The discussion reminded us of an important theme during this time: cancer does not wait.
Together, we hope this discussion informs cancer survivors, and their loved ones, about how to get the help they need and live well during and after cancer treatment.
I think the positive story in this is that, as we've gone through this—and we've been in a very busy, intense COVID-positive environment—at the end of the day, we really do not need to compromise the care of our patients.
Louis Potters, MD
Is It Safe to Receive Radiation Treatment?
Dr. Ennis said he is proud of how the radiation oncology community came together during this time and says that their first goal was ensuring the safety of patients and staff and that "goal number two was to continue patient care."
Dr. Ennis said that in most cases, radiation treatment does not affect a patient's immune system or their odds of surviving COVID-19. But he stressed that patients need to have that conversation with their physicians:
Radiation by itself these days is given generally to very small volumes of tissue, and the immune system is very minimally affected or not affected at all. So anyone who has that concern, obviously, needs to speak to their particular physician about their case, but writ large radiotherapy as done for most cancers will not impact your immune system.
The one exception to that of significance is when radiation is combined together with chemotherapy, which is common. A significant minority of patients are treated that way with curative intent, and in those situations, both the chemo and the radiation can contribute to some weakening of the immune system. In that situation, obviously a conversation needs to happen about whether it's still appropriate and best to proceed or best to hold off for a period of time to allow the COVID pandemic to get under better control, but it is important not to assume that cancer treatment will be dangerous for you. There are studies coming out suggesting that for many situations, cancer treatment does not impact how someone does should they have COVID, nor make them more predisposed to get it. But there are certainly some situations where it is an issue and in the end, it's a conversation between the patient and his health care team.
Dr. Potters talked about how radiology practices have been able bounce back quicker than other areas of cancer care:
When you look at the three legs of cancer care—surgery, radiation, and chemotherapy—I think in a lot of ways radiation has turned out to be the most resilient. We're not reliant on the operating rooms—which in a sort of binary manner just closed overnight and limited the surgical oncological approach for a lot of patients—and radiation is a local treatment without the immunosuppression that is typical with chemotherapy. So our patients are tolerating care really without atypical side effects or risk that they otherwise wouldn't have.
That's not to say that we aren't monitoring and assessing our patients carefully. One of the things that we recognized was that we certainly don't want our patients during treatment to need to go to the hospital, whether it's an emergency room for evaluation or the need to be hospitalized because of treatment-related morbidity or complications. And so we put into place a very aggressive weekly management program for patients at high-risk—the head and neck [patients], some of the pelvic floor patients, some of the lung patients, and that's really worked very well in terms of maintaining fluid status, duration, nutrition, and managing of side effects. …
I think the positive story in this is that, as we've gone through this—and we've been in a very busy, intense COVID-positive environment—at the end of the day, we really do not need to compromise the care of our patients.
About the Guest Speakers
Ronald D. Ennis, MD is a radiation oncologist at the Cancer Institute of New Jersey. He has expertise in prostate cancer, genitourinary malignancies and gynecologic malignancies. He has extensive experience with high dose-rate and low dose-rate brachytherapy, stereotactic body radiosurgery (a.k.a. "Cyberknife"), intensity modulated radiotherapy, three-dimensional conformal radiotherapy, image-guided radiotherapy, hormone therapy, surveillance and survivorship. Dr. Ennis strongly believes in a compassionate patient-centered approach, finding the optimal care for each patient taking into account his/her individual needs, preferences and medical conditions.
Louis Potters, MD is chairman of the Department of Radiation Medicine at Northwell Health and professor at the Zucker School of Medicine at Hofstra/Northwell. He is also immediate past Chair of the Northwell Health Physician Partners Board of Governors and executive Committee. Dr. Potters is a practicing radiation oncologist and an internationally recognized expert in the management and treatment of prostate cancer. Board-certified in internal medicine and radiation oncology, Dr. Potters oversees one of the largest radiation oncology departments with a faculty and staff devoted to excellent patient care, research and the education of tomorrow's oncologists.
ASTRO COVID-19 resource page for providers and patients »
---
More About Cancer and COVID-19
Error: View 454df2721p may not exist
https://canceradvocacy.org/wp-content/uploads/2020/05/ASTRO-COVID-19-Webinar-ad.jpg
600
1200
actualize
https://canceradvocacy.org/wp-content/uploads/2020/06/NCCA-Logo.png
actualize
2020-05-11 11:51:01
2020-11-11 10:56:41
Radiation Oncology Care During COVID-19: How Are Cancer Patients Getting Life-Saving Radiation Treatment?