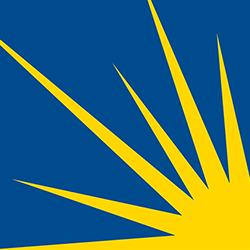 Health Care Roundup: Drug Pricing; Cancer Deaths Rise Globally; Health Care Champion John Dingell Remembered; Treatment at Home; "Survivor" Debate
In order to bring you the latest cancer-related health care policy and news, we at NCCS combined our ACA Updates and What Caught Our Eye (WCOE) content into a weekly email and blog post. We aim to make this a concise, one-stop summary of what you need to know as we continue working together to make cancer care better for everyone.Your feedback is always welcome to make our content more useful to you. Please send comments to feedback@canceradvocacy.org.
Subscribe to our email list and receive these updates in your email box each week »
---
HEALTH CARE HIGHLIGHTS
Drug Pricing at SOTU; House Health Care Hearing
At the State of the Union address, President Trump stated that two of his administration's health care priorities are to protect individuals with pre-existing conditions and lower drug prices. The address did not specify how to achieve those goals. NCCS commented on several drug pricing proposals released previously by the administration, with a specific focus on what the proposals would mean for patients. The president called on Congress to pass legislation to address drug price transparency, and asked hospitals, drug companies and insurers to "disclose real prices."
The president and many Members of Congress continue to reiterate their support of pre-existing conditions protections. However, the Texas v. United States lawsuit, brought forward by a group of Republican attorneys general, would upend these and other important protections in the ACA. The Trump administration's Department of Justice declined to intervene in the case and protect the ACA in federal court, but the House of Representatives recently passed a resolution to intervene in the case. This week, the House Energy and Commerce Health Subcommittee held a hearing highlighting the possible effects of the ACA lawsuit and putting pre-existing conditions back in the spotlight.
---
CHART OF THE WEEK
Axios
Axios shared an article on the rise of cancer deaths globally: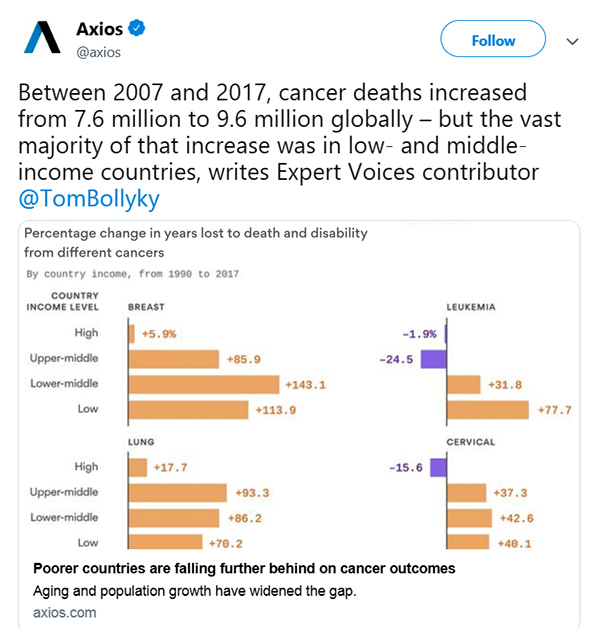 Data: Institute for Health Metrics and Evaluation; Chart: Harry Stevens/Axios
Support NCCS while shopping on Amazon.
A portion of your Amazon purchases will be donated to NCCS when you choose NCCS as your AmazonSmile charity.
Get started »
---
IMPORTANT READS
STAT News
This article breaks down the idea of providing cancer treatment at home, and steps that need to be taken to get closer to making it a reality.
Science Daily
More and more attention is being focused on racial and economic disparities in cancer care. This article discusses a study of an intervention program that helped reduce disparities for lung cancer in a specific population. "These results show promise for all cancer treatment centers," said Samuel Cykert, MD, professor of medicine at the UNC School of Medicine and co-principal investigator of the trial.
The Conversation
The authors discuss the term "cancer survivor" and the difficulties of applying a general term to cover all of patients' individual experiences.
Washington Post
Rep. John Dingell, over his 50+ years as a public servant, played integral roles in helping move health care forward in America. He helped pass Medicare and Medicaid into law in 1965 and was one of the first to introduce Medicare for All bills in Congress.
---
Related Posts
https://canceradvocacy.org/blog/health-care-roundup-feb-1-2019/
https://canceradvocacy.org/blog/health-care-roundup-jan-25-2019/
https://canceradvocacy.org/wp-content/uploads/2017/01/NCCS-Starburst-250px.png
250
250
actualize
https://canceradvocacy.org/wp-content/uploads/2020/06/NCCA-Logo.png
actualize
2019-02-08 17:16:24
2020-10-22 06:58:19
Health Care Roundup: Drug Pricing; Cancer Deaths Rise Globally; Health Care Champion John Dingell Remembered; Treatment at Home; "Survivor" Debate