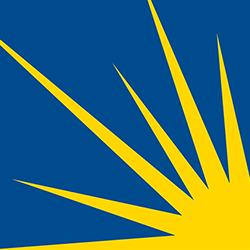 Health Care Roundup: Virtual Cancer Policy Roundtable; COVID-19 News; Coronavirus Resources for Survivors; More
We aim to make the Health Care Roundup a concise, one-stop summary of what you need to know as we continue working together to make cancer care better for everyone.
Your feedback is always welcome
to make our content more useful to you. Please send comments to
feedback@canceradvocacy.org
.
Subscribe to our email list and receive these updates in your email box »
If you have any cancer-related questions or concerns about COVID-19, please reach us at www.canceradvocacy.org/contact.
---
HEALTH CARE HIGHLIGHTS
NCCS Hosts First-Ever Virtual Cancer Policy Roundtable
Last week, NCCS hosted its spring Cancer Policy Roundtable event, which convened patient advocates, providers, health care experts, and government agencies to discuss pressing issues in cancer care policy. NCCS has been hosting roundtables for 20 years, but given the public health crisis we are currently facing, this was the first virtual roundtable event. We are proud to say that it was a success, with over 200 attendees who heard from eleven dynamic experts in cancer care. You can view the sessions, handouts, and background materials here.
Additionally, NCCS will release a summary of the event soon. Also, check out this excellent article that features our roundtable keynote speaker, Dr. Otis Brawley.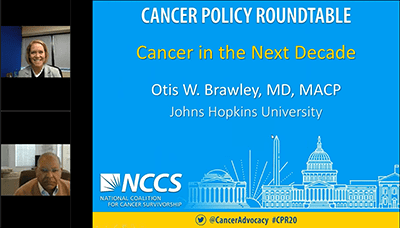 Health Care and the Coronavirus
Last week, a $2 trillion economic stimulus package was signed into law and now Congress is working on a fourth bill for coronavirus relief. This package is said to include increased protections and equipment for medical workers, expanded paid leave, new infrastructure investments, and additional funds for state and local governments.
It's not just Congress that is busy addressing the public health crisis. Federal agencies, like CMS and FDA, are moving quickly to remove regulatory barriers to make it easier for health care providers to address the coronavirus pandemic. Earlier this week, the Centers for Medicaid and Medicare Services (CMS) announced a wide range of new policies – established by interim final rule and regulatory waivers – granting health care providers flexibility to meet the challenges of treating COVID-19. These policies will last for the length of the Public Health Emergency.
Part of the CMS rule includes flexibilities to boost hospital capacity and increase the medical workforce. The agency will let doctors and nurses care for patients in other settings — like ambulatory surgery centers, hotels and dormitories — to let hospitals separate infected patients from those who don't have the virus. Medicare will pay lab technicians to travel to a homebound patient to test for COVID-19.
CMS will also pay for a wider range of telemedicine services, which includes allowing doctors to supervise their clinical staff remotely.
"Today, we're announcing that we're going to go even further and we're going to be paying doctors to make phone calls with their patients and provide care over the phone," CMS Administrator Seema Verma announced at a COVID-19 Task Force press briefing Monday afternoon. "And we're getting rid of long-standing barriers to telehealth in the Medicare program, allowing emergency rooms to use telehealth and eliminating requirements that some visits be provided face-to-face."
Patient Groups Urge Special Enrollment Period
POLITICO reported that the administration decided against opening a special enrollment period for Healthcare.gov, which would allow uninsured individuals to purchase plans outside of the open enrollment period.
NCCS joined with 28 patient & consumer groups to urge the administration to implement a special enrollment period as the nation fights to protect its citizens from this virus. The Affordable Care Act does allow for people who have lost employer-sponsored health insurance to enroll, which is important to the nearly 10 million people who filed unemployment claims in March.
Cancer Resources Available Now!
NCCS has heard from many survivors who feel uniquely vulnerable due to their history of cancer treatments. And we have heard from people currently in treatment, who are worried about delays in care and navigating a stressed health care system.
That's why we're partnering and consulting with experts to address the questions and concerns survivors have told us. Please bookmark this page, as it will be updated frequently.
Frequently Asked Questions from Cancer Survivors
Below is a link that answers cancer survivors' frequently asked clinical questions, submitted to NCCS, about COVID-19 from the American Society of Clinical Oncology (ASCO) Chief Medical Officer and Executive Vice President Dr. Richard Schilsky.
---
WHAT WE'RE LISTENING TO
Kaiser Health News
This week's Kaiser Health News "What the Health?" podcast discusses changes in the U.S. health system brought on by the medical and economic needs during the coronavirus pandemic. The hosts also discuss how states are handling their own ACA insurance marketplaces and what the administration may or may not do regarding a special open enrollment period.
---
WHAT WE'RE READING
National Public Radio
As hospitals across the country are forced to delay or cancel certain medical procedures in response to the surge in patients with COVID-19, those hard choices are disrupting care for some people with cancer.
Kaiser Health News
The Food and Drug Administration is working to approve testing kits for COVID-19, but the process is much more complicated than you'd imagine.
ASCO Post
ASCO Post shared an interview with Kathryn Schmitz, PhD, MPH of the American College of Sports Medicine about the benefits of exercise for cancer survivors in reducing risk, speeding recovery, and improving quality of life.
---
Related Posts
https://canceradvocacy.org/blog/coronavirus-cancer-resources-for-survivors/
https://canceradvocacy.org/blog/health-care-roundup-march-20-2020-covid-19/
https://canceradvocacy.org/wp-content/uploads/2017/01/NCCS-Starburst-250px.png
250
250
actualize
https://canceradvocacy.org/wp-content/uploads/2020/06/NCCA-Logo.png
actualize
2020-04-03 15:02:43
2020-07-06 10:20:36
Health Care Roundup: Virtual Cancer Policy Roundtable; COVID-19 News; Coronavirus Resources for Survivors; More