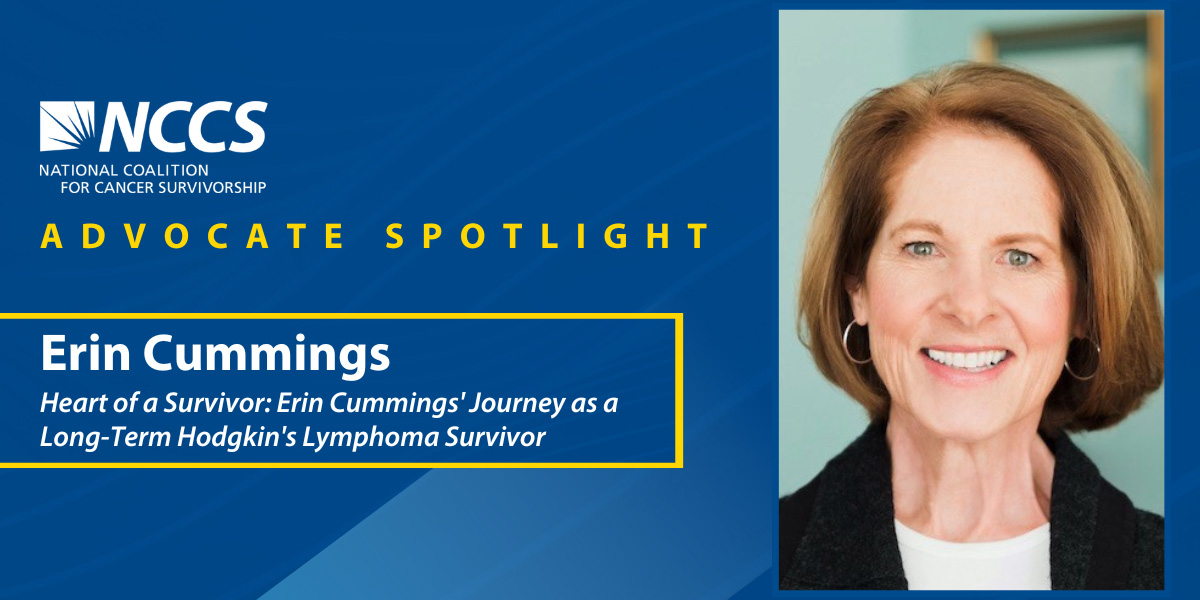 Erin Cummings's Journey as a Long-Term Hodgkin's Lymphoma Survivor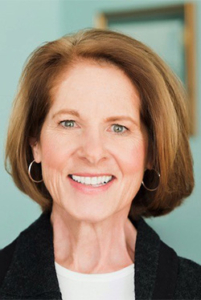 Advocate Spotlight: Erin Cummings
Diagnosed with Hodgkin's Lymphoma during her freshman year of high school at the age of 15, Erin Cummings recalls finding two lumps and not thinking much of them. "Cancer was the farthest thing from my mind," she said. When her sister later noticed the lumps, Erin finally told her mom and found herself in the hospital having a biopsy 24hrs later. The diagnosis took less than a week. As a teen who'd never been to a hospital before, Erin was hospitalized in the pediatric ward. "There were kids crying for their mothers," she shared, "and I was crying for my mom too. I had surgery and then they started radiation."
Erin was treated with Cobalt Therapy, a particularly harsh type of radiation used to treat Hodgkin's Lymphoma in the 1970s. She faced a second round of radiation within a couple of months when doctors discovered her first recurrence. She'd found a new lump under her arm. Not even a year later, Erin's second recurrence was in her chest. Worried about the excessive radiation exposure, Erin's medical team refused additional treatment for fear of damaging her heart. That is, until they discovered a more precise radiation available at Memorial Sloan Kettering Cancer Center. Erin credits Sloan Kettering's then-cutting-edge technology with saving her life. A course of chemotherapy followed radiation. "In those days," she said, "chemotherapy was considered experimental. It was absolutely barbaric."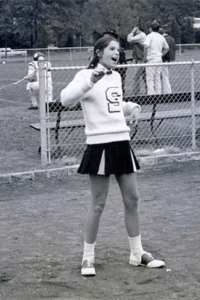 Over the next few months, Erin often found herself on a stretcher in the Emergency Room hallway, hooked up to an IV, with a rubber tourniquet wrapped around her head in hopes of preventing hair loss. "My doctors did the best they could with what they had," she recalls. Despite the harsh side effects of treatment, Erin was determined to enjoy her high school experience. She was surrounded by supportive family, friends, and compassionate teachers, and even became a cheerleader.
As a young adult, Erin grappled with fear of recurrence, "I was terrified that the cancer was going to come back again. I was living in fear a lot and just trying to feel normal again." In the years that followed, Erin married and went to graduate school. While she never faced another recurrence of Hodgkin's, her health was repeatedly marked by the long-term effects of her treatment. She was diagnosed with Thyroid cancer, had a prophylactic mastectomy due to her increased risk of breast cancer, experienced a near-fatal ectopic pregnancy that left her unable to conceive, had open heart surgery to replace her aortic valve, and had a lung resection after discovering lung disease and suspicious nodules on her lungs.
The Cummingses were eventually able to adopt four children from South Korea. Erin even ran in several marathons, including Boston and NY. Erin fondly calls the New York City Marathon her "miracle moment" because she was able to give back to Memorial Sloan Kettering by raising money for their pediatric cancer research. In Boston, Erin recalls passing her family at the 20-mile mark. "Everyone was in tears," she said, "because it was 10 years after my diagnosis and it was the last possible thing anyone could have imagined. My dad was remembering holding me up in my sleep so I didn't vomit and here I am running a marathon."
"Being a long-term survivor is both a blessing and a challenge. As grateful as I am to be here," says Erin, "it's been especially difficult to say goodbye to so many other survivors. That has been as difficult as any physical pain I've experienced along the way. I am also faced with the long-term impacts of my experience. It's a constant reminder of what I went through," she says, "and it's something I have to manage for the rest of my life. I just put one foot in front of the other every day. I've been a cancer survivor for 50 years."
Despite the challenges of late and long-term effects from treatment, Erin has channeled her experiences into advocacy work for fellow cancer survivors. After searching for other long-term Hodgkin's survivors and connecting with them through online communities, Erin founded Hodgkin's International to raise awareness about the late effects of cancer treatments and the challenges survivors face. She also joined the National Coalition for Cancer Survivorship's Cancer Policy and Advocacy Team (CPAT) and became an NCCS Elevate Ambassador.
"NCCS gave me a voice. It's what they do better than any other organization. That's empowering."
Through her advocacy work, Erin continues to advocate for quality cancer care. "Advocacy has been incredibly empowering for me," says Erin. "I've been able to take my experiences and turn them into something positive, and I've been able to help others in the process." Erin encourages other survivors to use their voice and speak up, reminding them that every survivor has something to offer, whether it's their story or their voice. "Don't be afraid to speak out," she says. "You have a unique perspective, and you can make a real difference."
# # #
https://canceradvocacy.org/wp-content/uploads/Erin-Cummings-Advocate-Spotlight-web.jpg
600
1200
NCCS Staff
https://canceradvocacy.org/wp-content/uploads/2020/06/NCCA-Logo.png
NCCS Staff
2023-02-08 14:03:44
2023-02-08 14:03:44
Erin Cummings's Journey as a Long-Term Hodgkin's Lymphoma Survivor