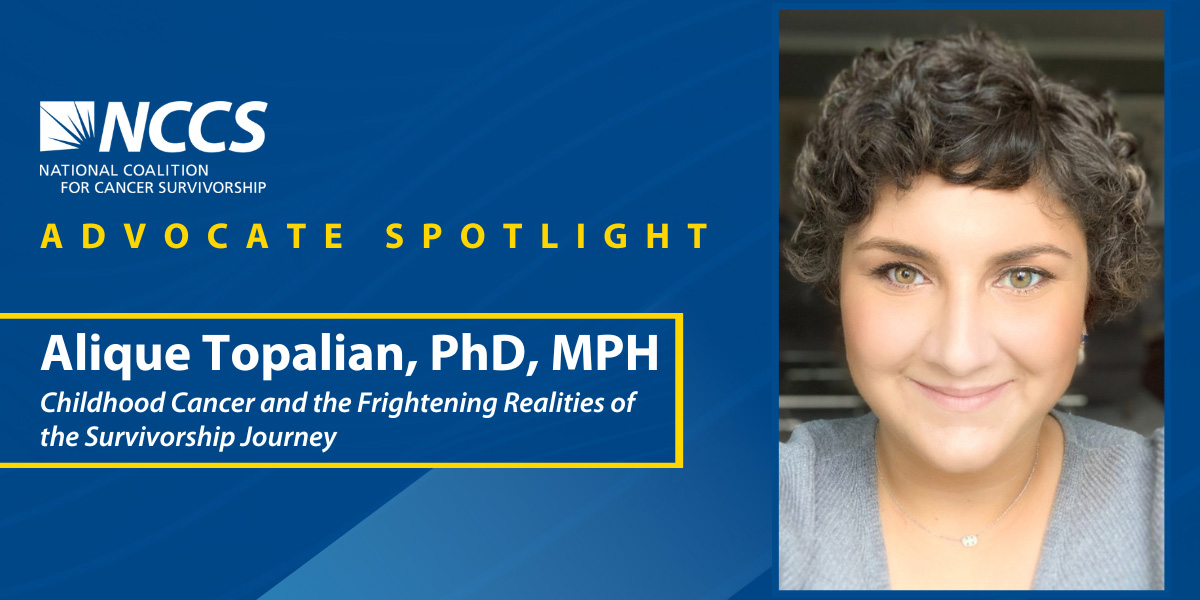 Alique Topalian: Childhood Cancer and the Frightening Realities of the Survivorship Journey
Advocate Spotlight – Alique Topalian, PhD, MPH
Alique was first diagnosed with Acute Myeloid Leukemia (AML) at the age of four. Her mother, Michele, knew something was wrong because "the light in her eyes was gone". After being told by doctors that there was nothing wrong, her family was relentless until new blood work uncovered blast cells. By the end of the day, Alique was admitted to the hospital and began nine months of inpatient treatment.
Michele described her role as Alique's caregiver as needing to remain strong for her daughter, even though she felt like dying inside, and to be her advocate. As an advocate, she left no stone unturned concerning available treatments, including psychosocial and other supporting services. Michele focused on helping Alique to be as calm as possible to get through the cancer treatment. Even though she was a cancer patient, Alique was still a 4-year-old child and Michele cultivated an environment that allowed her to be a kid whenever possible.
Alique and her family assisted with the founding of the Armenian Bone Marrow Donor Registry while she was completing her treatment because so many Armenians across the world were tested to be a match. Her advocacy began at age seven when she became the spokesperson for the registry and at age 10, she visited with lawmakers on Capitol Hill for the first time. "This helped to set the tone for the rest of my life leading me to graduate school in public health management. I want to use my skills and experiences to help inform the field and other advocates," explains Alique.
Shortly after completing her PhD in health education and promotion, Alique relapsed and was diagnosed with AML for a second time. Michele was in complete shock with a renewed sense of fear. This time, it was different because Alique and Michele could advocate together. As an active participant in her own care, Alique was able to contribute to her plan of care. Some things stayed the same too. Michele explained, "As with her first occurrence I moved into the hospital with her, and we spent every day fighting the battle together. Her strength brought me strength. She was a warrior and at times I felt we shifted roles, and she became my caregiver from time to time."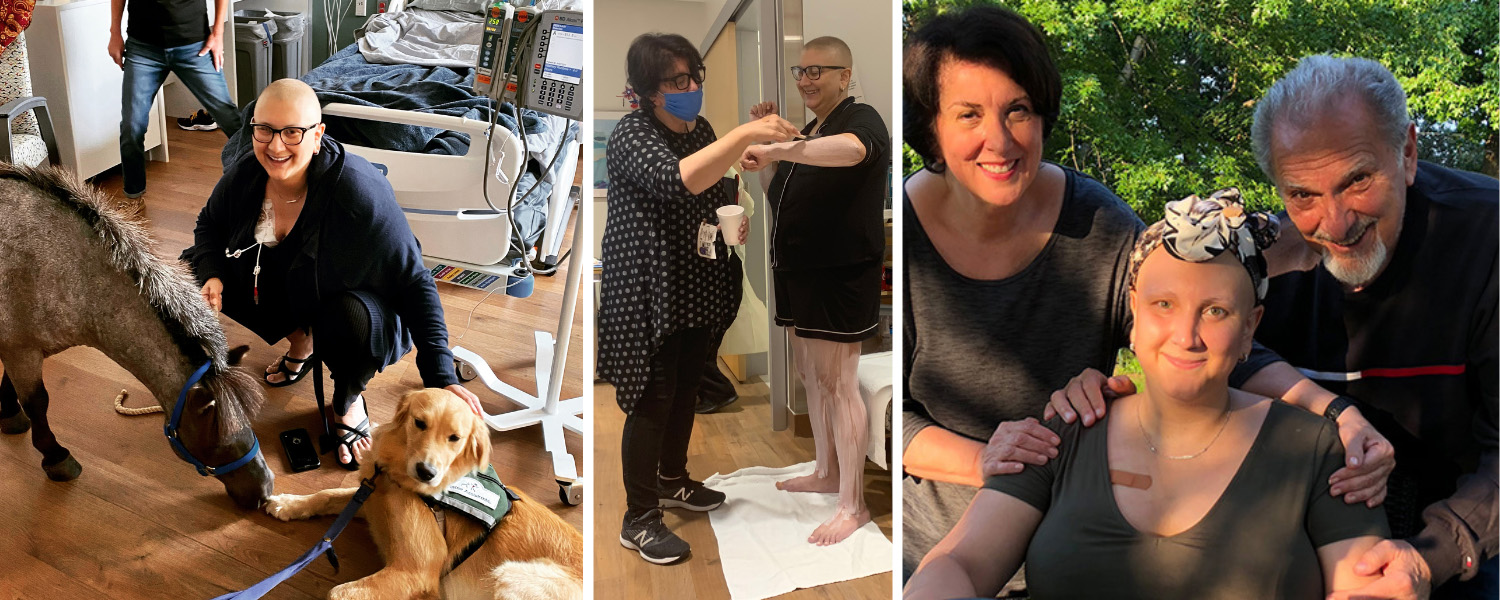 Alique has now survived AML twice and it is clear for her that her mission in life is to work in the field of oncology to help advocate for the people who have not yet found their voice, to be a resource for others, and to help patients get the best care possible. She doesn't remember a life without cancer. She is so blessed to have the same health care team and social support during each diagnosis.
Alique found that having someone with you at every appointment who can ask questions and assist in your decision-making process was incredibly important. Open lines of communication with your health care team are vital to a shared decision-making process. Alique would carry a notebook around with her everywhere and whenever a question popped into her head about her treatment, symptoms, or side effects, she would write it down. This helped her remember things that she wanted to discuss in her next conversation, so she never left with questions unanswered.
Alique's mission as an advocate is for all patients to be able to receive the kind of care and psychosocial support that she did. She was always provided so many resources, symptom management, and support services during and after treatment. She emphasizes that there is a need for the medical community to continue to research and discover new ways to take care of childhood cancer survivors across the lifespan. Childhood cancer survivors are at high risk for many things due to the long-term effects of their childhood treatment.
Even though her health care team thought it was impossible for someone to relapse with AML after 22 years, she knew once again that something was wrong. She advocated for the proper blood tests when her symptoms reemerged. The are many unknowns about survivorship journey for childhood cancer survivors but shared decision-making not only saved her life at 4 years old, but saved her life 22 years later. She believes that all patients and families should have access to the same quality cancer care she has experienced.
Connect with Alique online:
Twitter: @draliquesays
Instagram: @aliquetopalian
LinkedIn: Alique Topalian, PhD, MPH
Facebook: @alique.toplian
https://canceradvocacy.org/wp-content/uploads/Alique-Topalian-Advocate-Spotlight.jpg
600
1200
NCCS Staff
https://canceradvocacy.org/wp-content/uploads/2020/06/NCCA-Logo.png
NCCS Staff
2022-12-07 11:46:56
2022-12-07 11:48:28
Alique Topalian: Childhood Cancer and the Frightening Realities of the Survivorship Journey