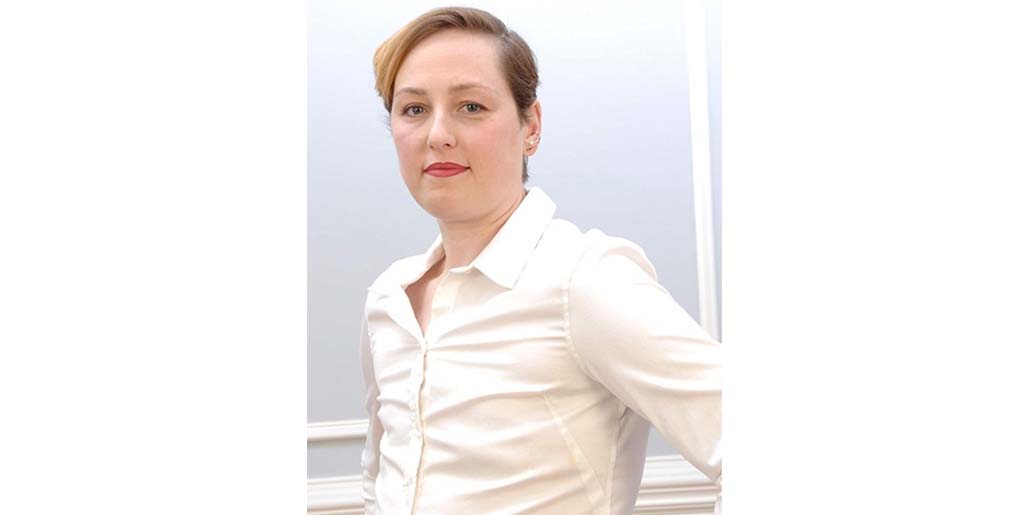 Advocating for Women Who Choose to Go Flat After Mastectomy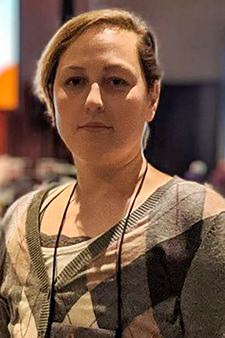 By Kim Bowles
Founder
Not Putting On a Shirt
When I woke up from surgery and realized my surgeon had overridden my wishes, I was angry. I thought that because I had been clear with him, that I was safe. But as I began speaking with other women, I discovered that I was not alone — that being clear with your wishes was not enough to protect you. Despite having brought photos, a witness, and having my choice for a "smooth, flat result" in my medical record, I was left with pockets of skin on my chest "in case you change your mind" about implants — directly against my consent.
Over the next year, I observed the hospital's response to my complaint. It wasn't good. There was a lot of stonewalling and obfuscation as the hospital administration closed ranks around the surgeon who had, essentially, battered me. And this was without my initiating any kind of legal action. My demands were simply that they admit what happened, hold the provider accountable however they saw fit, and change their protocols to protect future patients.
Spoiler alert: that didn't happen.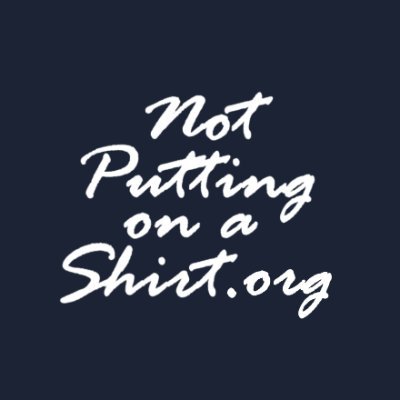 On that foundation, my organization was born: Not Putting on a Shirt. We advocate for optimal surgical outcomes for women who choose to go flat after mastectomy. Going flat means choosing a chest wall reconstruction that results in a smooth, flat chest rather than restoring the appearance of a breast.
I'm not alone — according to our pilot studies, one in twenty women going flat is intentionally denied a flat closure. Another two to three of those women receives an egregiously poor quality aesthetic result due to lack of skill or care. It was during the course of my futile attempts to seek justice that I was forced to confront the unmistakable fact: we have a systemic problem on our hands. A problem which calls for a comprehensive strategy. And that strategy will have to involve building a coalition of stakeholders, because durable institutional change is the only effective way to address a baked-in institutional defect.
I'm a "fixer." It's who I always have been and always will be, for better or for worse. Cancer is one thing I sure as hell can't fix. But flat denial, while not a simple problem, IS preventable. When incentives are aligned correctly, people usually do the right thing — and the folks we are talking about, are almost universally highly ethical individuals, all of whom have taken an oath to do no harm. Solving this is a question of aligning incentives correctly. And the first step is to kick the problem out of the shadows into the light of day, so that good people can see what is happening and act.
Who amongst you will argue that women who decide to go flat instead of pursuing conventional breast reconstruction don't deserve a decent aesthetic result they can live with? Who amongst you will claim that these results (below, left) are acceptable?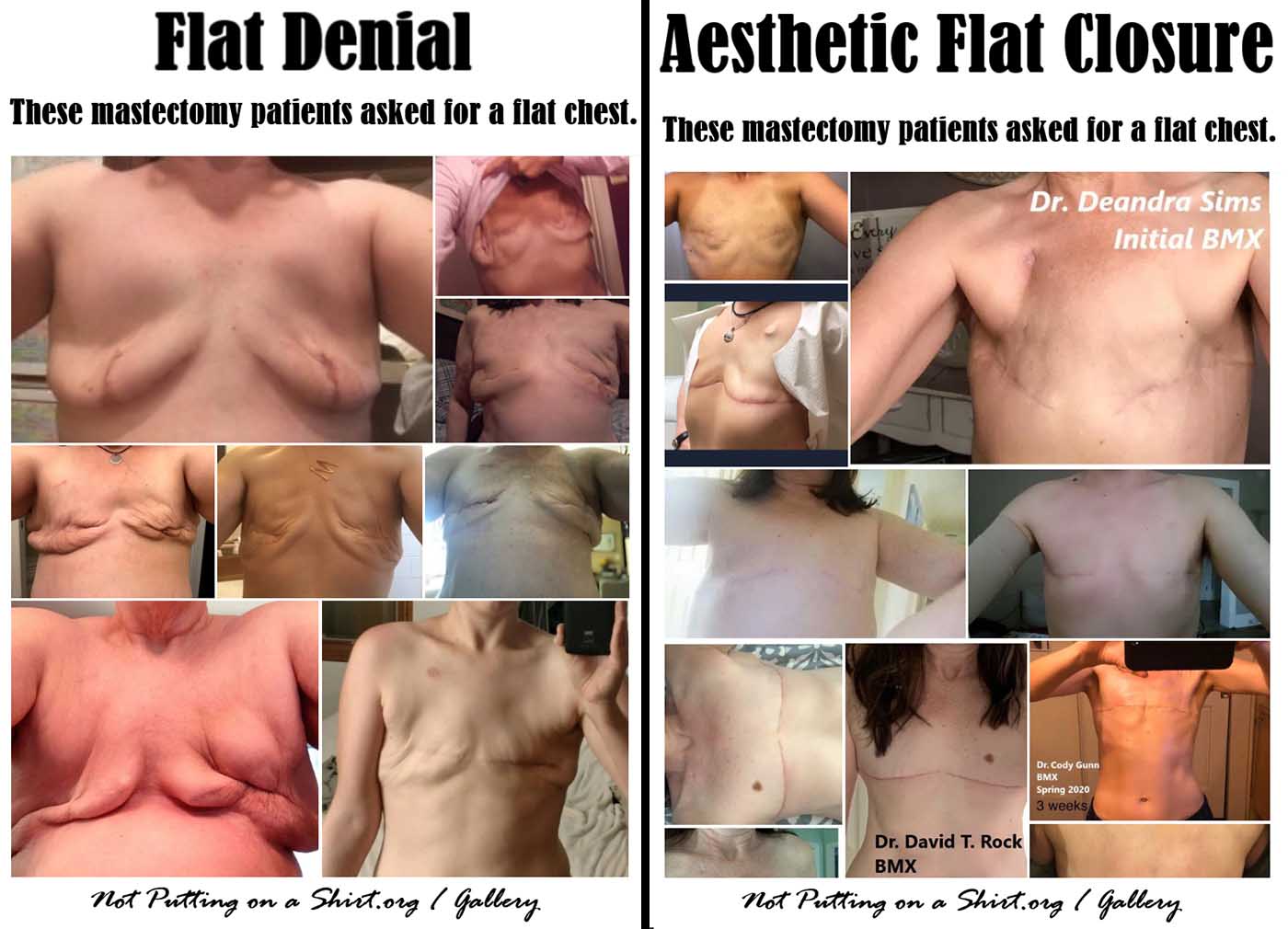 No one.
This is not a question of vanity. This is about dignity.
We have a winning argument. It's just a question of making the case to the right people at the right time, being persistent, being patient, and keeping our sights set on the goal: parity for flat closure.
The first step was to identify the barriers to parity: unclear language, paternalism, protectionism, lack of a defined standard of care, and poor reimbursement for flat closure services. The second step was to identify the stakeholders who would be involved in addressing each of those barriers: breast surgeons, plastic surgeons, hospital administration, insurance companies, public health researchers, policymakers, and institutes of medical education. And the third step was to produce clear language to bring these stakeholders together in shared conversation and mutual understanding.
Our advocacy work has progressed iteratively during the last two and a half years, with each success laying the foundation for our next steps.
The first professionals to show support for the cause spoke out against flat denial in the wake of the initial media storm, sparked by Catherine Guthrie's exposé in Cosmopolitan. Hester Hill Schnipper, oncology social worker emeritus at BIDMC, wrote in defense of patient autonomy and bodily integrity. Dr. Kristi Funk spoke out against paternalism on live national television during Catherine & Kim's appearance on NBC's The Today Show. Dr. Pankaj Tiwari at Midwest Breast & Aesthetic Surgery published an historic page on flat closure after mastectomy, on his practice's website, using the same language that the patient community had adopted. Dr. Minas Chrysopoulo included our "Protect Your Choice" brochure on the Breast Advocate, a mobile app designed to promote full information and shared decision-making for breast cancer patients and providers.
In 2019, the largest breast cancer research conference in the world, the San Antonio Breast Cancer Symposium, accepted our flat closure research abstract for a poster presentation. This enabled us to interface directly with surgeons and researchers and to make the case for larger-scale research.
Next we saw historic steps forward in the state of Vermont. The same state that pioneered marriage equality produced the first bill ever to address flat closure. H.686 was a bipartisan proposal spearheaded by Rep. Charen Fegard to require stakeholders to convene to ensure insurance coverage for revision surgery. The state's largest insurer, Blue Cross Blue Shield of Vermont, publicly supported the bill.
In early 2020, the pioneering leadership at the Oncoplastic Breast Consortium — an international professional organization committed to bringing safe and effective oncoplastic breast surgery to routine patient care — took the historic step of including "optimal flat closure" in their mission alongside conventional breast reconstruction. Shortly after, the National Cancer Institute published "aesthetic flat closure" in its Dictionary of Cancer Terms, defining it essentially as post-mastectomy chest wall reconstruction.
We have come a long way in the last three years. The tools and resources we have developed, which are all available on our website, empower individual women to advocate for their choice — and to spread the word about aesthetic flat closure in their communities. And our coalition of stakeholders continues to grow. We have a lot in the pipeline for the rest of 2020 and beyond.
I won't say it's been easy. There have been some major roadblocks along the way. But we have persevered. And we will continue to persevere until we reach our goal. Until every woman receives full information about all of her reconstructive options, including aesthetic flat closure. Until providers are fairly reimbursed for flat closure and revision services. Until every woman's choice to go flat is respected, no exceptions.
This is the power of patients and providers working together to put aesthetic flat closure on the menu.
#aestheticflatclosure
#putflatonthemenu
#notputtingonashirt# # #
Find more information and resources about aesthetic flat closure at notputtingonashirt.org.
Not Putting on a Shirt is on Twitter @not_shirt and on Facebook @NotPuttingonaShirt.
---
About the Author
Kim Bowles is a scientist, artist, mother of two, and founder of Not Putting on a Shirt. She decided to go flat in 2017 as part of her breast cancer treatment plan, but her plastic surgeon intentionally left her with excess tissue to facilitate reconstruction. Kim went public with her story, and upon realizing that flat denial is a systemic problem requiring institutional change, decided to invest in pursuing parity for flat closure and helping women protect their choice. Kim has been featured in Cosmopolitan magazine, Women and the World, on the Today Show, and more.
---
Disclaimer: The views & opinions expressed in any guest post featured on our site are those of the guest author and do not necessarily reflect the opinions & views of the National Coalition for Cancer Survivorship. Read our blog and comment policies here.
https://canceradvocacy.org/wp-content/uploads/aesthetic-flat-closure-feat-img-500x500-1.jpg
515
1030
actualize
https://canceradvocacy.org/wp-content/uploads/2020/06/NCCA-Logo.png
actualize
2020-09-10 11:48:05
2020-12-01 10:47:33
Advocating for Women Who Choose to Go Flat After Mastectomy