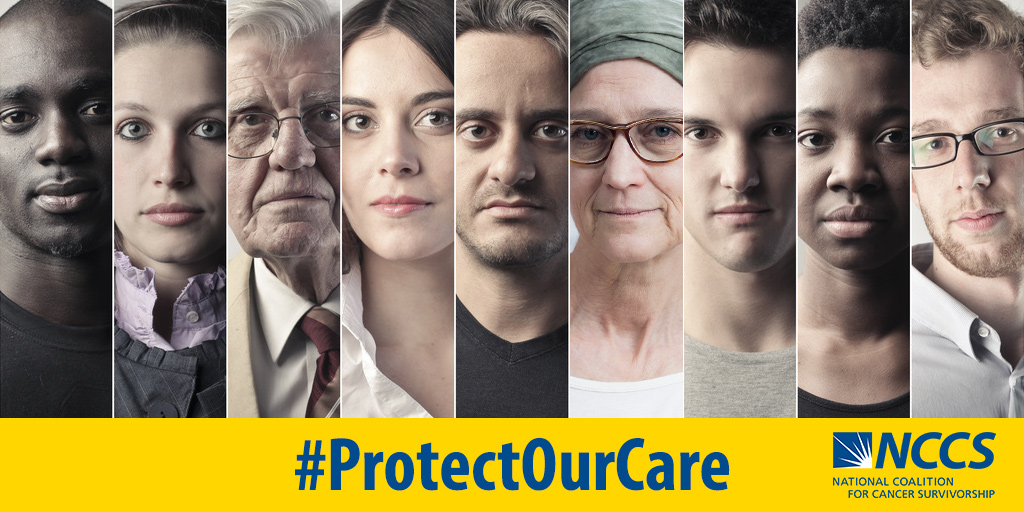 ACA Update | September 15, 2017: Cassidy-Graham Repeal Plan Is Devastating for Patients—and Is Gaining Support in the Senate

Prior to the Affordable Care Act (ACA), cancer survivors were at the mercy of the health care system, often forced to pay exorbitant premiums or simply denied coverage altogether. Today, America's 16 million cancer survivors benefit from the ACA's patient protections that are critical to providing them with quality, affordable, and accessible health care coverage. NCCS is actively engaged in advocating to ensure this unprecedented access for cancer patients and providers continues.
We have been
monitoring
and
reporting on the proposed Cassidy-Graham repeal bill
for several weeks, and now its threat is imminent. Yesterday, Senators Cassidy (R-LA) and Graham (R-SC) unveiled their health care plan at a press conference on Capitol Hill. Indications are that the sponsors of the bill are only a couple of votes away and this has moved up on the priority list for Senate Republican leadership to get done in September.
The bill not only gets rid of the ACA exchanges and block grants the law's funding, but it also eliminates the Medicaid expansion and key patient protections, all of which have been critical for cancer survivors across the U.S. and is necessary for their access to affordable and comprehensive health care. We cannot let the Senate pass this terrible bill that would leave millions without health insurance. The Senate has started to work in a bipartisan fashion to stabilize the ACA markets, and this bill undermines those productive efforts. Senator McCain (R-AZ), whose dramatic vote against so-called "skinny" repeal killed the crusade in July, has spoken positively about the bill, giving supporters of the bill further hope that repeal can be achieved. Vox reports that while it will be difficult to get the 50 votes necessary for this bill, it is certainly possible.
https://twitter.com/sarahkliff/status/908039535493349379
As the Center for Budget and Policy Priorities reports, the bill would permit states to access waivers that would allow insurers to charge people with cancer more for their health care, a discriminatory practice that was made illegal under the ACA. Cancer survivors cannot go back to the days when insurers could deny or charge exorbitant premiums to those who have pre-existing conditions. Another concerning piece to the Cassidy-Graham bill is the fact that the funding for the health care block grants face a cliff in year 2026, meaning every dollar disappears thereafter.
Cuts in the Cassidy-Graham bill are bad every year. Then in 2027 they go off a cliff. Coverage for millions at risk: https://t.co/kVl2LcvbLo pic.twitter.com/qT3uXXgUAN

— Center on Budget (@CenterOnBudget) September 15, 2017
This legislation is not only dangerous and irresponsible, but it would be devastating for patients who would be left with expensive health plans that did not cover prescription drugs, chemo therapy, or other critical services. This is unacceptable and NOW is the time to call the NCCS hotline at (844) 257-6227 and ask your Senators to say NO to the Cassidy-Graham repeal bill. We need a bipartisan and transparent process to strengthen the ACA and help provide critical long-term stability.
For more information on how you can get involved, check out our #ProtectOurCare page »
Follow NCCS on Twitter to stay updated on developments: @CancerAdvocacy.
---
Related Post
https://canceradvocacy.org/blog/wcoe-sept-8-2017/
---
https://canceradvocacy.org/wp-content/uploads/2017/01/ProtectOurCare-1024px.jpg
512
1024
actualize
https://canceradvocacy.org/wp-content/uploads/2020/06/NCCA-Logo.png
actualize
2017-09-15 16:51:42
2017-09-15 16:51:42
ACA Update | September 15, 2017: Cassidy-Graham Repeal Plan Is Devastating for Patients—and Is Gaining Support in the Senate