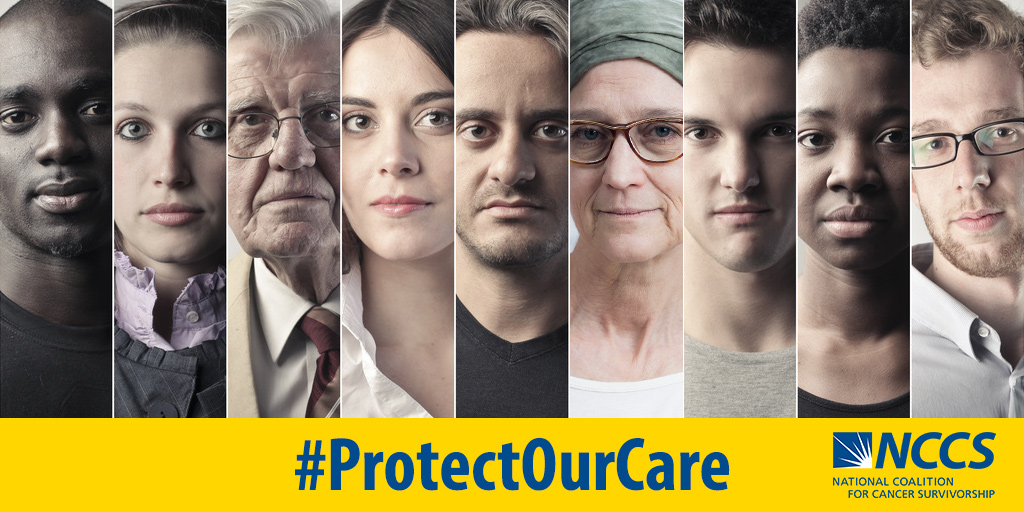 ACA Update | July 7, 2017: Senate GOP Try to Tweak ACA Repeal Bill as Dissent Grows During Recess

Prior to the Affordable Care Act (ACA), cancer survivors were at the mercy of the health care system, often forced to pay exorbitant premiums or simply denied coverage altogether. Today, America's 16 million cancer survivors benefit from the ACA's patient protections that are critical to providing them with quality, affordable, and accessible health care coverage. NCCS is actively engaged in advocating to ensure this unprecedented access for cancer patients and providers continues.
Several GOP Senators Raise Concerns
When Senate Majority Leader Mitch McConnell (R-KY) decided to delay the vote for the Better Care Reconciliation Act (BCRA), there was a collective sigh of relief from the patient community. But our work is far from over. The Senate is still planning to move forward with their attempt to pass the bill, and now is a critical time to voice your opposition to this harmful legislation.
The most recent Senator to speak out against the bill is North Dakota Senator John Hoeven, after meeting with hospital executives and constituents. Senator Hoeven is one of several Republican senators who have said they cannot vote for the legislation as drafted. Sens. Rob Portman (R-OH), Shelley Moore Capito (R-WV) and Jerry Moran (R-KS) also said they could not vote for the bill.
The Cruz Amendment
In the meantime, Senator Ted Cruz (R-TX) drafted an amendment to the BCRA that is currently being scored by the Congressional Budget Office. Text of his amendment is not available, but based on reporting, the Cruz amendment would permit issuers to offer non-ACA compliant plans in a state as long as the issuers also offer an ACA-compliant plan. This proposal would gut consumer protections and would lead to adverse selection in the marketplace, creating a two-tiered system. Cancer survivors know they need comprehensive coverage, and plans that cover needed scans, tests, and treatments may be unaffordable.
According to Modern Health's reporting:
Cruz's proposal would mean insurers could sidestep ACA rules requiring that they:
Accept all customers regardless of pre-existing conditions;
Vary premiums based only on age, charging older people up to five times more than younger people under the Senate bill;
Set no annual or lifetime benefit limit; and
Offer 10 minimum essential benefits in all plans.
The Congressional Budget Office (CBO) said Monday that the Senate bill's provision allowing states to waive ACA rules such as essential benefits would lead to higher premiums and higher out-of-pocket costs for people who need services no longer included in essential benefits, such as cancer survivors. The CBO reported that some people would forgo needed services because of those higher costs.
An Unfixable Bill
While several Senators have expressed concerns with this bill, they will no doubt be targeted by leadership with amendments to the BCRA in order to garner their vote. It is important that as advocates and survivors we let them know this bill cannot be fixed. As the Center on Budget and Policy Priorities notes: "The Senate bill isn't fixable: every major element would cause people to lose coverage or make it unaffordable."
Yesterday, Senator McConnell said that if they cannot pass a repeal bill, they will have to work with Democrats to address problems in the insurance markets. A bipartisan approach to fixing the ACA's market issues, rather than dismantling the ACA, would be best for the health of cancer survivors in the United States.
NOW is the time to call your Senators to voice your opposition to this harmful legislation. Everyone should call, but the following states are especially critical: Alaska, Arizona, Colorado, Kansas, Louisiana, Maine, Nevada, North Dakota, Ohio, Tennessee, and West Virginia. Please share this message with friends and family who live in any of those states. Thank you for standing up to protect cancer patients, survivors, and their families. Call 844-257-6227 to be directly connected with your Senators.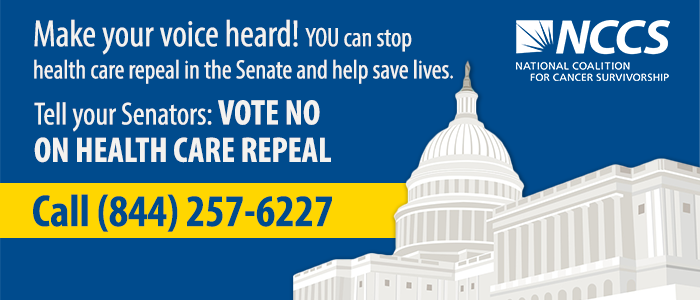 ---
Related Posts
https://canceradvocacy.org/news/wcoe-july-7-2017/
https://canceradvocacy.org/news/aca-update-june-29-2017/
---
https://canceradvocacy.org/wp-content/uploads/2017/01/ProtectOurCare-1024px.jpg
512
1024
actualize
https://canceradvocacy.org/wp-content/uploads/2020/06/NCCA-Logo.png
actualize
2017-07-07 17:25:52
2017-07-07 17:25:52
ACA Update | July 7, 2017: Senate GOP Try to Tweak ACA Repeal Bill as Dissent Grows During Recess