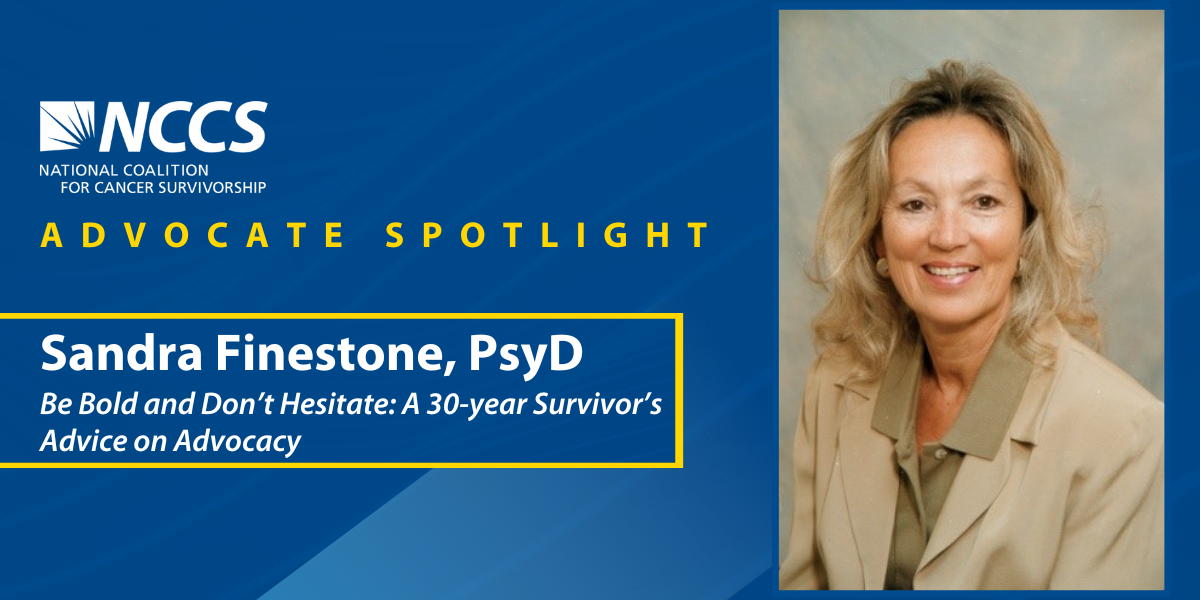 Sandra Finestone, PsyD: Be Bold and Don't Hesitate – A 30-year Survivor's Advice on Advocacy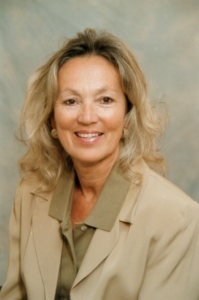 Advocate Spotlight: Sandra Finestone, PsyD
A cancer diagnosis can be overwhelming and life-changing, but for Sandra Finestone, it ignited a passion for advocacy that has lasted for more than 30 years. Sandra's journey as a breast cancer survivor began in her late thirties when she discovered a lump in her breast during a routine check-up. "It was the Dark Ages of breast cancer," she said. Her condition was particularly challenging because she had multifocal disease, meaning there were clusters of cancer cells throughout both of her breasts. Multifocal breast cancer was uncommon 30 years ago.
"My doctor wanted to share my results with his colleagues," she said. "And they wanted to share the slides with their colleagues. Before I knew it, there were little pieces of me all over the country." Unsure about what treatment was ahead, Sandra's oncologist insisted on surgery, but first she'd have to sign a consent allowing her surgeon to decide what was best during surgery without first knowing what kind of surgery he would perform. When she awoke afterward, she recalls her surgeon saying "We did the right thing." Sandra didn't learn what the "right thing" was until she removed the surgical bandages to find that both breasts had been removed. She'd have to wait a year before being eligible for reconstruction. The experience of not having a role in the decision about her treatment sparked a change in Sandra's life.
When the time for reconstruction approached, Sandra and her husband attended a local American Cancer Society meeting about reconstruction options. Noticing that few men were in attendance, and even fewer felt comfortable enough to talk and ask questions, she asked if there was a support group for husbands. "The answer was no," she said, "and they asked if I wanted to start one." Soon after, her husband began meeting with other men over coffee for support, and Sandra became very involved in the American Cancer Society's Reach to Recovery program. Here, Sandra's advocacy work grew. She eventually became the Orange County coordinator, state coordinator, and a spokesperson for women to understand that they have options and should and could make educated choices.
In the 1990's, when news broke that silicone implants could cause cancer, many women who'd undergone implant reconstruction were worried. Sandra shared "I was also frightened. I wondered, had I made the wrong choice?" She dove into researching implants, learning everything she could about how they were made and used, eventually testifying at the Institute of Medicine about what she'd learned. "I still believe strongly that it should be a woman's choice," she said, "as long as she has the information to make the decision."
This advocacy work led her to become involved in breast cancer research by talking to Congress about funding for the Department of Defense (DoD) to support their cancer research program. The DoD included advocates as part of their research evaluation process from the beginning, setting the stage for other organizations to prioritize patient advocates perspectives in their work. Sandra continued her work as an advocate with Susan G. Komen's Race for the Cure, served as a patient advocate on research reviews with the Patient-Centered Outcomes Research Institute (PCORI) and the US Food and Drug Administration (FDA), and became a member of NCCS's Cancer Policy and Advocacy Team (CPAT).
Sandra's involvement with NCCS and CPAT began with her trust and admiration for NCCS CEO Shelley Fuld Nasso, and her belief that the organization must be a good one if Fuld Nasso was involved. She started attending CPAT Symposia, where she learned more about advocacy from the presentations and the other CPAT members in attendance. Sandra found the conversations on Capitol Hill to be particularly powerful. She also discovered that her soft voice had a unique power to quiet the room and make people listen, and she wanted to use that to encourage others to find their voices and participate. "When I tell you that breast cancer totally changed my life," says Sandra, "I'm talking totally changed my life. Before cancer, I was very quiet. The diagnosis gave me a voice." She shares, "I'm bold. I've even talked to crowds of thousands of people. It's hard to get me to stop talking. The more I learn, the more I feel obligated to give back."
Sandra's advice to new advocates: "Don't underestimate your value. When you talk about your story and there's someone there that needs to hear what you have to say, don't underestimate how important that is." She also emphasizes the importance of including others and not dominating the conversation with one's own story. Sandra encourages people to be part of the conversation and not hesitate to share their opinions and ideas, even in everyday settings like church or a mother's group, as they never know when they could make a difference in someone's life. "The more conversation there is, the more inclusion there is. The voice just gets bigger. The voice just gets better," she says.
Sandra Finestone's story is a testament to the power of advocacy and the impact that one person can make in the fight against cancer. Her passion, dedication, and persistence have led to significant improvements in breast cancer treatment, education, and research. Her journey as a survivor has shaped her role as an advocate, and her message to others is clear: be bold, don't hesitate, and use your voice to make a difference.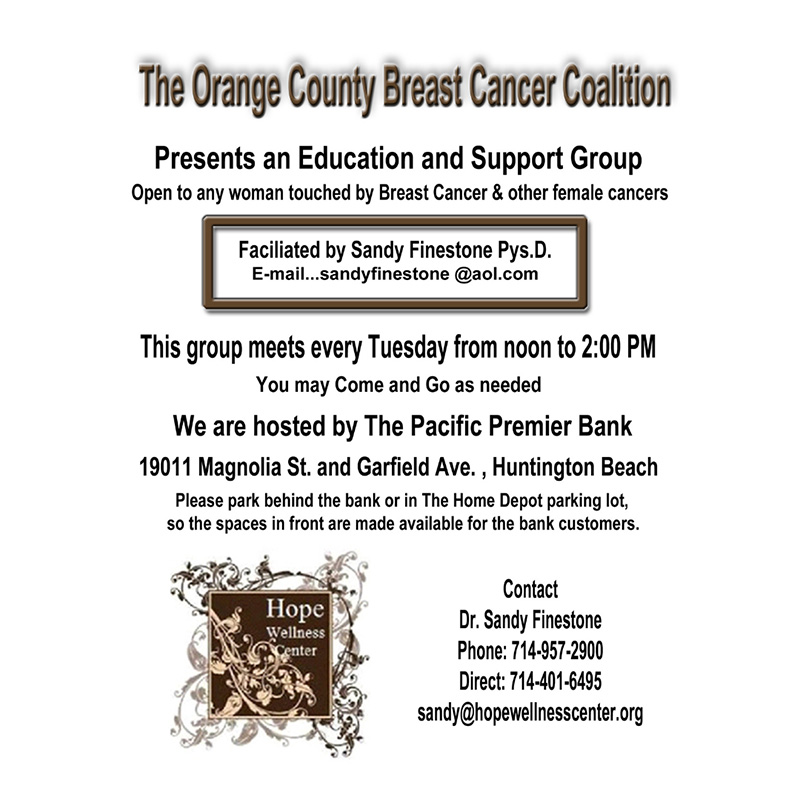 # # #
Learn more and Join the NCCS Cancer Policy & Advocacy Team »
https://canceradvocacy.org/wp-content/uploads/Sandra-Finestone-Advocate-Spotlight-Blog-Banner.png
600
1200
NCCS Staff
https://canceradvocacy.org/wp-content/uploads/2020/06/NCCA-Logo.png
NCCS Staff
2023-05-08 13:42:47
2023-05-11 10:49:23
Sandra Finestone, PsyD: Be Bold and Don't Hesitate – A 30-year Survivor's Advice on Advocacy