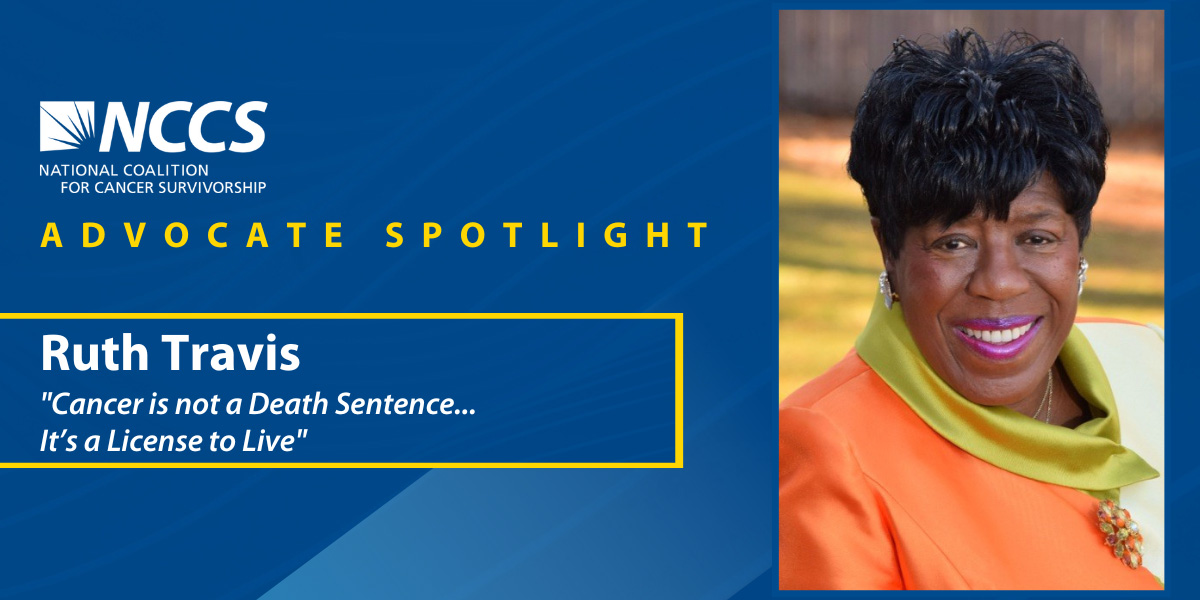 Ruth Travis: Cancer Is Not a Death Sentence. It's a License to Live.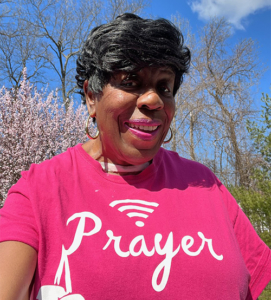 Advocate Spotlight: Ruth Travis
Ruth Travis knows the power of early detection. She started getting regular mammograms when she was 40 years old. After 22 years, the annual process was nothing new. In 2007, Ruth arrived for her annual screening mammogram. She chatted with the radiology technician through the process, watching the images on the screen. Everything was just the same as always… until it wasn't. While imaging her left breast, the technician asked Ruth to wait while she consulted the radiologist. Ruth knew something was wrong.
A woman of faith, Ruth turned to God in that moment, and then she turned her thoughts to positive ones. She said "Let me think of all the positive words that begin with the letter C. First, I said 'Christ' because I'm a Christian and then I said 'clothes, cruise, cake' – anything that was positive that would keep my mind from going to the D word of 'death'. I tell you I heard God say to me 'This is not sickness unto death.' And I responded back to God, 'okay, how are we getting through this?'"
Ruth's diagnosis came just 2 days before her 62nd birthday. Her doctors confirmed ductal carcinoma in situ (DCIS) breast cancer. "The cancer cell was in my milk duct," she said. "It was the size of a speck of pepper." Ruth felt blessed. Her early diagnosis gave Ruth a good prognosis.
Ruth chose to have a lumpectomy to remove the cancer, followed by a week of twice-daily radiation treatments. Radiation made Ruth tired, but she didn't experience the other side effects of treatment commonly associated with cancer, like pain, hair loss, or weight loss. A former athlete, Ruth credits her mindset with helping her through the diagnosis and treatment. "Athletes have a winning attitude," she said. "And it carries over to other parts of your life. My thing is 'Oh, we're going to win this. We're on this court to win this game!'"
Ruth was prescribed a hormone therapy medication, which she took for the next ten years. She was monitored closely for recurrence with MRIs and mammograms, and 16 years later, she's still cancer free.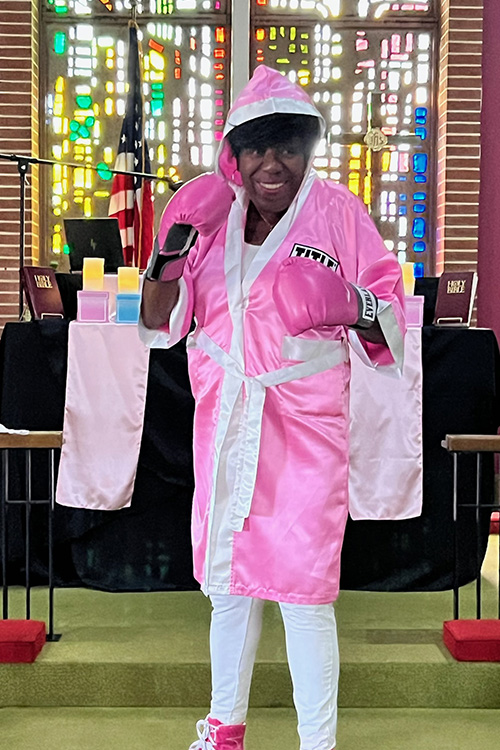 Ruth kept her diagnosis private initially. She was in line for a promotion in her role as a pastor, and feared sharing the news would negatively affect her career. Instead of sharing the news widely with her church, Ruth formed a team of trusted individuals to support her during treatment. After treatment, she shared the news, feeling a sense of triumph and relief.
Ruth is now an outspoken advocate for breast cancer awareness, working with organizations such as Susan G Komen and the National Coalition for Cancer Survivorship (NCCS), and is working to build Ruth's Pink House, a place where breast cancer survivors can come for support. She believes that her diagnosis was a calling from God to help others, encouraging those diagnosed with cancer to see it from a positive perspective. "Your diagnosis is not a death sentence," she tells cancer survivors, "it is a license to live." Ruth emphasizes the need for more awareness and better health care for Black women.  As a patient advocate, Ruth stresses the importance of early detection and encourages women to address the emotional challenges of cancer while trying to find a sense of normalcy during treatment.
In 2022, Ruth received a scholarship to attend the annual NCCS Cancer Policy and Advocacy Team (CPAT) Symposium. There she learned important skills she could use to further her reach as an advocate. The symposium empowered her to take better care of herself and provided a safe space to share her feelings about her diagnosis. "I couldn't attend without the scholarship," she said. "I take the information back to the community. I take it back to churches." Ruth even dresses up in pink boxing attire, the
Rocky
theme song playing behind her, to get people's attention so they'll get the information they need for their health. In her advocacy work, Ruth emphasizes the importance of sharing personal stories to advocate for bills related to cancer, helping lawmakers understand the struggle of survivors and their families.
When asked what advice she'd give new advocates, Ruth says, "I'd tell them to get the correct information and resources and take it back to the community where you live, where you work, and where you worship. Give support to survivors who feel like giving up. You're surviving. Grab them by the hand. Talk to lawmakers about bills which will help. Be a lifetime learner. Always look for valuable information you can pass on to another survivor. And I'd tell them to go to NCCS's CPAT."
Connect with Ruth Online:
Facebook: @ruth.travis.73
LinkedIn: Ruth Travis
Instagram: @ruthtravis_8078
Twitter: @AuntRuth75
# # #
Learn more and Join the NCCS Cancer Policy & Advocacy Team »
https://canceradvocacy.org/wp-content/uploads/Ruth-Travis-Advocate-Spotlight-Blog-Banner.jpg
600
1200
NCCS Staff
https://canceradvocacy.org/wp-content/uploads/2020/06/NCCA-Logo.png
NCCS Staff
2023-04-06 11:33:44
2023-04-06 11:33:44
Ruth Travis: Cancer Is Not a Death Sentence. It's a License to Live.